Travel
25 ROMBLON TOURIST SPOTS to Visit & Things to Do

Good news! AirSWIFT has recently opened commercial passenger flights to Romblon, connecting the Ninoy Aquino International Airport Terminal 4 (NAIA-4) in Metro Manila to Tugdan Airport (TBH) in Tablas Island. The boutique airline is the first carrier to operate in the province since the pandemic disrupted most tourism activities globally.
Romblon's only airport started operations many years ago, but it remains largely under the radar. It has been a favorite among scuba divers — thanks to the richness of its marine biodiversity — but most tourists have yet to discover all the other natural and historical wonders that it has to offer.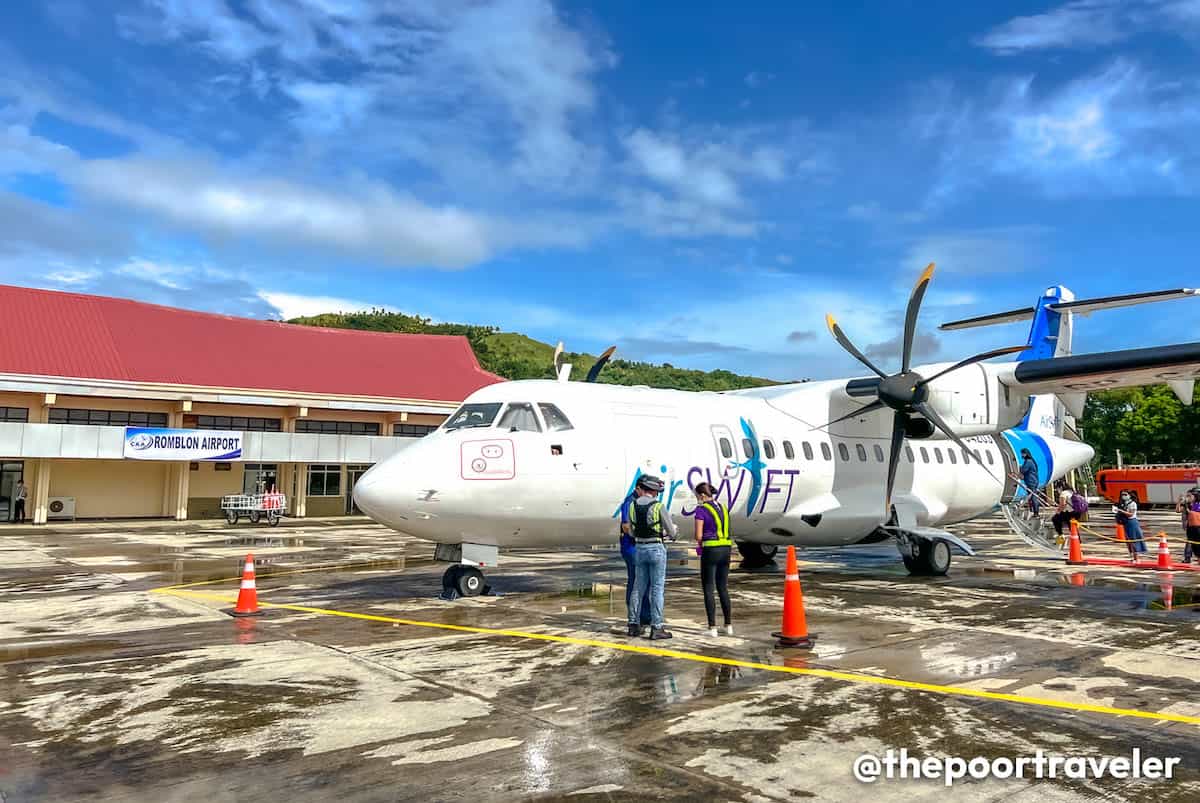 We were honored to be a part of AirSwift's inaugural flight to Romblon, so we had a sneak peek into its tourism trove. In this article, we'll share with you, some of the province's key tourist spots with some practical information about each.
---
WHAT'S COVERED IN THIS GUIDE?
The province of Romblon has three main islands: Romblon, Tablas, and Sibuyan. Around and in between them are several other isles and reefs that attract scuba divers and underwater photographers from around the world. Beach lovers can also have a field day in any of these islands!
In this section, we'll share some of the top attractions outside the three main islands and activities that can be enjoyed in any part of the province.
Cobrador Island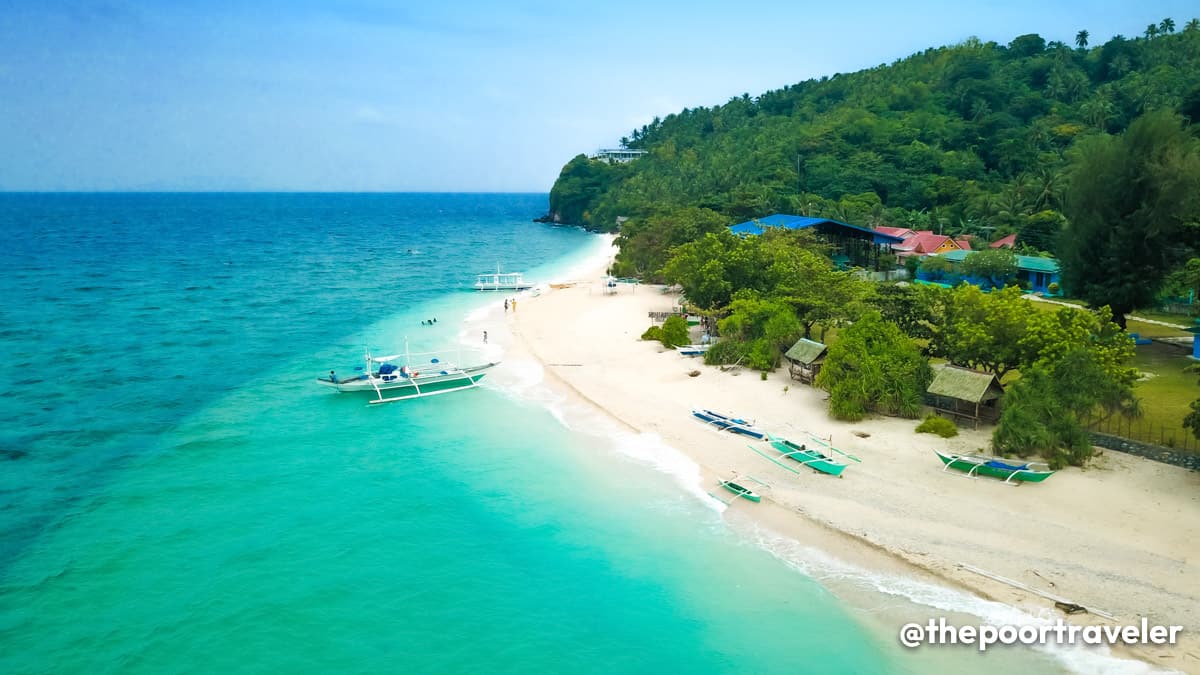 Among beachgoers, Romblon is best-known for their three-island tour, which covers the isles north of Rombon Island: Alad, Logbon, and Cobrador. Of the three, Cobrador Island is the farthest and the northernmost, but it is also inhabited. Most of the settlements, however, are in the western and southwestern coasts, which are covered in a a wide bed of fine grains, shells and coral bits. The interior of the island is generally hilly, with some rocky cliffs and formations protruding into the sea, framing the serene beachscapes.
A notable attraction on the island is Tinagong Dagat, a natural saltwater pool tucked on the northeast coast. But as of writing, this part is temporarily closed.
Entrance Fee: P60
Environmental Fee: P30

How to Get to Cobrador Island: From Romblon Port, book an island hopping tour, which usually includes Logbon Island, Alad Island, and Cobrador Island in the itinerary. Sometimes it's the first stop, other times, the last stop. The travel time from Romblon Port to Cobrador Island is about 45 minutes.
---
Cascarro Islet (Cliff Jumping)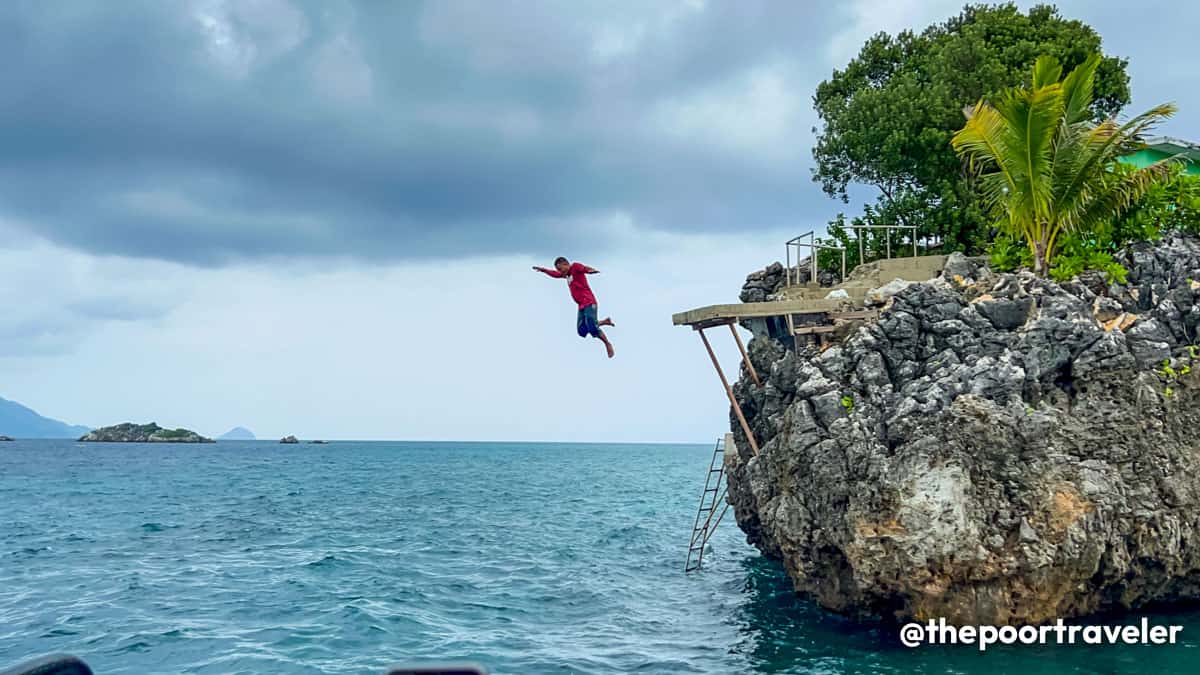 Most island hopping tours make a stop at nearby Cascarro Islet, where you can go cliff jumping, if the conditions are right! In the habagat season, the waves can get too strong, so boats might get a hard time getting closer to the stairs leading to the jumping board. In this case, you need to jump into the water from your boat and swim towards the islet.
Previously a guard station, this tiny adrenaline paradise still houses the guardhouse, painted in aquamarine.
---
Logbon Island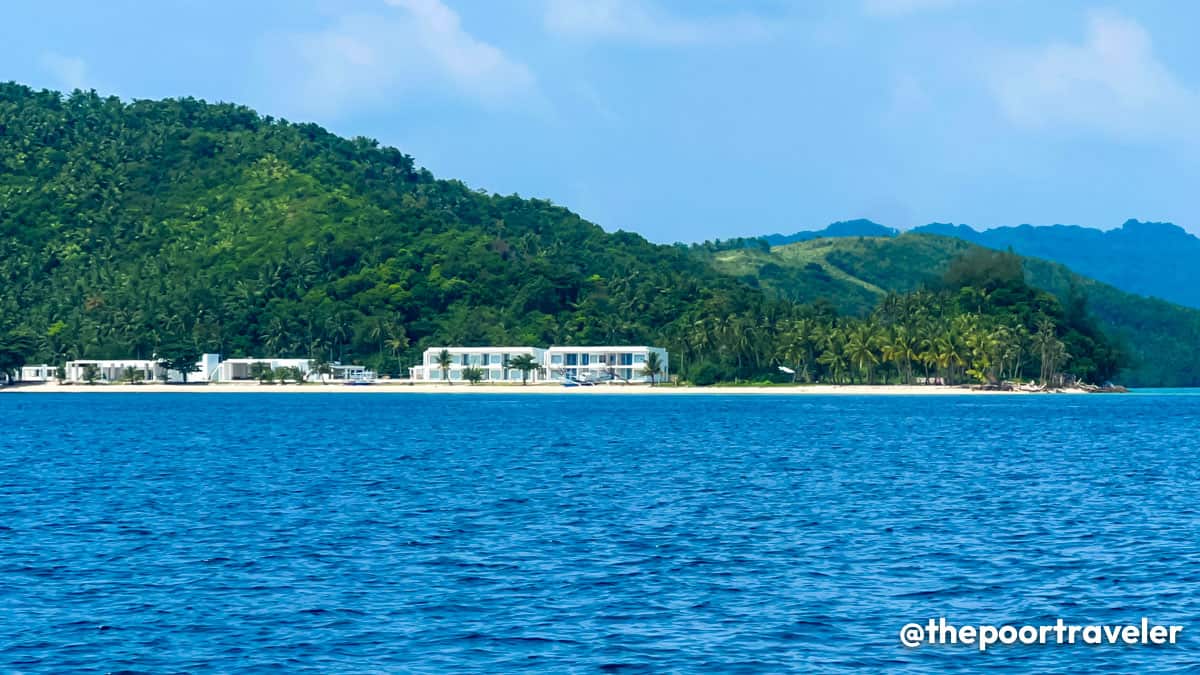 Also part of the three-isle tour, Logbon Island has an almost uninterrupted beach that spans its entire western coast. But its most prominent feature is the Logbon Sandbar, dangling from its southeastern tip, just next to Romblon Beach Resort. (This is just the first of the many sandbars that we'll mention in this article.)
From here, you can catch a glimpse of Bonbon Beach and Bang-og Island. On the other end of the cove lie the Nabagbagan Rocks.
How to Get to Logbon Island: From Romblon Port, get on a boat to Logbon Island. The travel time is 15-20 minutes. You can also join an island hopping tour, which usually includes Logbon Island, Alad Island, and Cobrador Island.
---
Alad Island
Located north of Logbon, Alad Island is another inhabited island boasting pristine and uncrowded beaches with ivory sand. A marine sanctuary, the island's surrounding waters offer excellent snorkeling and diving spots in both the west and east coasts and are home to numerous species of fish and soft and hard corals.
How to Get to Alad Island: From Romblon Port, get on a boat to Alad Island. The travel time is 20-25 minutes. You can also hop on an island-hopping boat, which usually includes Logbon Island, Alad Island, and Cobrador Island in the itinerary.
---
Carabao Island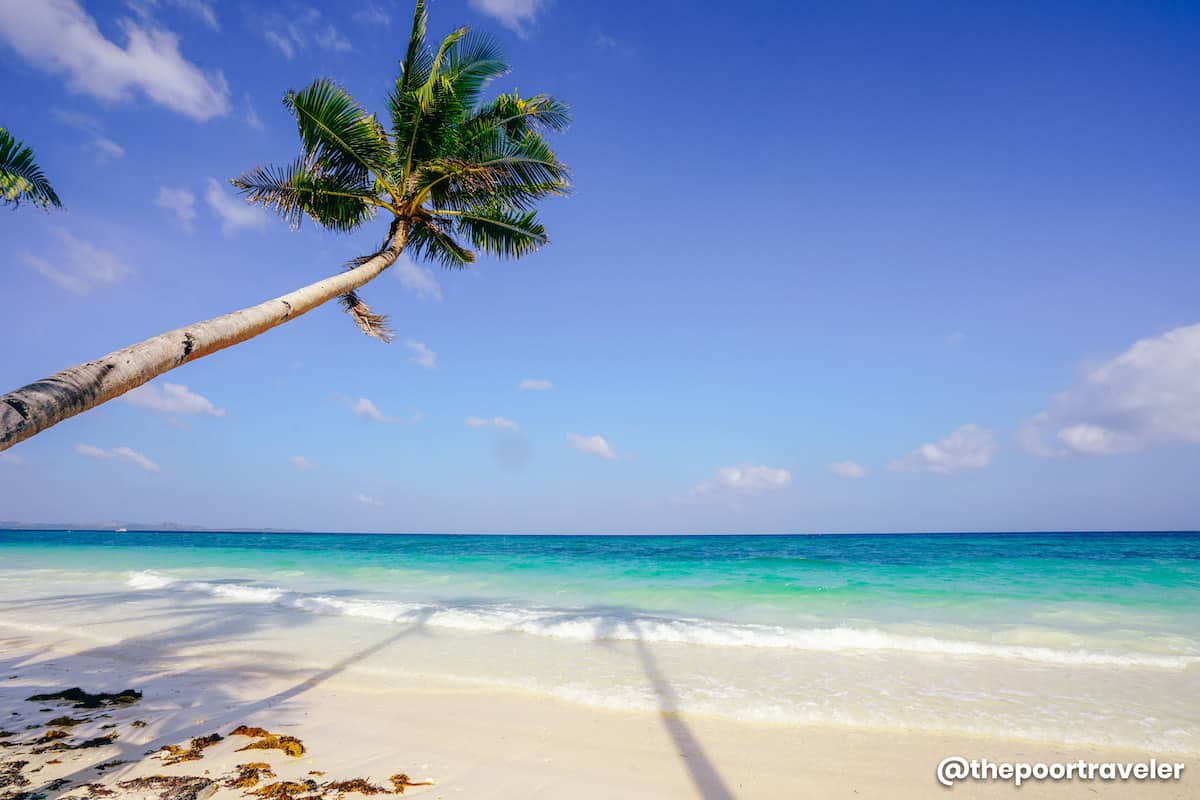 Also referred to as Hambil Island, Carabao Island lies off the southern coast of Tablas Island. Here, you'll find the town of San Jose, Romblon's southernmost municipality. It is also conveniently close to Aklan's Boracay Island, piquing the interest of more beach chasers who are looking for quieter, more laidback escape. From Boracay, you may simply book a boat tour to Carabao Island and be back within the day.
Its nooks and crannies are filled with white sand, punctuated by cliff diving sites and lined with highly Instagrammable coconut trees.
Covering a land area of 22.05 square kilometers, it boasts a number of attractions including:
Lanas Beach
San Jose Beach
Tagaytay Viewpoint
cliff jumping spots like Cathedral Cave and Koding Koding
It can be accessed either way: via Santa Fe Port (about an hour) in Romblon or via Boracay (40-45 minutes). Cabalian Channel separates Carabao Island from Tablas Island, while Hambil Channel separates it from Boracay Island.
How to Get to Carabao Island: If coming from Tablas, go to Santa Fe Port, then take about to Carabao Island. If coming from Boracay, just charter a boat or book a day tour. If you are in the Caticlan area, go to Tabon Port, then take a boat to Carabao Island.
---
Scuba Diving
While the greater touristing public is still taking its sweet time discovering its many beaches, scuba divers from all over the globe have long been making Romblon their home and playground.
Romblon is positioned near the mouth of the Verde Island Passage, considered the area with the richest biodiversity on the planet. Beneath the waves is an underwater wonderland, marked by a number of dive sites including:
Three P House Reef
Blue Hole
Bonbon Sea Grass Valley
The Rope
Lunas
Mapula
One of the places we stayed at in Romblon Island is Three P Holiday and Dive Resort, which has access to the House Reef. We met two of three brothers, who own the resort, and they mentioned that most of their guests are divers who wish to see some of the rare creatures found in the surrounding reefs.
---
Romblon Food Trip
Often overlooked, Romblon's cuisine is something we don't normally see highlighted or featured enough in pop culture. But it's something you shouldn't miss when you visit. Much of the province's land area is fertile and its surrounding waters are a gift that keeps on giving, ensuring that ingredients are fresh and abundant. Coconut and seafood are the most common ingredients.
Here are some of my favorite local delicacies. Description below, clockwise.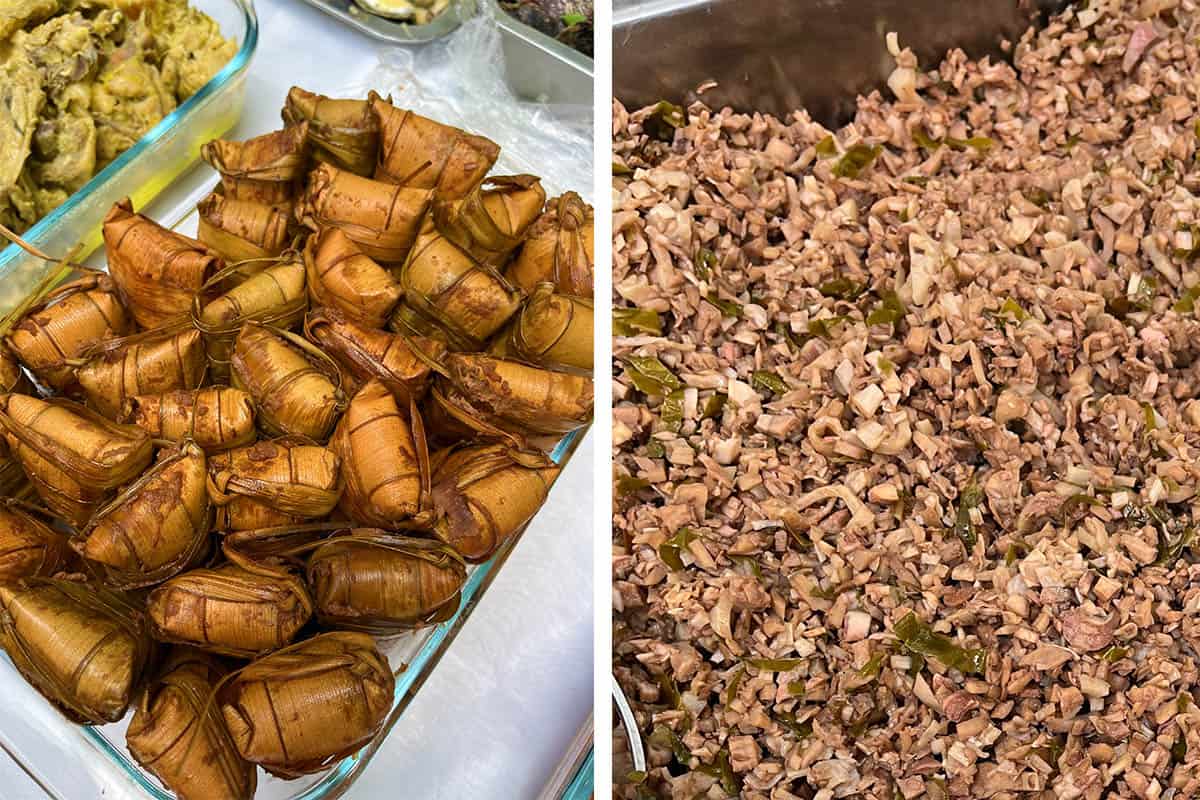 Sarsa, freshwater shrimps mixed with coconut and spices and then wrapped in coconut leaves.
Sihi, small shellfish often served ginataan (in coconut milk)
Gayabon, fresh taro leaves cooked in coconut milk, similar to laing
Utan na langka, chopped unripe jackfruit cooked in coconut milk
Traditional Filipino snacks are also peddled in the streets of most towns, the most common of which is suman, often rice or cassava cakes wrapped in banana or coconut leaves. Suman, of course, comes in different shapes and sizes. We were told that the signature Romblomanon suman is this (pictured below), a sweet and oily concoction made of sticky rice. Visually, texturally, and flavorally taste-wise, it's very similar to Batangas's sumang Taal, which isn't really surprising since the two provinces are geographically and culturally close.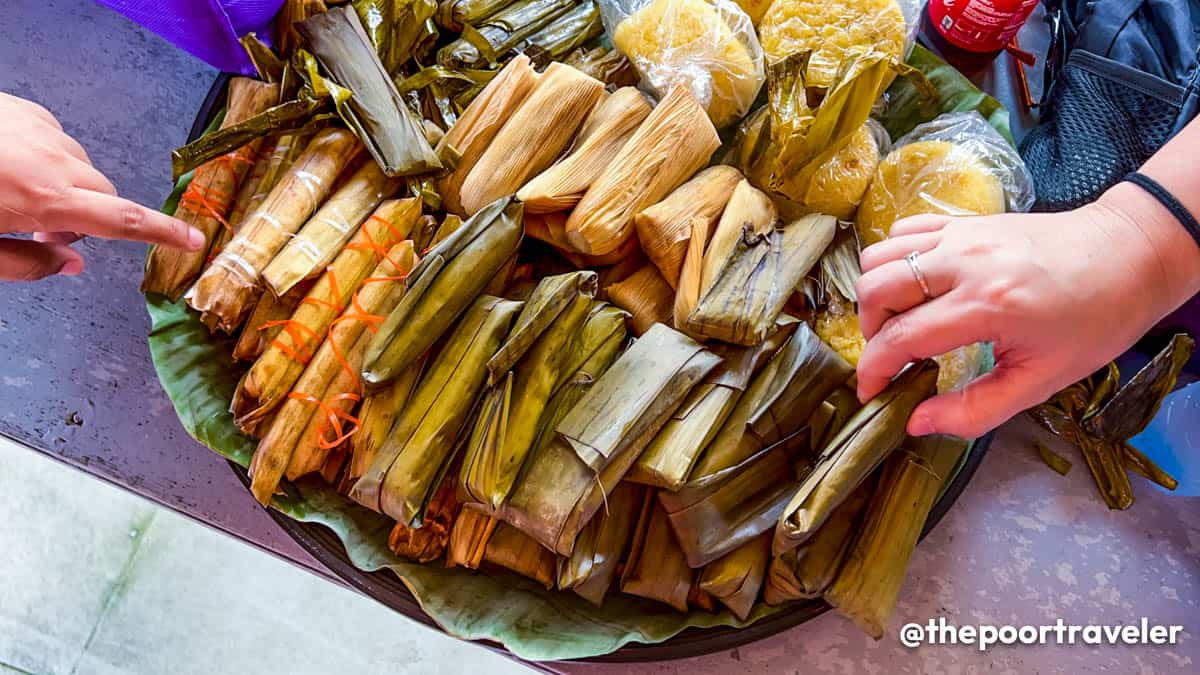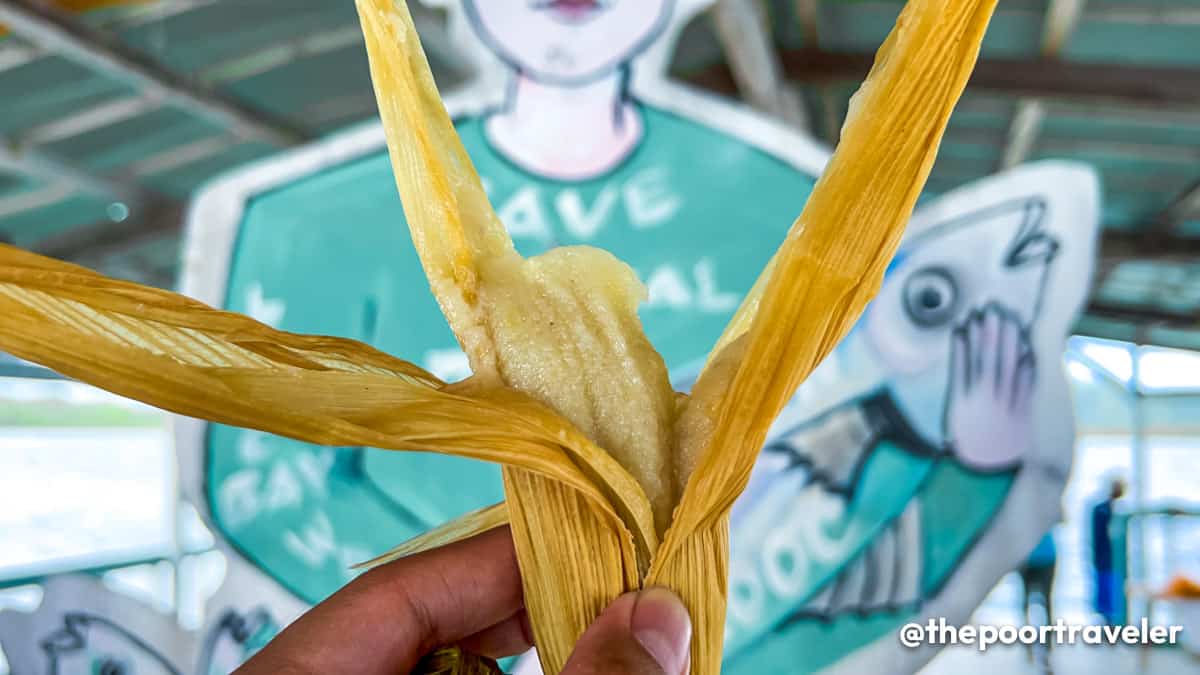 The most unfamiliar to me was nilidgid, which is made of ground corn and then wrapped in corn husk. Lidgid, I was told, means to grate.
Cobrador Island also takes absolute pride in its atis (custard apple), and the locals we talked to claim that the island produces the sweetest varieties.
And of course, don't leave the province without stuffing your face with all sorts of seafood!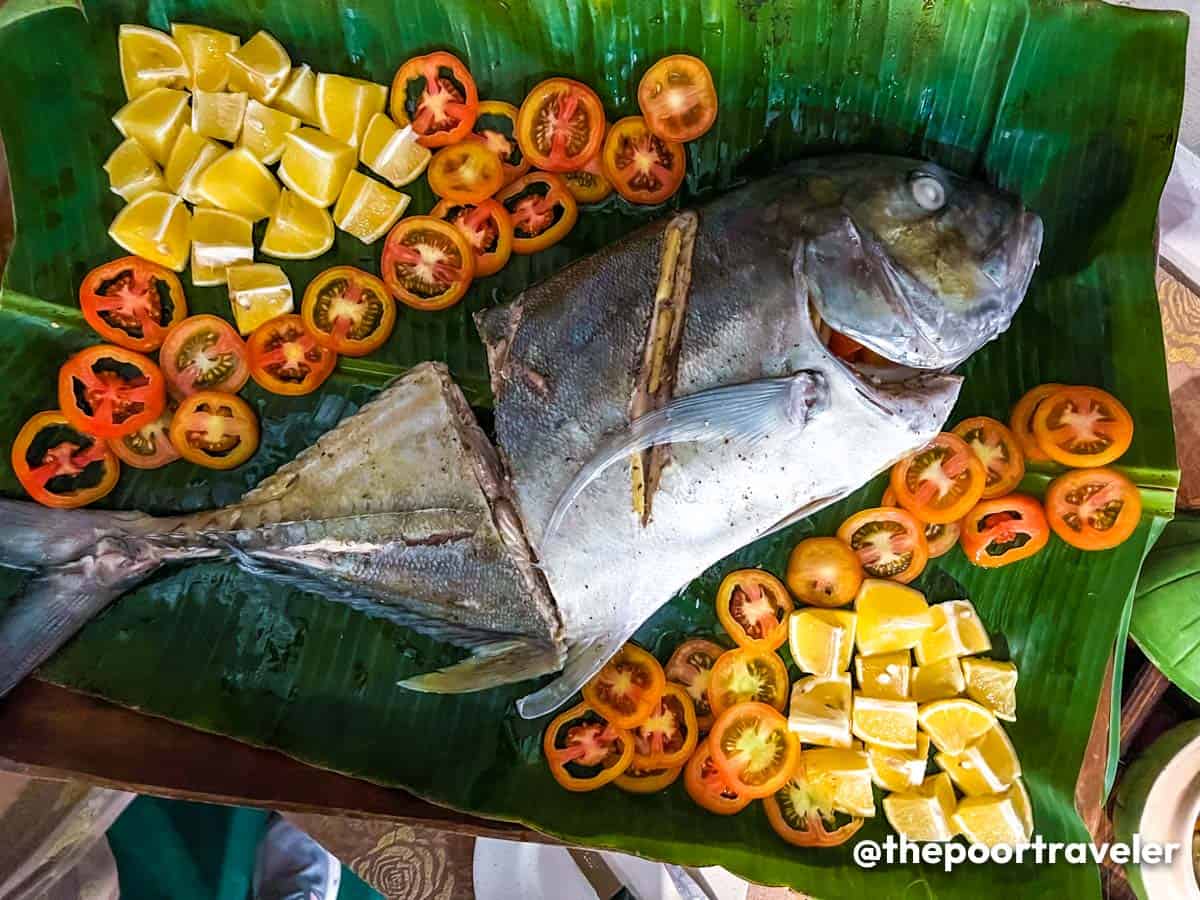 ---
Romblon Island is where you'll find the municipality of Romblon, the capital and the economic and administrative hub of the province. The island also boasts pristine sandbars, secluded coves, white sand beaches, and some cultural attractions. Let's take a look at some of them.
Fort San Andres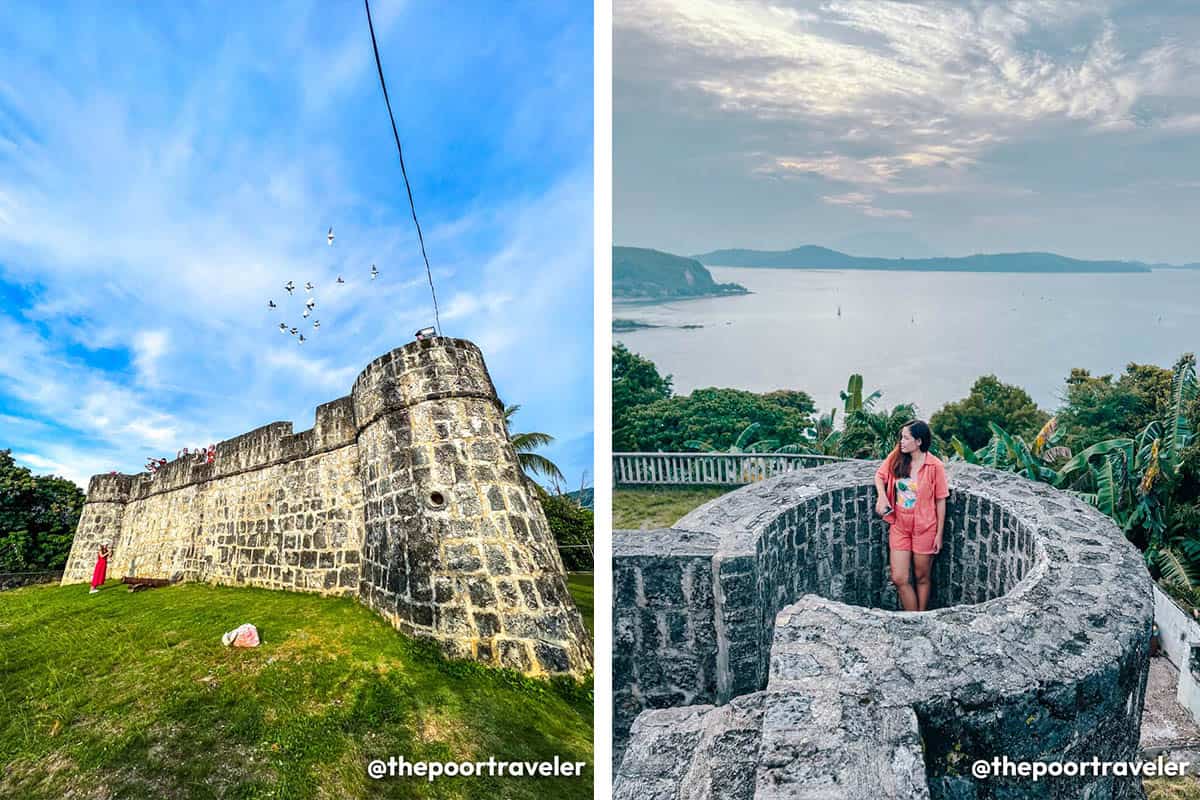 Fort San Andres sits atop San Antonio Hill between Barangay Capaclan and Barangay II, overlooking the harbor and the municipality of Romblon. Made from coral stones and limestones, it covers an area of almost 300 square meters with four turrets, one in each corner. Spanish-era cannons also adorn the fort grounds.
The fort was built in the mid-17th century as part of Spain's military defense, ensuring the protection of its occupied lands and outposts from Dutch invaders and Moro pirates during the 80 Years War. The construction was overseen by the Portuguese friar, Fr. Agustin de San Pedro, nicknamed "El Padre Capitan".
It was declared a National Cultural Treasure by the National Museum of the Philippines in 2013. With a grant from the National Commission for Culture and the Arts (NCCA) in 2012, the first two phases of restoration projects were finally completed in 2016.
This is the only remaining structure of the Twin Forts of the Romblon. The other tower, Fort Santiago, used to crown Calvary Hill but is now in ruins reclaimed by nature.
The best time to go is early morning and late afternoon during sunset.
Location: Fort San Andres Road, Poblacion, Romblon, Romblon
Entrance Fee: FREE. Any amount of donation is much appreciated.
Visiting Hours: It's open 24/7, but the usual visiting schedule is from 6:00 AM to 6:00 PM.
Jump-Off Point: Thermopilas Street or Sabang Road
---
Talipasak Beach (San Pedro Beach)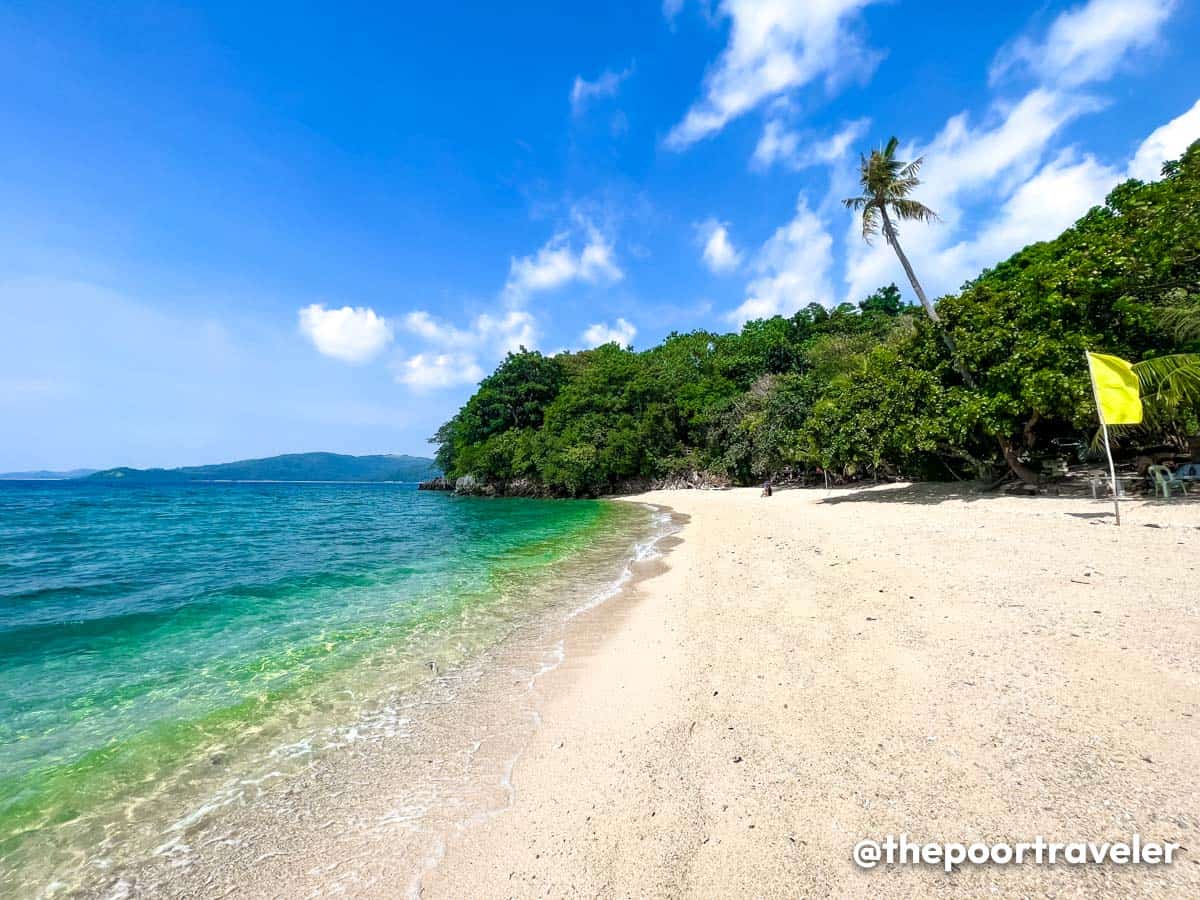 A secluded stretch of sand along the western edge of the island, Talipasak Beach offers a tranquil beach escapade. Located more than 12 kilometers from the town center, the beach can be reached by land via a narrow side road connected to the main highway.
On a clear sunny day, the sea dazzles in various shades of blue and green. Its cream-colored sand is a mixture of fine grains and crushed corals. A few meters from the shore, the waters offer underwater scenery perfect for snorkeling.
San Pedro Beach Resort is your main access to the beach. You can visit on a day tour or stay overnight. If you prefer to spend a night here, know that the resort amenities are basic and the cellphone signal can get patchy. You may bring your own food, but you can also ask the management for the menu.
Location: Barangay Ginablan, Romblon, Romblon
Entrance Fee: P50 (Day Tour)
Day Tour Hours: Monday – Sunday, 7:00 AM – 9:00 PM. The schedule might change, so it's best to check for updates before going.
How to Get to Talipasak Beach: From the brown center, you may hire a tricycle to take you to San Pedro Beach Resort. The fare starts at P200 for 2-3 pax. The travel time is 30-45 minutes.
---
Bonbon Beach
Bon Bon Beach is the most popular beach destination in the province, thanks mostly to its accessibility and sheer beauty.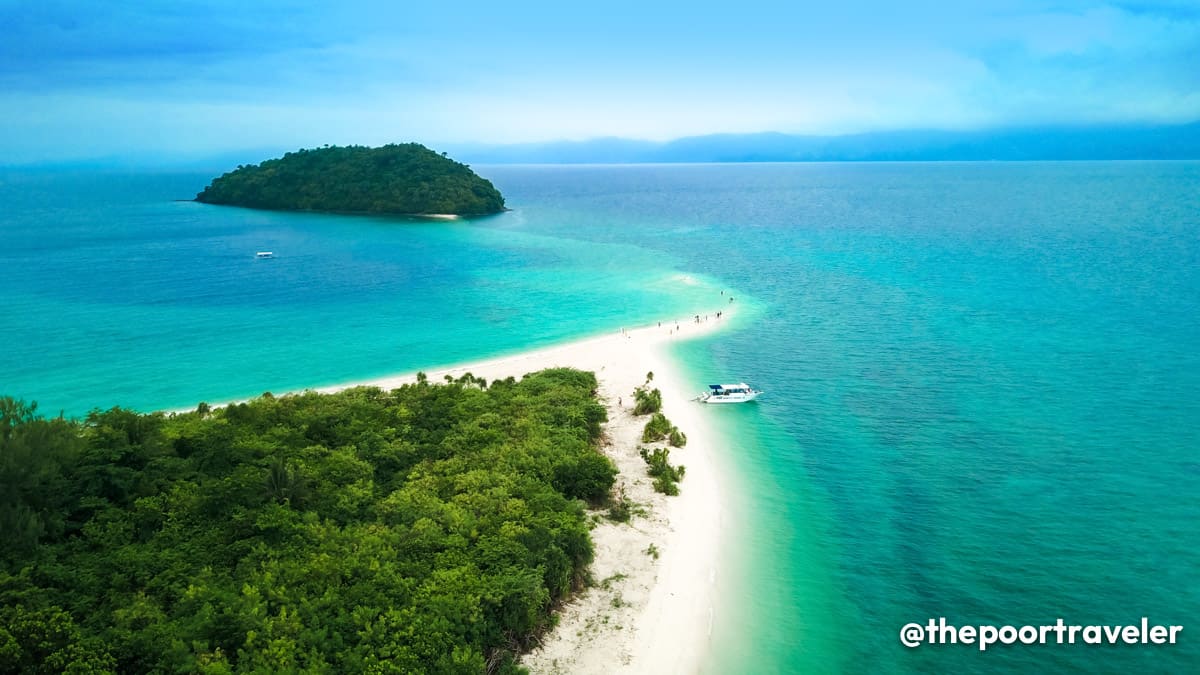 What's remarkable about Bonbon Beach is that it glazes two sides of a scenic cape that sticks out from the western coast of Romblon Island. These two beaches meet at the tip, which is adorned by a lengthy sandbar that stretches out to nearby uninhabited Bang-og Island at low tide.
From the town center, a short tricycle ride can take you westward to the jumpoff point. Although this secluded beach is hidden from view from the main road by the lush vegetation, it is actually just a short walk, less than 5 minutes, from there. There is a directional sign along the trail.
Note that this is a rugged beach, so no commercial establishments around the area, except a small guesthouse that also serves as the entry way to the beach. In the past, tourists and locals were able to access this paradise for free. But on our recent visit, we met the owner and learned from him that more amenities are being constructed in the area, so expect to pay an entrance fee soon.
Bon Bon Beach also faces west, making it another awesome sunset viewing spot.
Location: Bon Bon Beach, Barangay Lonos, Romblon, Romblon
Jump-Off Point: Regional Highway 305/Romblon-Sawang-Agnipa-Sablayan Road in Barangay Lonos
---
Tiamban Beach
Located just south of Bon Bon Beach in Barangay Lonos, Tiamban Beach is another beach destination near the town center. It is much shorter strip than Bonbon Beach, but still pretty picturesque, blanketed with fine, light-colored sand. It's also a spectacular sunset spot.
This is private property, but visitors are still allowed to enter for a fee. Tables and huts are available for rent as well as a dining place. If you want to save money on food, you can just bring your own meals, snacks, and drinks. The beach can be accessed via stairs down from the main road.
Location: Tiamban Beach, Barangay Lonos, Romblon, Romblon
Entrance Fee: P50/head
Opening Hours: Monday – Sunday, 7:00 AM – 7:00 PM. The schedule might change, so it's best to check the updated opening hours before going.
Jump-Off Point: Regional Highway 305/Romblon-Sawang-Agnipa-Sablayan Road in Barangay Lonos
---
Cajimos Marble Factory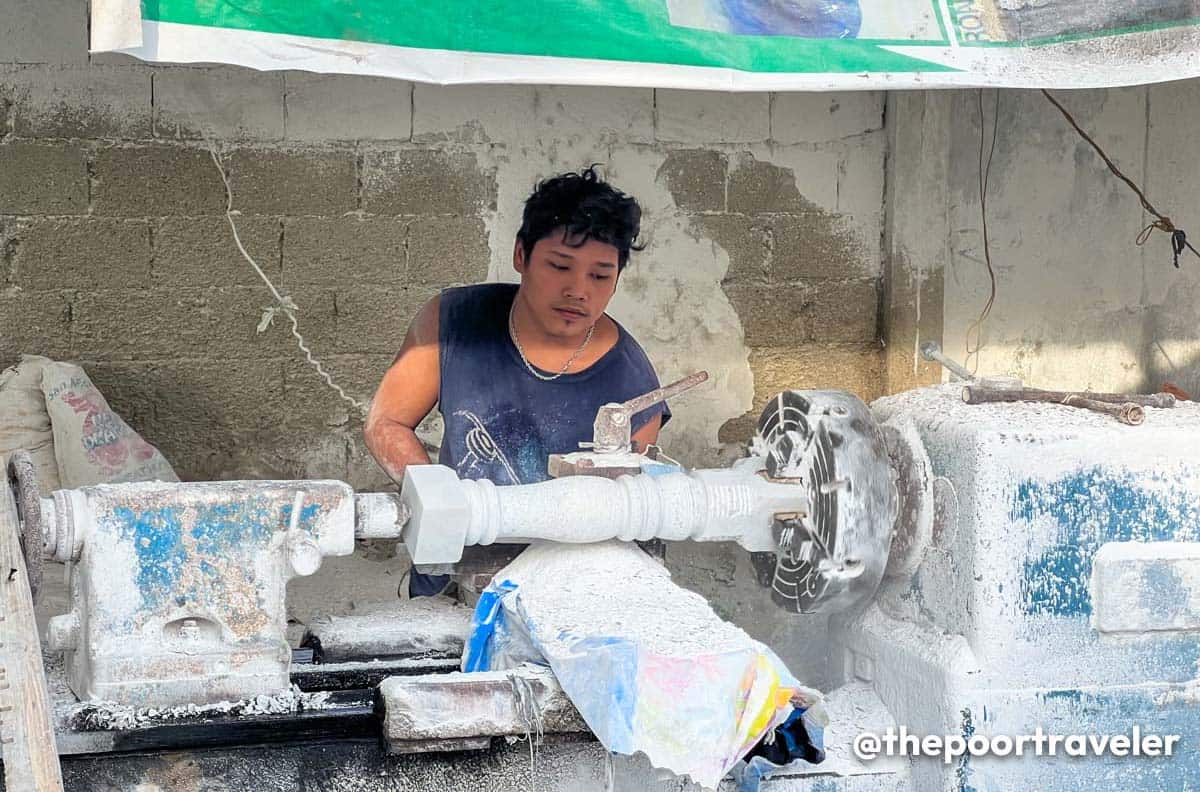 According to the Mines and Geosciences Bureau, the province is blessed with an estimated 150 million metric tons of marble deposit that will last for up to about three hundred more years based on the current extraction rates. Naturally, the province's economy relies heavily on the marble industry. Talk about bringing food to the table on a marble platter instead of silver.
Marble products range from small items (ashtrays, paperweights, etc.) to furniture sets (garden lounges, benches, dining tables, etc.) to construction materials (tiles, stones, chips, etc.). Much of the marble extraction, quarrying, and processing happen in the municipality of Romblon.
If you are interested in marble processing, you can go to Barangay Cajimos, one of the places in Romblon offering factory tours.
Location: Barangay Cajimos, Romblon, Romblon
---
Romblon Shopping Center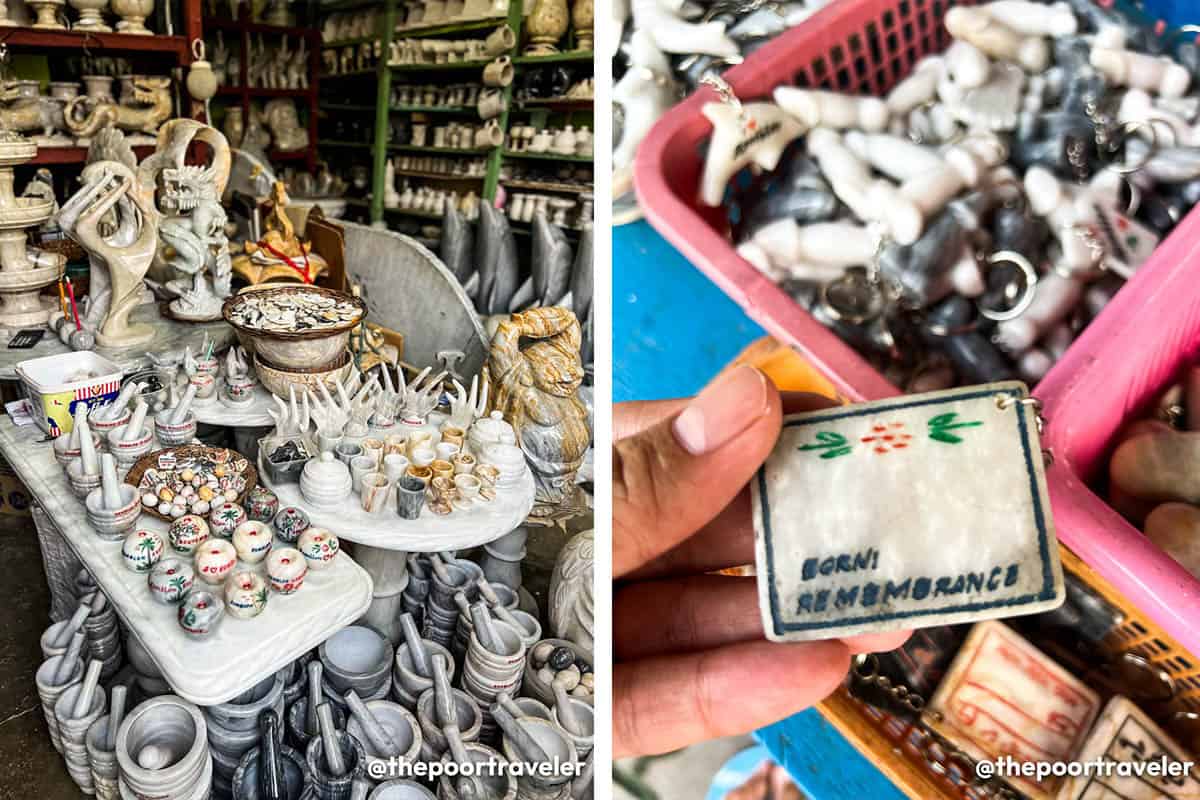 If you're looking for souvenir items that are quintessentially Romblomanon, head over to the Romblon Shopping Center, which is a complex composed of several souvenir stores. True to its marble capital moniker, it is bursting with all things marble — from kitchen utensils to furniture pieces to religious figurines.
Souvenir staples like keychains and ref magnets are also available, also made of marble, at only P35 each. You can even have a name or text engraved on it for free. The most interesting are probably the lapida keychains (tombstone keychains), which you can give as pasalubong to your friends (or non-friends). You can also have them engrave a name on it.
Not too far away from the shopping complex stands the Romblon signage beside a big statue of a dolphin, both in marble.
---
Romblon Cathedral
More formally known as St. Joseph Cathedral, it is one of the most important landmarks in the province.
Hailed as a National Cultural Treasure by the National Museum of the Philippines in 2001, it has roots that can be traced back to the 15th century. But much of the cathedral's structure today were built or added much later, in the 18th and 19th centuries.
The fortress church was originally built to serve not only as a religious site but also as a defense structure against the Moro raids in the 17th century. Like the Twin Forts, the cathedral's construction was supervised by the Portuguese Recollect priest Fr. Agustin de San Pedro.
It acquired its cathedral status when the Diocese of Romblon was founded in 1974. Two of the highlights are the belfry and the image of Sto. Niño de Romblon.
Location: Rizal Street, Barangay 1, Poblacion, Romblon, Romblon
Mass Schedule: Wednesday – Friday, 6:00 PM / Saturday, 7:00 AM / Sunday, 6:00 AM, 8:00 AM, 10:00 AM & 5:00 PM. These schedules might change, so it's best to check for updates before going.
---
Tablas Island is the largest in the archipelago. Despite its size and land area, most parts of the island are still untouched by urbanization, making it a haven for those who prefer nature tripping, adventure trails, island hopping (and beach hopping), scuba diving, and thrilling activities like cliff jumping.
Biaringan Zipline
Admire the scenic coastal views on the northeastern end of Tablas Island from above! the Biaringan Zipline is a two-way island-to-island zipline connecting Tablas to the smaller Biaringan Island. It is said to be the first of its kind in the country.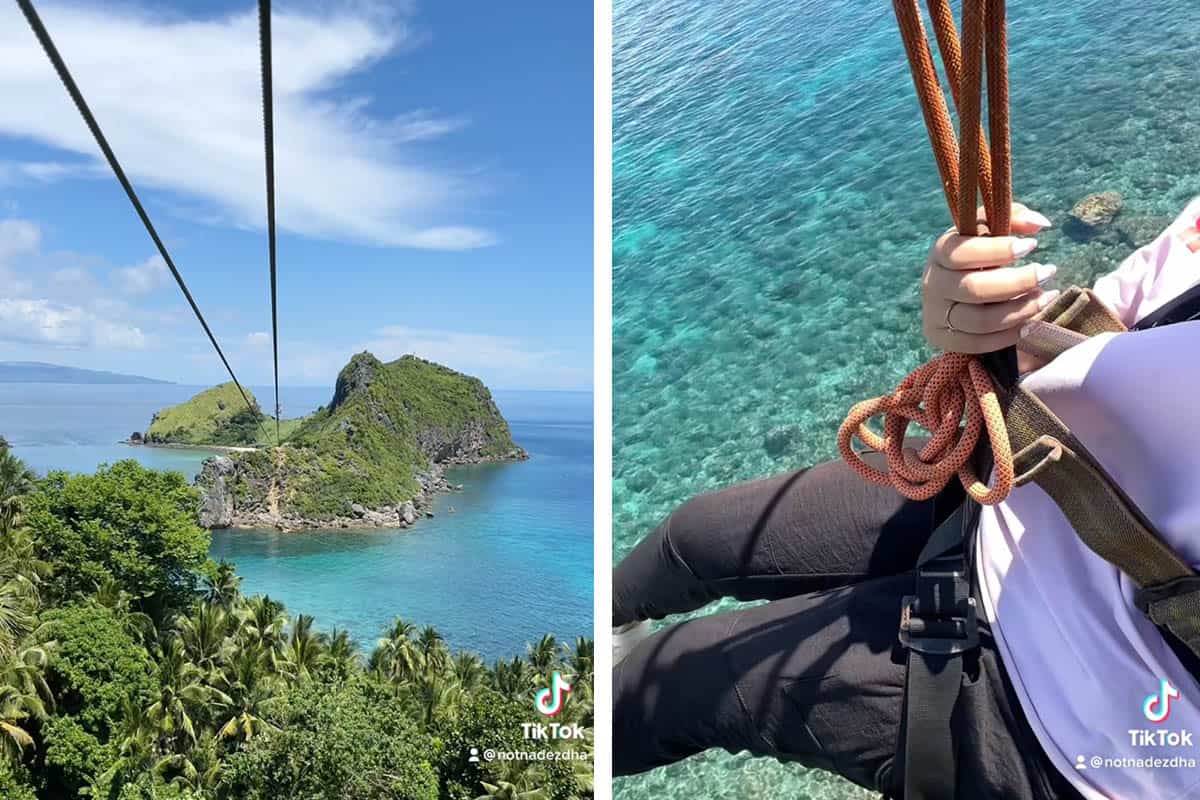 Spanning a total length of 1,350 meters, the zipline measures 700 meters from Station 1 to Station 2 and 650 meters from Station 2 to 3.
The jump-off station is at Long Beach in Barangay Mahabangbaybay in the municipality of San Agustin. Going to the highest station entails a 20-minute uphill trek, but the ride ends on the same side, closer to the beach.
Note that this attraction is weather-dependent. When we visited, we weren't allowed to do it because the wind was super strong, so make sure to check the weather and coordinate with the management first before going.
Location: Barangay Mahabangbaybay, San Agustin, Romblon
Rates: Adults (18 y/o and above), P350; Children (12-17 y/o), P300 (two-way)
Opening Hours: Monday – Sunday, 8:00 AM – 11:30 AM & 1:00 PM – 5:30 PM. The schedule might change, so it's best to check the updated opening hours before going.
Jump-Off Point: Long Beach in Barangay Mahabangbaybay
---
Dad's Bukid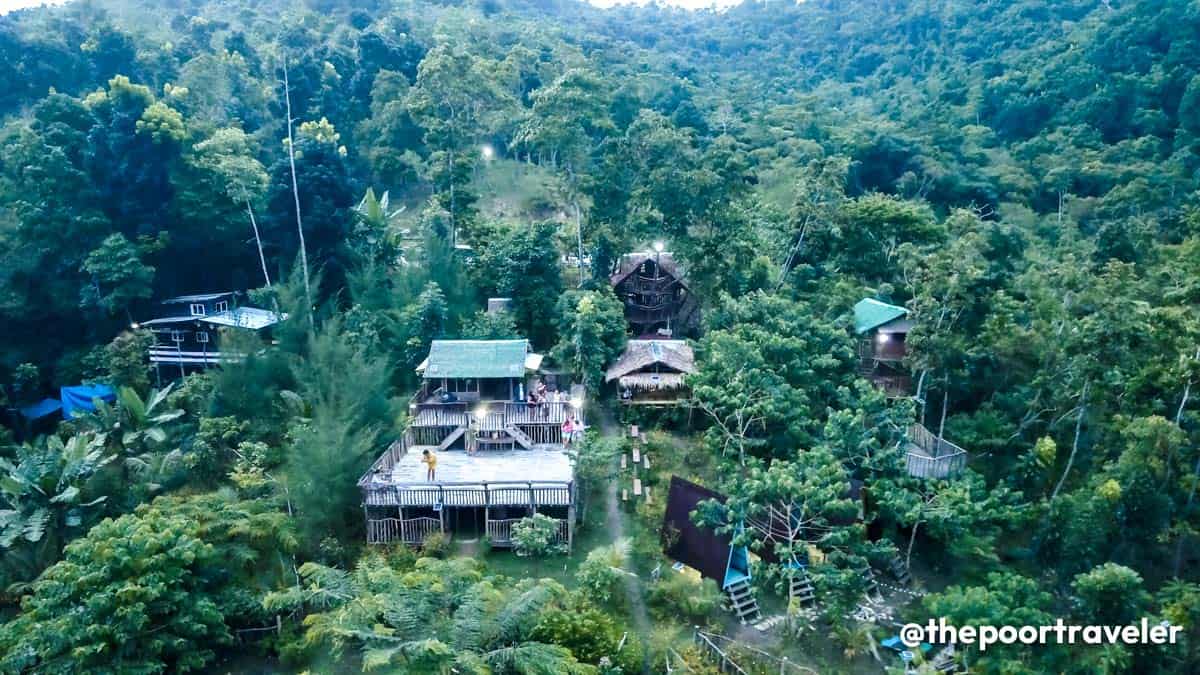 Romblon isn't all about beaches! Perched on a mountainside, Dad's Bukid offers a laid-back venue for those wanting to relax while enjoying the view of the Tablas highlands, particularly Pader forest, Mt. Kang-ayong and Mt. Ondok, curiously nicknamed Suso ng Dalaga.
Its highest point is at 360 meters ASL. You can take in the verdant scenery from the main viewing deck or from the log deck.
A pioneer ecotourism destination in the town of San Andres, the farm aims to promote the value of simple living through its "buhay-bukid" approach. It's a place where you can practice the art of doing nothing!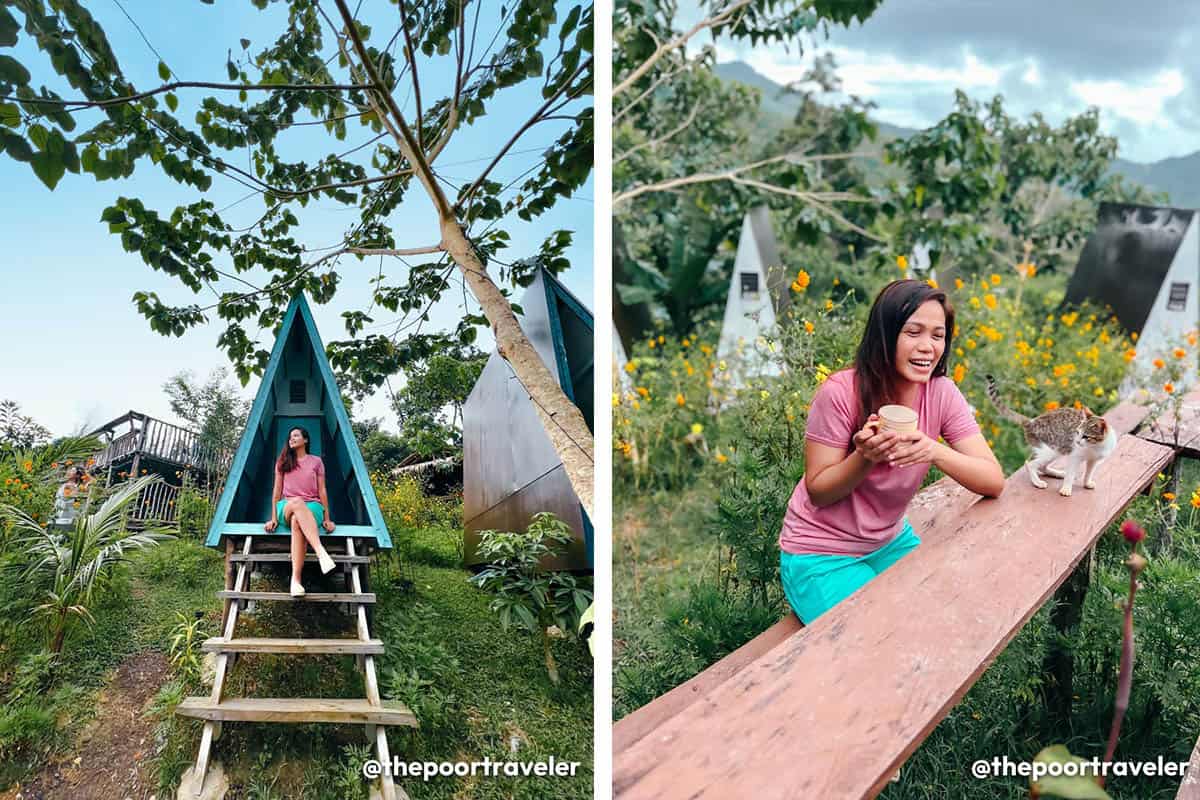 If you want to stay for a night, you can book one of the few glamping A-frame huts with basic amenities. Although they call it "glamping" huts, know that these are very basic, but a bedsheet will be provided. The setting and climate here are reminiscent of Tagaytay, so don't forget to bring your jacket or anything to keep you warm during colder days when the place can be covered in fog too. The area has a weak cellphone signal or none at all.
Here are the rates:
Entrance Fee: P20/head
A-Frame Hut (w/ bedsheet): P600/2-3 pax
Tent Pitching: P1,000/tent
Treehouse: P1,000 (up to 8 pax)
Use of Cooking Amenities: P100.
You can bring your own food or you can avail of their meals for P120 per person per meal. A modest café offers snacks and drinks should you get hungry.
Location: Binoog Road, Barangay Victoria, San Andres, Romblon

Opening Hours: Monday – Tuesday, 9:00 AM – 5:30 PM; Wednesday – Friday, 8:00 AM – 5:30 PM; Saturday – Sunday, 7:00 AM – 6:00 PM; Glamping Hours, 6:00 PM – 6:00 AM. The schedule might change, so it's best to check the updated opening hours before going.
Jump-Off Point: Binoog Road in Barangay Victoria
---
Marinor Mountainview Resort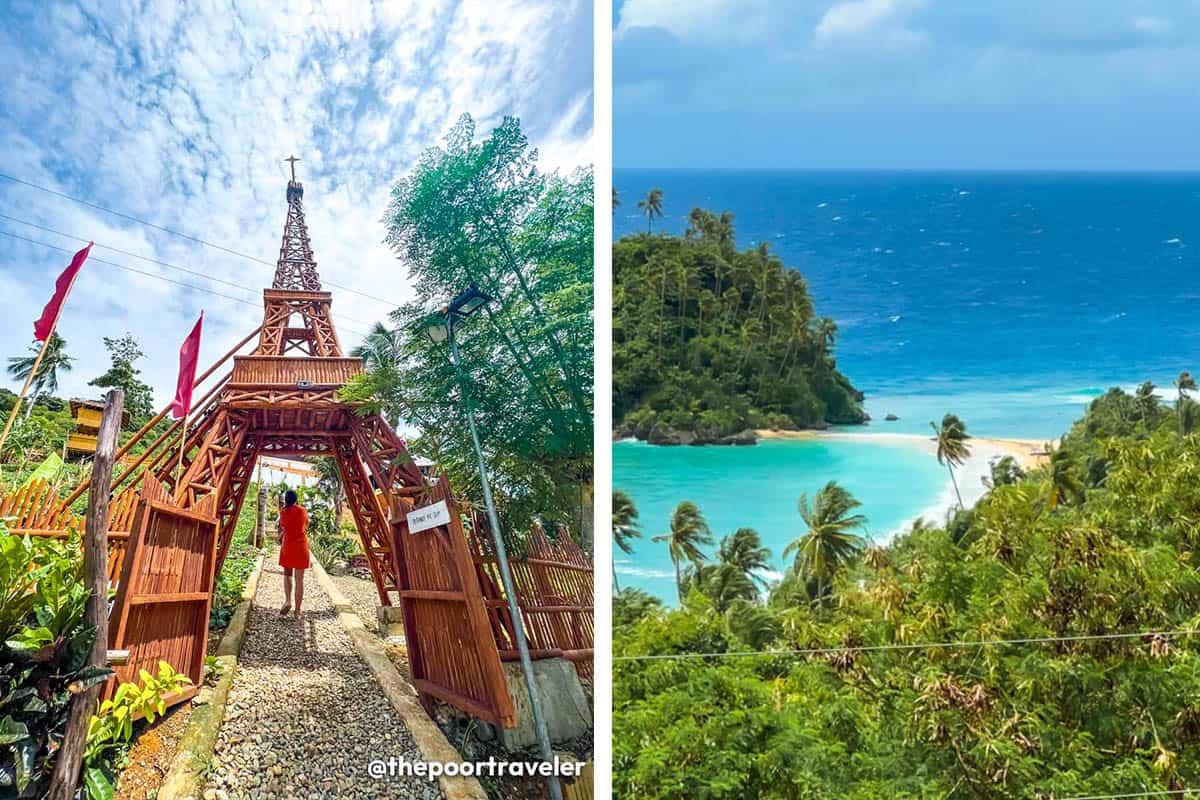 Another highland resort in the municipality of Ferrol is Marinor Mountainview in Brgy. Hinaguman. You can easily recognize it by the attention-grabbing wooden replica of the Eiffel Tower that straddles its entrance gate. As you climb to the main hall, you'll notice another structure that looks like a ship poking out from the slope. MV Marinor, the sign reads.
And yes, rooms are also available for those who want to spend the night. Rates are from P1,400 to P1,600 per night. It also houses a restaurant.
But because it's built on a hillside, Marinor Mountainview's biggest asset is the view. From here, you can easily spot beyond the lush forest a glowing sandbar extending to a rocky islet. That, my friend, is Binucot Beach.
Location: Barangay Hinaguman, Ferrol, Romblon
Entrance Fee: P30/head
Opening Hours: Monday – Sunday, 7:00 AM – 10:00 PM. The schedule might change, so it's best to check the updated opening hours before going.
Jump-Off Point: Tablas Circumferential Road/Regional Highway 308
---
Binucot Beach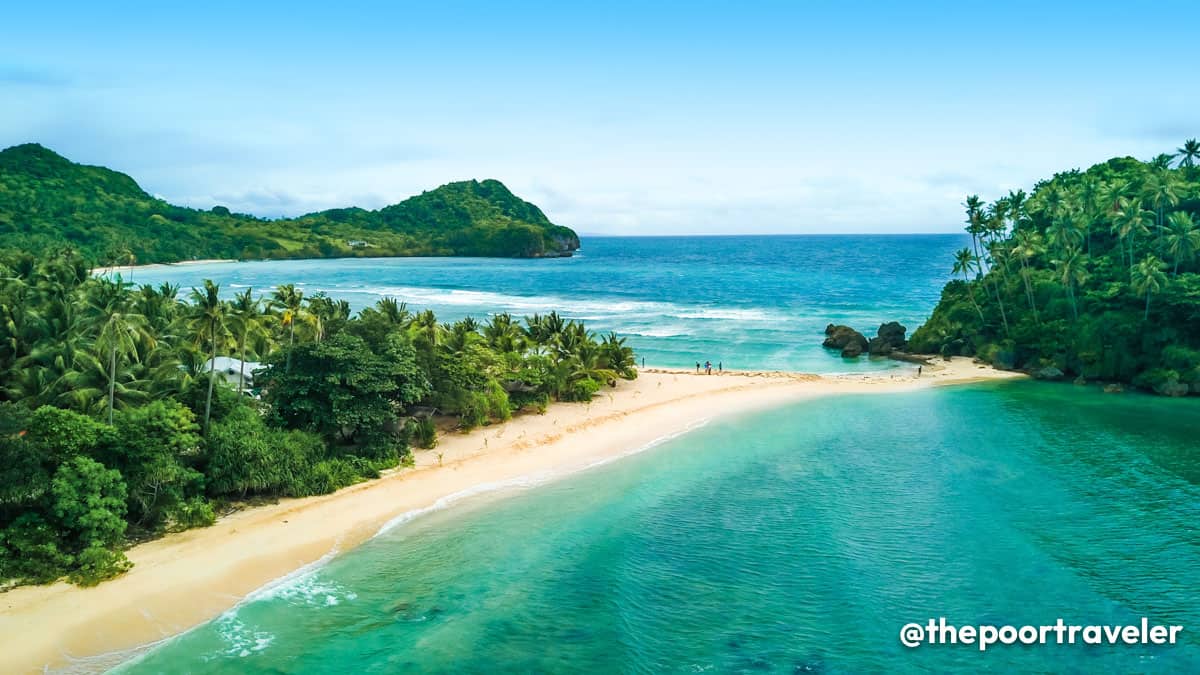 Located on the southwestern coast of Tablas Island in the town of Ferrol, Binucot Beach is an off-the-beaten-path beach destination. Its raw beauty is magnified by the rock formations, the coconut trees lining the beach, and its cream-colored berm made up of shingles, pebbles, and rocks. The shore is divided into two coves, clipped by a prominent lush rock islet, creating a visually arresting beachscape.
The waters vary in depth, so choose the shallow parts where it's safe for kids to swim. The strength of the waves depends on the season — strong during the habagat and calm during the amihan. If you prefer deeper waters to properly swim in, you can easily find your spot too. The clear blue water is also great for snorkeling.
Binucot Beach is also a good spot for sunset viewing. You can ask the locals for the trails to the hilly viewpoints and a cave.
In 2009, it was established as a marine protected area due to the presence of rare and endangered species including the hard and soft corals. The beach also serves as a turtle sanctuary.
Location: Barangay Bunsoran/Hinaguman, Ferrol, Romblon
Jump-Off Point: Tablas Circumferential Road/Regional Highway 308
---
Bel-at Point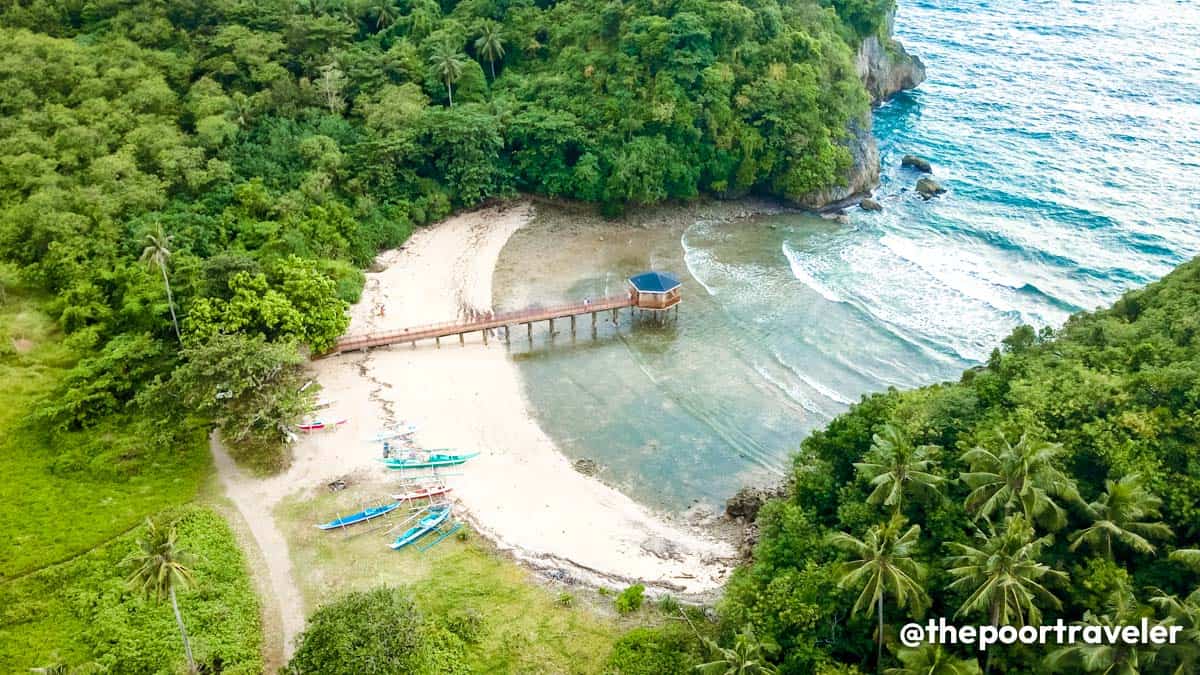 If you walk farther south of Binucot Beach, you will reach a small quiet cove bookmarked by towering limestone cliffs. This is Bel-at point.
Sticking our from the center of the beach into the sea is a long wooded boardwalk that leads to a covered overwater gazebo, which serves as a viewing deck. This is one of the best spots to watch the sunset on Tablas Island.
If you come early for sunset, you may follow a trail and take a short trek up a hill for the wonderful view of Bel-at Point and Binucot Beach.
Location: Barangay Hinaguman, Ferrol, Romblon
Jump-Off Point: Binucot Beach via Tablas Circumferential Road/Regional Highway 308
---
Looc Fish Sanctuary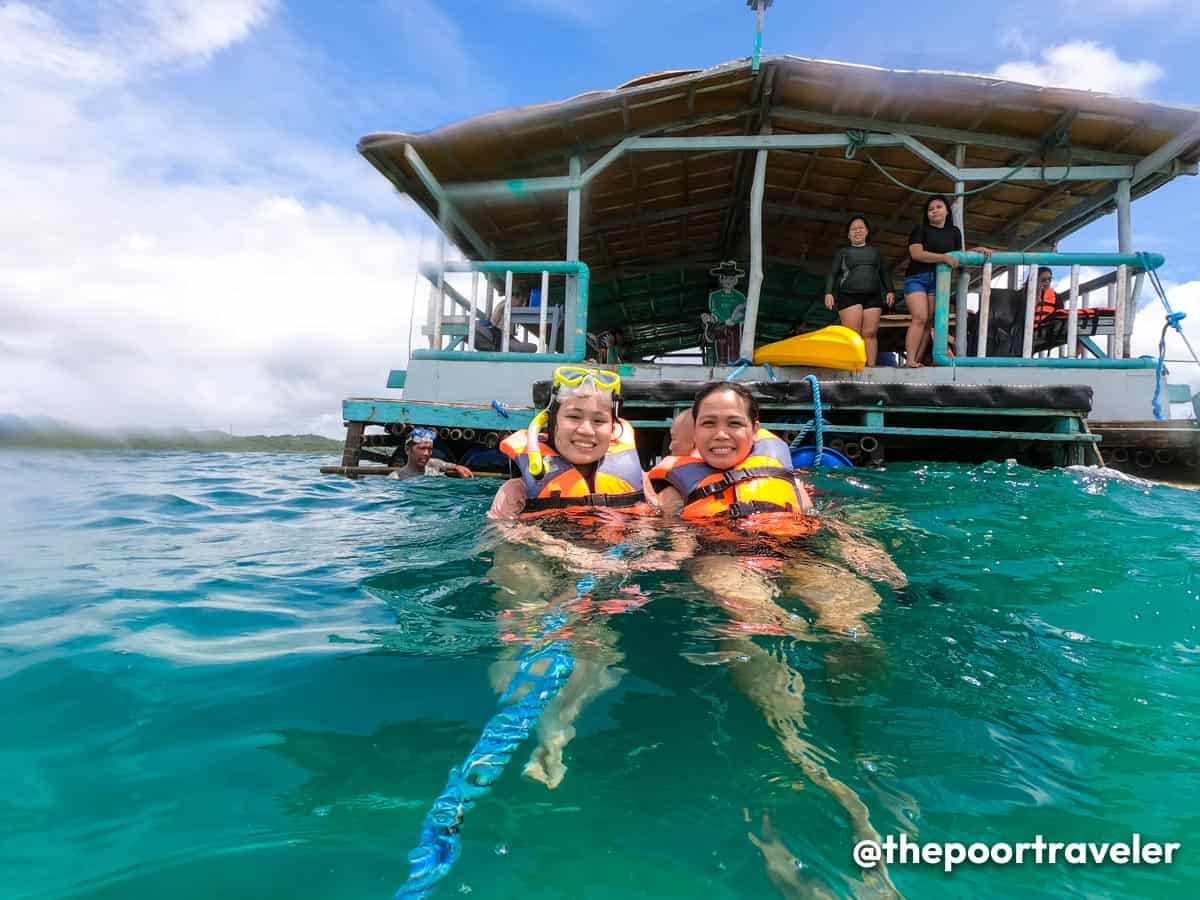 Nestled in the middle of Looc Bay, the Looc Fish Sanctuary is a protected marine area, encompassing a total area of 48 hectares. Established in 1999, it aims to protect the marine ecosystem of the area while also enriching its local livelihood. The sanctuary harbors about a hundred different marine species, including reef fishes, octopuses, eels, turtles, giant clams, and corals.
Registration and payment are done at Looc Pier. Get on a boat that will ferry you to the marine sanctuary in 5-10 minutes. The spacious floating dock or pontoon serves as a base for tourists where they can settle down, eat, and just chill.
Enjoy your time swimming with the colorful fishes or marvel at them while snorkeling. Fish feeding is allowed here, but we don't recommend it as it could alter their behavior.
You can also see the old lighthouse nearby.
Location: Looc Bay, Looc, Romblon
Entrance Fee: Adult, P100; Child, P50. The fees are inclusive of the roundtrip boat ride. Note that this might change soon as rate adjustments are in the works.
Opening Hours: Monday – Sunday, 6:00 AM – 6:00 PM. The schedule might change, so it's best to check the updated opening hours before going.
Jump-Off Point: Looc Pier
---
Cabaliwan Peak
Situated in San Agustin near the border with San Andres, the Cabaliwan Peak is one of the noteworthy spots in the province if you are after breathtaking panoramic views of the sea and the surrounding lush mountains. You can even see the mighty and mystical Mt. Guiting-Guiting on a clear day. The concrete road leading up to the spot snakes around the mountainous landscape, making a scenic and thrilling ride.
You can go farther off the concrete road, taking the rugged trails, to some of the view spots. The weather can be much cooler here, so make sure you have your jacket with you. Bask in the bucolic setting and make the most of your journey here by taking as many photos as you like.
Location: Barangay Bachawan, San Agustin, Romblon
Jump-Off Point: Bachawan Barangay Road
---
Sibuyan Island is the second largest Romblon isle, next to Tablas. It harbors three of the province's municipalities namely Cajidiocan, Magdiwang, and San Fernando. Because of its unspoiled landscape and largely intact forests and wildlife, the island is often dubbed the "Galapagos of Asia". Its most remarkable natural landmark is Mount Guiting-Guiting (G2), the highest mountain in the province.
Here are some of the best tourist attractions in Sibuyan Island.
Cresta de Gallo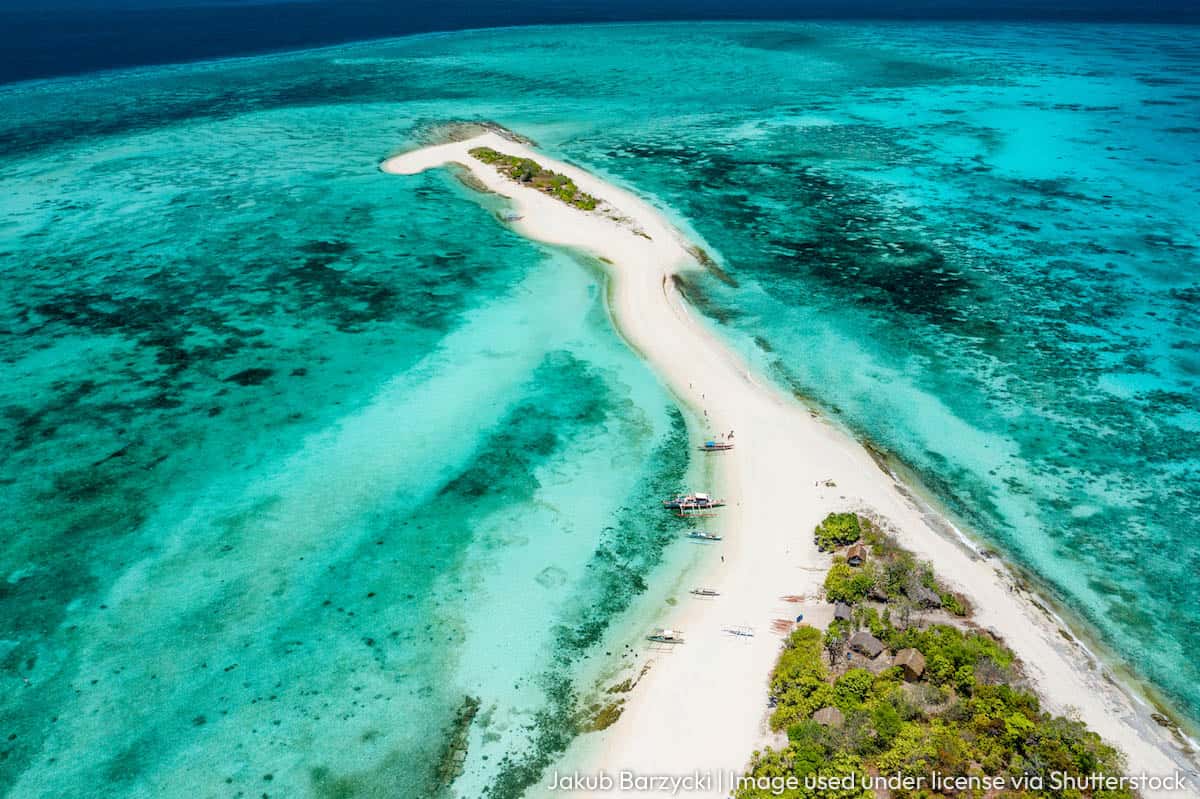 About 12 kilometers off the southern tip of Sibuyan Island, Cresta de Gallo may not be the easiest tropical paradise to reach but those who brave the long journey are rewarded with pristine white-sand beaches lapped up by cerulean waters.
The two islets forming Cresta de Gallo are linked by a sandbar, which surfaces when the tide is low. The other sandbars include one tailing the southern part of the larger isle and another extending from the northern tip of the smaller islet.
Note that the only structure on the island is the caretaker hut. You need to bring your own tent, food, and water if you are planning to spend the night here.
Location: San Fernando, Romblon
Entrance Fee: P20-50, depends on your contact/boatman
Boat Rates: The boat rates from San Fernando to Cresta de Gallo range from P2,500 to P3,000, depending on the size of the group and the duration of stay (day trip or overnight).
Jump-Off Point: Barangay Azagra in San Fernando
How to Get to Cresta de Gallo: From Tablas Airport, go to Odiongan Port. Ride a ferry to Sibuyan Island's Magdiwang Port. From there, ride a jeepney to San Fernando. From San Fernando, take a boat to Cresta de Gallo. The boat ride lasts for about an hour, depending on the wave condition.
---
Mt Guiting-Guiting
Towering over Sibuyan Island, Mount Guiting-Guiting, nicknamed G2 by mountaineers, is the most prominent feature of the protected Mt. Guiting-Guiting Natural Park, which was founded in 1996. Standing 2,058 meters above sea level, it is hailed as the tallest mountain in the province. Its formidable peaks and unforgiving slopes pose great challenge to mountaineers, making it one of the most difficult to climb in the country.
In the vernacular, guiting-guiting means "jagged", a shoutout to its most interesting feature: the jagged-shape ridge that resembles a saw or, if you're into dinosaurs, the back of a stegosaurus!
The usual camping stop before proceeding to the summit is Mayo's Peak. Usually, those who are not seasoned hikers opt to conclude their climb here, which is already a feat! The weather is quite volatile and affects the visibility and wind speed, especially when you are nearing the grassy summit.
We were told that the views at the summit and at Mayo's Peak are breathtaking and humbling. And even if you weren't able to reach the summit, the scenery all throughout the whole stretch of meandering lush trails is already a treat. Presently, hikers have two trail options — one from Magdiwang and another from San Fernando.
Location: Mt. Guiting-Guiting Natural Park, Sibuyan Island, Romblon
Jump-Off Point: Magdiwang Trail or San Fernando Trail
---
Cantingas River
Flowing from the majestic Mount Guiting-Guiting down toward San Fernando Bay, Cantingas River is the island's lifeline — its primary wellspring of water and electricity (via mini-hydro powerplant), contributing about 90% of the supply.
The most popular part of the river is Cantingas River Resort, which offers a cool respite surrounded by beautiful natural scenery. Swim in the clear calm waters. If you're feeling adventurous, jump from any of the three concrete diving platforms at various heights: 5m, 7m, and 10m. Or if you're just in a relaxing mood, just dip your feet while taking in the breathtaking views, including Mt. Guiting-Guiting in the background.
Amenities including kiosks, picnic tables, showers and toilets, and a parking area are available. You need to bring your own food and beverages. This place is popular among locals, especially on weekends.
Location: Barangay Taclobo, San Fernando, Romblon
Entrance Fee: Locals, P20; Foreigners, P50
Visiting Hours: Monday – Sunday, 8:00 AM – 6:00 PM.
Jump-Off Point: Sibuyan Circumferential Road/Regional Highway 302. The narrow road leading to Cantingas River Resort is located near the bridge.
---
Waterfalls
Within the island's lush green nooks and crannies lie several cascades, each possessing its own charm and unique character. Here are some of them:
Busay Falls. Located in Barangay Panangcalan in the town of San Fernando, it features a tall column falling from a rocky cliff into a deep swimming hole. The area is surrounded by huge rocks and slabs.
Dagubdob Falls. Located in Barangay Espana in San Fernando, Dagubdob Falls is a four-tiered series of cascades and natural pools. Some pools are perfect for cliff diving too.
Cataja Falls. Located in Barangay Jao-asan in the town of Magdiwang, Cataja Falls is a majestic multi-level splash-machine. The best time to visit is during the wet season when the volume of water is high and the flow is strong. As of writing, it is temporarily closed.
Lambingan Falls. Located in Barangay Silum in Magdiwang, Lambingan Falls is small compared to other falls in the area, but this is one of the most popular too due to its accessibility from the main road.
Cawa-Cawa Falls. Located in Barangay Weste, within the ancestral domain of the Sibuyan Mangayn Tagabukid, in the town of Cajidiocan, Cawa-Cawa Falls is a three-level cascade with three kawa-shaped natural pools. The cascades are not really high, but the depths of the pools are good for cliff diving too.
---
For the past few years, the only mode of transportation to the archipelagic province is by sea via Batangas Port or Manila Port. But that has changed recently! On September 24, AirSWIFT, the only boutique airline in the Philippines, had its inaugural flight to Romblon from NAIA's Terminal 4. Traveling to the province is now faster and more convenient.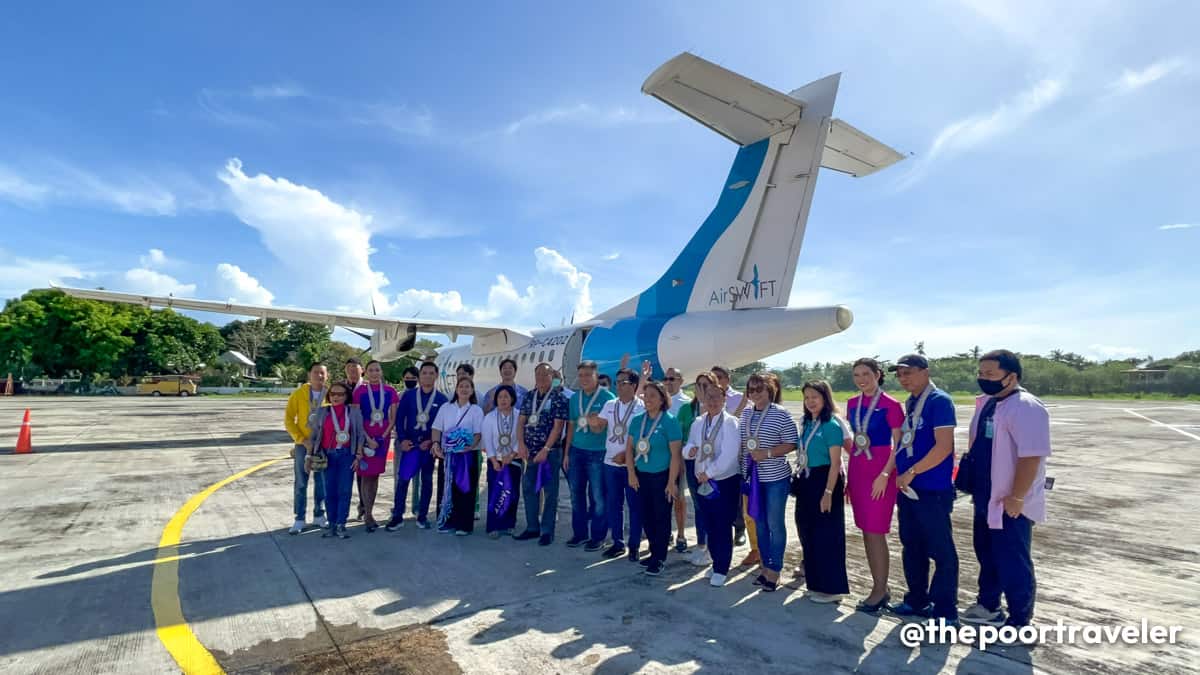 The Manila-Romblon (Tablas) route is available twice a week — Tuesdays and Saturdays. The journey takes about one hour and 15 minutes.
Airswift offers four types of airfare packages: Promo, Basic, Value, and Premium.
Promo has unlimited free rebooking (subject to fare difference) and 7KGs carry-on baggage. However, since it's a promo, limited seats are available for this package.
Basic lets you rebook 5x free of charge (fare difference may apply), but it does not allow refunding and rerouting. No check-in baggage allowance, but you have free 7KGs for carry-on baggage.
Value offers 10KGs check-in baggage allowance on top of the 7KGs carry-on baggage. This also allows 5x rebooking for free (fare difference may apply), but it does not allow rerouting.
Premium has the same perks as the Value package BUT with a check-in baggage allowance of 20KGs instead of just 10KGs.
To check flight schedules or to book, visit AirSWIFT's official website.
---
As mentioned, Romblon has three main islands: Romblon Island, Tablas, and Sibuyan. The best area depends on what attractions you wish to enjoy. But most tourists usually stay either in Tablas or Romblon, which have the most lodging options and more developed attractions and establishments.
Here are the top Romblon hotels and resorts on Agoda: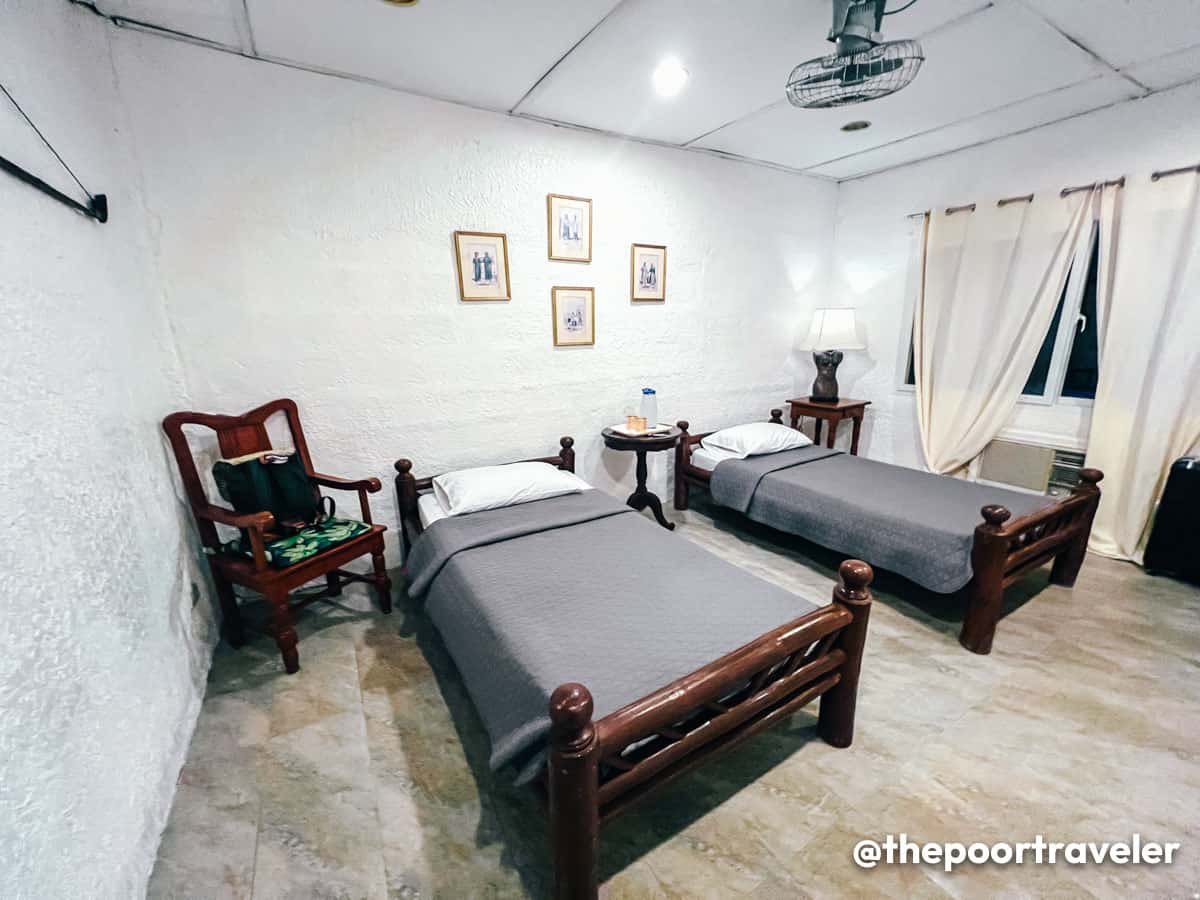 ---
Written by: Asta Alvarez
Photos and additional words by: Yosh Dimen
2️⃣0️⃣2️⃣2️⃣ • 1️⃣0️⃣ • 1️⃣2️⃣
---