Wealth
How to Become a Vendor at Farmers Market
Have you ever wondered how to become a vendor at farmer's market? Here's what you need to know!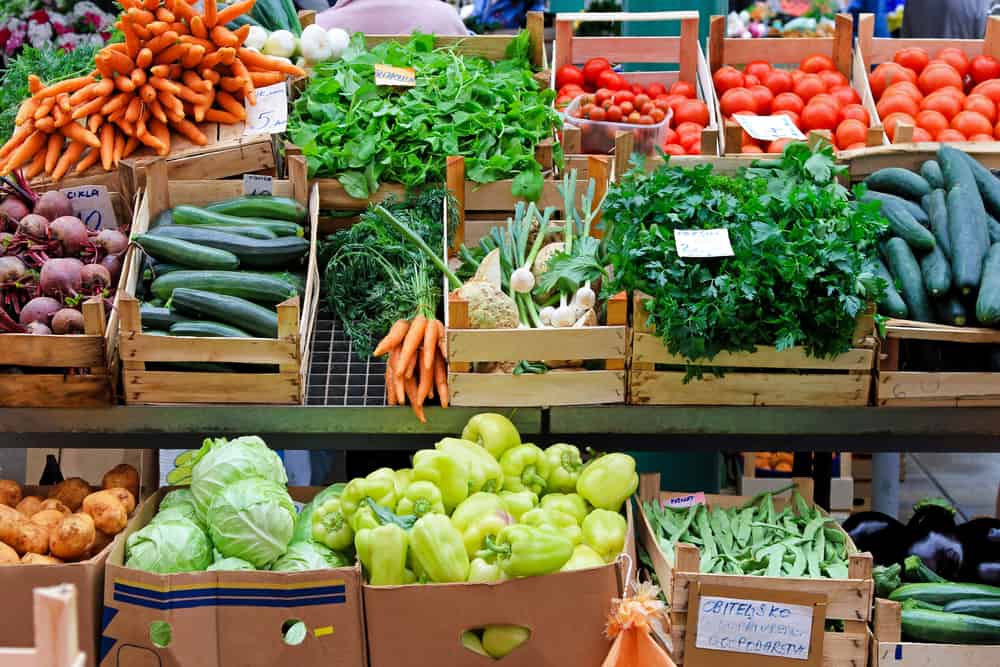 Participating in a weekly farmer's market is a passion for many. People love fresh fruit and vegetables, beautiful fresh-cut flowers, delicious foods and custom homemade crafts.
While you may have shopped at the farmer's market for years, you may have also considered selling at one as well. If you're looking to participate in and make a profit by selling your goods at local markets, here is how to become a vendor at a farmer's market.
See: 11 Ways To Make Money In a Small Town
What to Sell At a Farmers Market?
To be a vendor at your local market, you will need a product or products to sell. While this doesn't require a large investment, you will need to be able to produce items at an affordable cost in order to sell them at a competitive price. 
While every market is different, here are some of the popular product categories to sell at farmer's markets and what you will need in order to become a vendor. 
Produce
While you don't need large farmland, you will need a large garden that produces regularly. Fresh produce is always popular at markets and you'll want to have the popular seasonal items such as berries in the spring, summer squash and fall pumpkins.
Fresh salad greens, melons, tomatoes and peppers are always popular. The more variety that you can offer, the more potential sales you will have and you'll want to make sure that you have clean and fresh items to sell every week. If you don't have the gardening or farming ability to produce the volume of products that you need, some farmer's markets do allow vendors to resell farm produced products that were not grown themselves.
This may be an option if you do not have the land or ability to grow your own products. Check with local growers in your area to see if you can arrange a wholesale arrangement, but make sure that you can still keep your pricing competitive and make a profit. 
Find out: What Is The Cheapest Grocery Store?
Meat and Animal Products
Do you raise chickens or other livestock? If so, your fresh eggs or meat may be ideal to sell. If you have bees, honey is also a popular product. These products may have some restrictions on selling, so check your local guidelines and make sure that you can have enough product weekly to make selling at the market profitable. 
Homemade Food
Do you make a mean salsa, can the perfect pickles or create great seasonings or other tasty products from home? If so, these may have a great market at your local farmer's markets. There may be some licensing guidelines depending on your area, but if you can produce enough products to sell, this might be a niche for you. 
Bake and Prepared Foods
Do you bake great pies and cookies or the perfect loaf of bread? Or maybe do you want to sell the best snow cones or egg rolls?
Prepared foods are always popular at farmer's markets and selling can be a success with the right product. Make sure you are aware of local guidelines and any necessary licenses, and also do competitive research to make sure you are selling your products at an affordable price. 
SEE: What are Easy Foods to Sell to Make Money.
Crafts and Artisan Products
Are your skills more crafty than food related? With your homemade woodworking skills, jewelry making, quilting or other craft skills you may be able to sell your wares at local markets. Because popular products can sell quickly, you will need to have adequate inventory to stock a booth and certain sale guidelines may apply depending on your area. 
Also, you might sell those crafts on ETSY to make even more money. If you are interested in selling your artisan products online then you should check out this list of best-selling ETSY items.
Steps To Become a Vendor at a Farmers Market
An important part of how to become a vendor at a farmers' market is planning. Many successful vendors spend the entire year planning and producing goods for the short summer market season. In addition to producing adequate volumes of products, there are additional steps you will need to take to make your business a success. 
Rent a Booth Space
Farmer's markets vendors are typically assigned booths, which is their designated space to sell their merchandise during the events. Depending on the market, booth spaces may be rented for the entire season, or in some cases week to week as you are able to participate.
Popular farmer's markets often require applications as much as a year in advance and may have limited spaces available for new vendors. To check availability for new vendors, visit the website for the market you wish to participate in.
The cost for a booth at your local farmer's markets can vary depending on the type of business and the city where you are located. Larger and more popular markets in large cities can charge higher fees, and some markets may charge a premium fee for higher traffic booth locations.
Check with your local market about fees for their events and for availability. If you are not able to rent a booth for the first year or two due to limited availability, don't let that put a damper on your dreams. Be persistent in requesting a spot and put your name on any wait lists to be in line when availability does become available. 
Obtain Necessary Licenses
Before participating in your local farmer's market, it is important to check to see if you need one or more licenses to participate. Depending on what you will be selling at the market and your local and state guidelines, a license may be required to sell certain types of goods. Some types of products that may need a license to sell are home canned foods; prepared foods, especially those that need to be kept at a certain temperature.
Depending on your locality, there are different licenses that you may need before you can become a farmer's market vendor. You may need a Farmer's Market Food Establishment License. This license is based by county and if your goal is to participate in different markets in different areas, you will need a separate license for each county. A separate license is necessary for each stand you operate, so if you plan to have two stands at a particular market, you will need 2 separate licenses. 
Other licenses that may be required include a mobile food unit license or a temporary food establishment license. For time and temperature controlled foods that are not prepared at the market, these items need to be produced in a licensed facility. You also may need a farmer's market food establishment license. 
Purchase Insurance
Many markets will require that vendors carry liability insurance. Even if it is not required to participate in markets in your area, having insurance can still be prudent to protect your business. Find out about the requirements for participating in market events in your area. 
Prepare Your Products for Market
Once you have your booth, licenses and insurance in place, you'll want to get your products prepared for market. There are several considerations you'll need to keep in mind as you get ready for market day.
Transportation and Storage
Do you have the ability to keep your goods fresh and to transport them to the market without them getting damaged? You may need access to refrigeration, or at least a truck or van to get your items to the farmer's market.
Set Up and Supplies
How are you going to display your products in your booth. Do you have tables to display them on? A tent to keep them (and you) cool from the hot summer sun, wooden crates for your products?
You'll want to have an attractive display for your products and this may involve purchasing some items such as tables, signage or other displays to help your booth be successful.
Other supplies that you may need are bags for customers who purchase your goods and packaging for your products (such as boxes for baked goods).
FIND: Places to Get Free Milk Crates
Start Small and Prepare to Grow
While you'll want to have an adequate amount of product to make exhibiting at the farmer's market worth your time, you also don't need to have dozens of different products to get started.
Start with a limited inventory and continue to grow your amount of products weekly based on your sales and demands.
Make Sure You Have Staffing
Even small vendors will need some form of assistance when becoming a vendor at a farmer's market.
Whether it helps with setting up and tear down, helping make sales or even just watching the booth while you go to get change or use the restroom you will need one or more additional people to make sure your booth is manned at all times.
If you can't afford to pay employees in the beginning, recruit your spouse, significant others, friends or older children to help you out.
Prepare Your Paperwork
Selling at a farmer's market does require more than just having goods and selling them. In addition to your booth space, required licenses and insurance, you may also need a business permit.
Have your paperwork handy every time you exhibit since you may be asked for them or have a surprise inspection. You will also need to track sales and expenses since sales are considered income and will need to be reported on your taxes.
The Bottom Line
If you've wondered how to become a vendor at farmers' markets, you're not alone! Many individuals and families are successfully earning income as a side hustle, or even a full time income by selling their goods and services at market events.
While you do need to have products, as well as a plan and some required paperwork, this can be a fun and exciting way to earn an income doing something you love.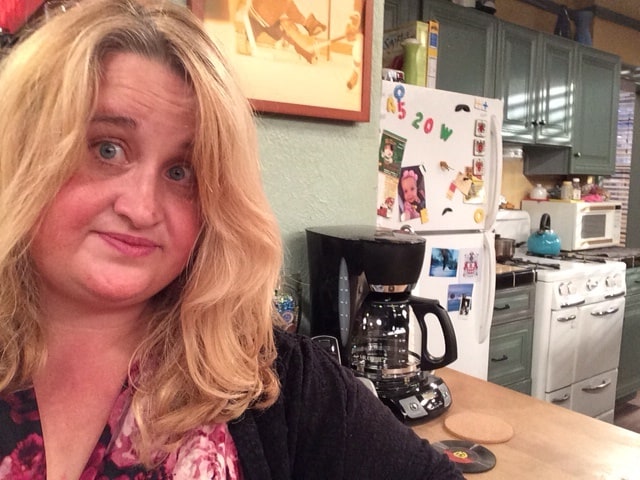 Kim Ritter is a frugal living expert, blogger and mom of two from small-town Iowa. What began as an effort to help her family save a few dollars a month has now transformed into a full-time passion to help other parents money. Visit her online at twokidsandacoupon.com and follow her on Twitter at @2kidsandacoupon for more ways your family can have fun on a budget.