Tech
Amazon Echo Buds (2nd Gen) review: Alexa, try harder
At a glance
Expert's Rating
Pros
Sleek design
You'll never need to yell "Alexa!"
Can pair with two devices simultaneously
Cons
Mediocre sound quality
Less-than-effective ANC
Unimpressive battery life
Our Verdict
How much do you love Alexa? You'd have to really adore Amazon's digital assistant to choose its Echo Buds over other quality in-ear headphones.
Price When Reviewed
$99.99 with wireless charging case; $79.99 with wired charging case
Best Prices Today: Amazon Echo Buds (2nd gen)
$99.99
$139.99
Like each of Amazon's smart speakers, its second-generation Echo Buds in-ear headphones do a fantastic job of summoning the company's digital assistant, Alexa. And like each of those speakers, audio performance takes a back seat to listening for and responding to that wake word.
The second-generation Echo Buds are generally a more polished product than Amazon's other audio gear—with the possible exception of the $200 Echo Studio—so it's not a surprise that they received a generally warm reception when released a couple of years back. They're most definitely the best audio product I've heard from Amazon. Unfortunately for Amazon, it's competing in a category filled with excellent alternatives, and these don't really stack up.-
The Echo Buds have a sleek case that slides easily in and out of pockets, they're lightweight in the ear canal, and they have a charming Amazon smile on each earbud's touch-sensitive control surface. There's a lot to like a first glance, but we'll identify a few issues as we dig down into their features.
This review is part of TechHive's in-depth coverage of the best noise-cancelling headphones.
Are the Amazon Echo Buds well built?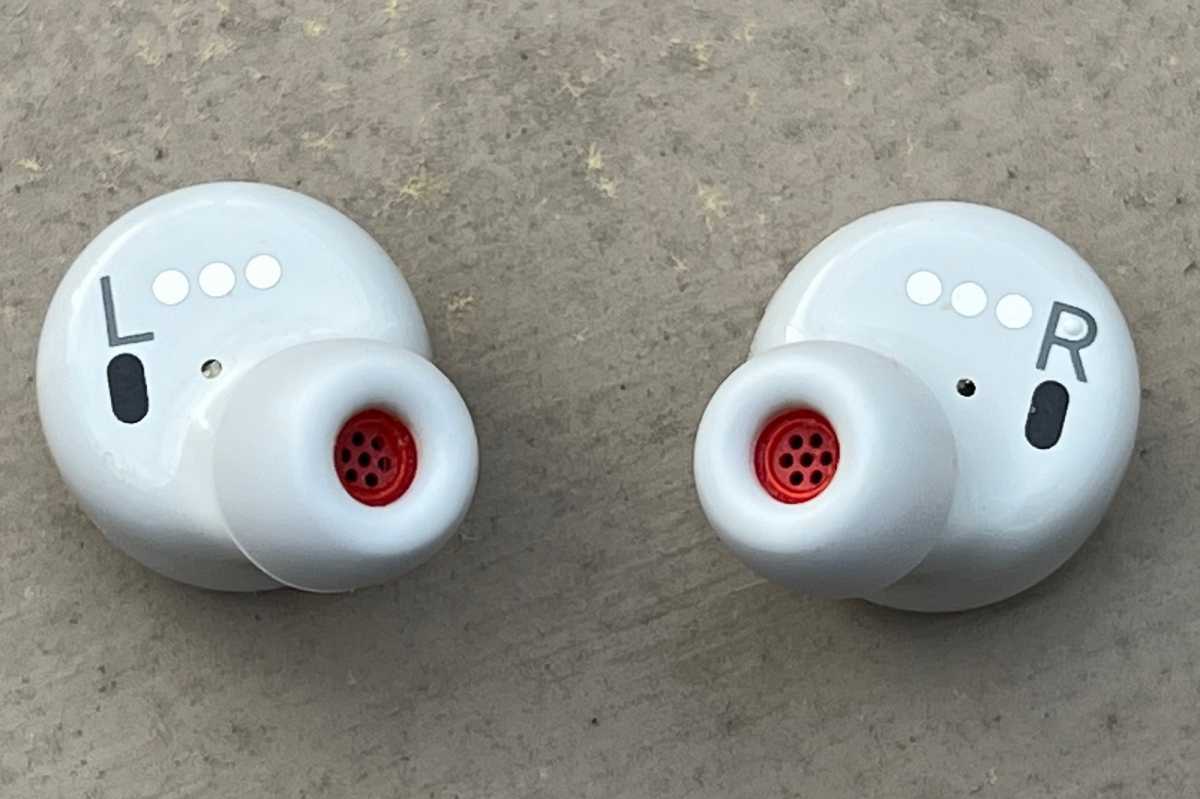 James Barber/Foundry
The Echo Buds come with four sizes of ear tips and two sizes of stabilizing wing tips to help ensure the best possible fit. In addition to the two earbuds and the charging case, there's also a USB-C charging cable and a user manual. You choose between black and glacier white colorways for the earbuds and their case.
These earbuds offer up to 5 hours of playback before you need to put them back in the charging case, which bumps that number up to 15 hours of usability. If you can do without active noise cancellation (ANC) and Alexa, those numbers jump to 6.5 and 19.5 hours respectively. When you're in a hurry, you can get 2 hours of playback on a 15-minute charge.
The basic case allows for wired charging with the included cable and sells for $119.99. You can upgrade to the version reviewed here for $20 more. This model supports both wired charging via cable and wireless charging on a Qi-certified pad. At the time of this review, the earbuds were street-priced at $79.99 with the wired charging case and $99.99 with the wireless case.
There's an iPX4 waterproof rating, which makes them adequate for use at the gym, but they're not designed to survive a dip in the pool. (You'll learn everything you need to know about IP weatherization codes at the preceding link).
The controls are what you'd expect: a single tap on the outside of an earbud plays and pauses the audio, two taps skips to the next track or answers and hangs up a phone call, three taps skips to the previous track, and a long press toggles between ANC and passthrough.
How do the Amazon Echo Buds sound?
The Echo Buds utilize 5.7mm dynamic drivers, with two external beamforming microphones and one internal microphone in each earbud. They connect via Bluetooth 5.0 and support the AAC and SBC codecs, but not any of the flavors of aptX.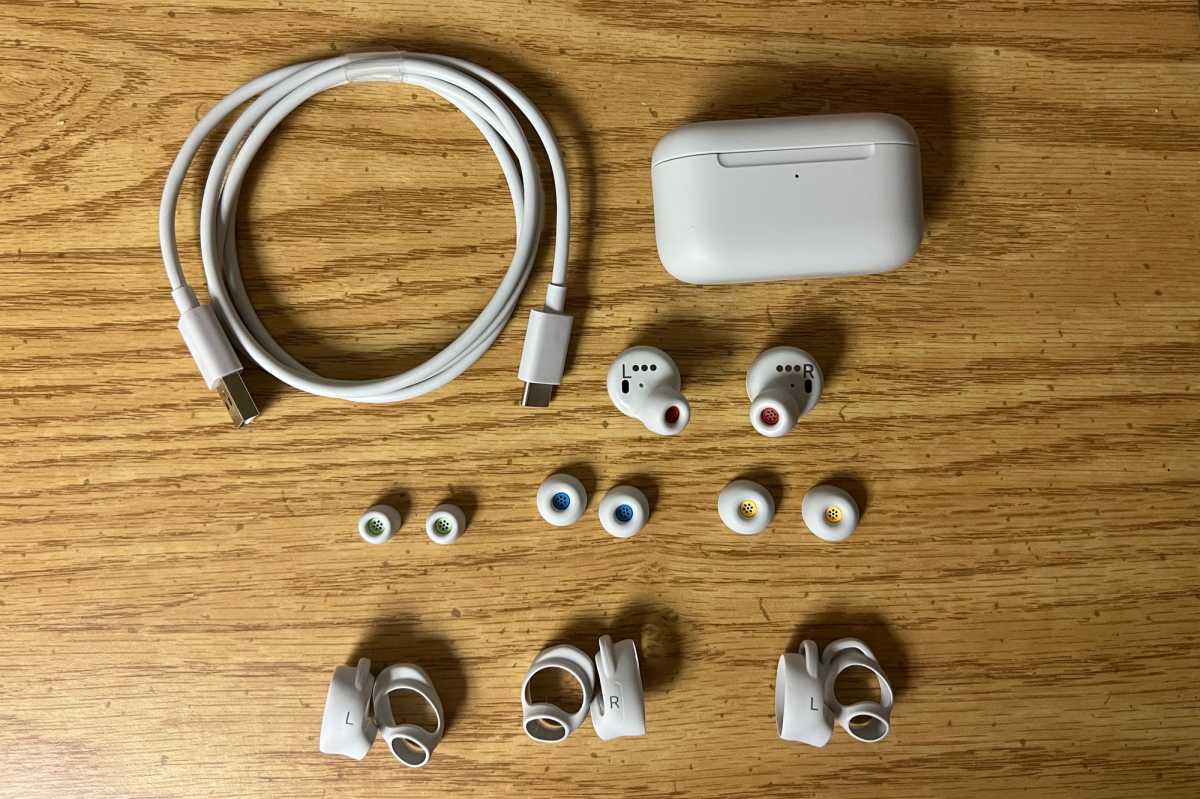 James Barber/Foundry
And this is where the Echo Buds really disappoint, especially as the flagship product from a brand like Amazon. Compared to the flagship earbud offerings from Apple and Google—the AirPods Pro and the Pixel Buds Pro respectively—Amazon Echo Buds sound brittle and thin, with almost no bass presence.
If you've been listening to bargain-basement earbuds that sell for around $30, you'll be impressed with the Echo Buds and you might wonder what I'm complaining about here. But anyone who's been exposed to high-quality Bluetooth speakers or headphones won't be pleased with how these earbuds sound.
Using the Alexa app
The Amazon Alexa app for iOS and Android will track your workouts via the Echo Buds, but it's a very basic tracking feature. As an iPhone user, I can't imagine why anyone would use this feature instead of the built-in Fitness app included with iOS.
You can connect the Echo Buds to two devices at the same time, and the app shows which devices those are. One definite plus for the Echo Buds is that the voice prompt tells you the name of the device you're using when it makes a connection, instead of just confirming a nameless Bluetooth connection like almost every other wireless headphone or earbud does.
There's an option to have Alexa read aloud your phone notifications, which could be helpful during a run or bike ride. More importantly, the slider to turn that feature off again is easy to locate in the app.
There's a simple, three-band equalizer that didn't do much to improve how brittle music sounded with these earbuds. What did improve the audio was the Audio Personalization test. Amazon uses a wider variety of volumes with its test tones than personalization tests I've used with other in-ear headphones.
If you decide to go with the Amazon Echo Buds, the Audio Personalization test is a must. The overall sound improved a lot, so much so that I had to go back to my AirPods and Pixel Buds to see if I'd been dead wrong in my earlier assessments of the sound.
Not exactly. My personalized audio profile comes with some substantial digital signal processing that sounds artificial when compared to the output from the competitors' earbuds. That DSP makes the Echo Buds more listenable but they're still nowhere near as good as the audio output from other high-profile earbuds.
Amazon Echo Buds noise cancellation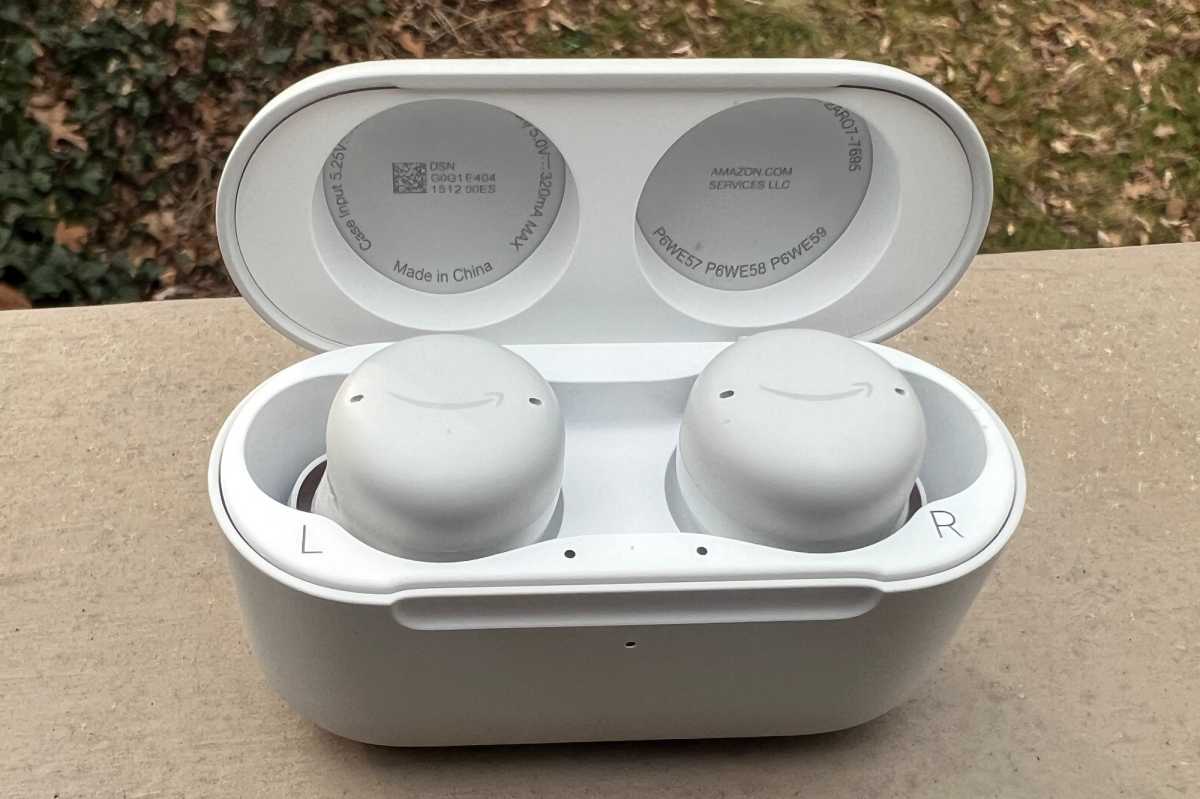 James Barber/Foundry
The other real disappointment here is the active noise cancellation. I used the ear tip fit test to make sure I had the right tips. Yep, my fit was determined to be "great" for both ears. Whenever I had ANC turned on, there was a mild low-grade whoosh that reminded me of how the best noise-cancelling headphones can cut down the sound of a jet engine during an airplane flight.
The only problem is that I was sitting in a silent room. When there was actual noise (like a dishwasher or clothes dryer), the Echo Buds filtered out less of the actual noise any other in-ear headphones that I've tested for TechHive.
Again, it's not like Amazon's ANC doesn't work, it's just that there are dozens of other choices out there that will do a much better job cutting out unwanted distractions.
Alexa is the Amazon Echo Buds' killer feature
How you'll feel about the Echo Buds really comes down to how you feel about Alexa. The Alexa Hands-Free feature is turned on by default, and you can summon the digital assistant just by saying "Alexa" and then asking your question. Unfortunately, you're stuck with "Alexa," since there's no way to change the wake word like you can on Amazon's Echo speakers.
If you're using the Echo Buds or any other earbuds with an iPhone, you can summon Siri by saying "Hey, Siri." If you're using most Android phones, you can use the Google Assistant with a "Hey, Google." The attraction here is for anyone who insists on using Alexa as their digital assistant.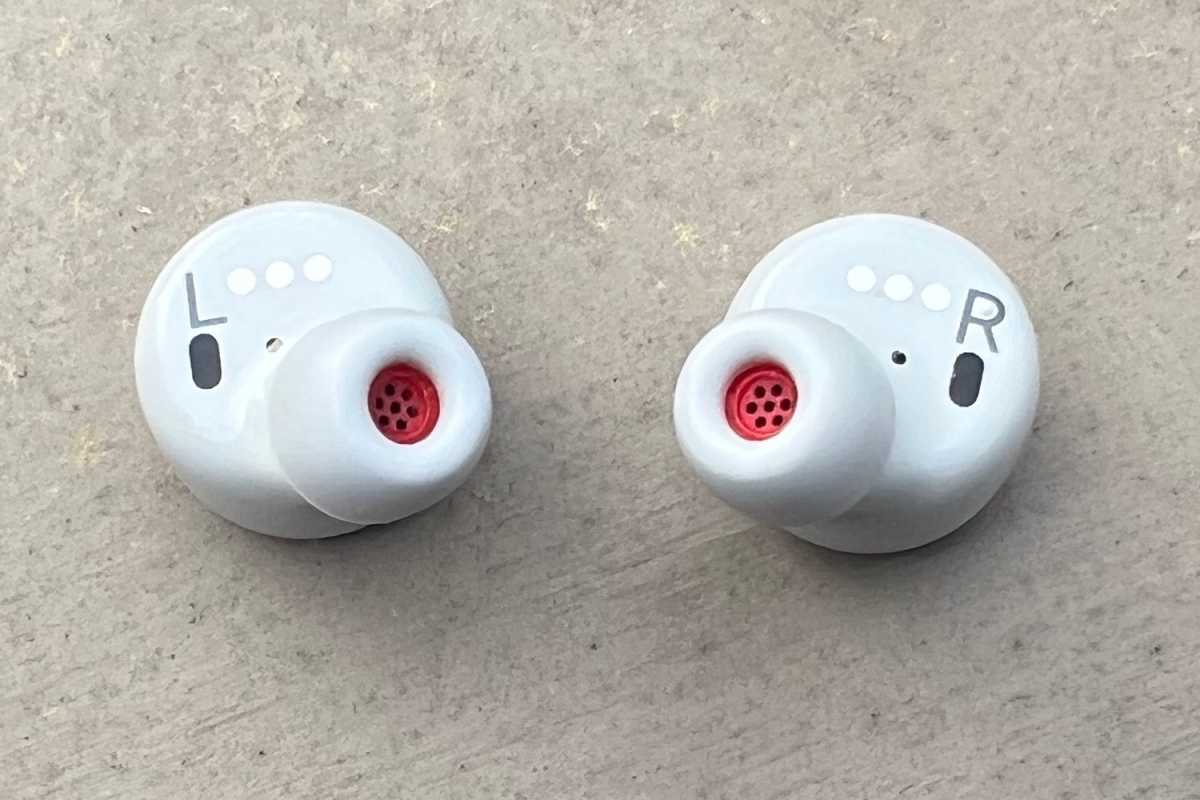 James Barber/Foundry
I was able to issue a command for my Echo Dot speaker using the Echo Buds, along the lines of "Play the Ramones on my Echo Dot." That worked when I was outside my house. As I returned from a walk and came into my office, "Beat on the Brat" was dutifully playing on my Echo Dot. Of course, if I'd issued the command, "Alexa, play the Ramones" when I was in the same room, the mic on the Echo Dot would've handled my request with no need for the Echo Buds.
Triggering smart home routines is probably a better use case for having an Alexa-compatible device with you when you're out and about—you could, for example, trigger the lights to turn on as you walk up to your porch at night. But that would be useful only if you're coming back from a walk or a run; you obviously shouldn't use earbuds in your car.
Using hands-free Alexa is a drain on the earbuds' batteries, but it doesn't seem to be any more of an issue that using ANC. Granted, the more you use a particular digital assistant, the better it's supposed to be at predicting the answers you want. Amazon wants to be the company that collects and processes that data for you, so they've created the Echo Buds to be their on-the-go Alexa solution.
If you think Alexa is the best digital assistant and want to avoid the competition, or if you trust Amazon more with your data than you do Apple or Google, then the Echo Buds are the way to go if you want a hands-free digital assistant.
Should you buy the 2nd-gen Amazon Echo Buds?
Amazon positions the Echo Buds as a premium product designed to compete with the more expensive Apple AirPods Pro 2, Google Pixel Buds, and Samsung Galaxy Buds Pro. They share the excellent fit and finish with those models, but the Echo Buds just don't compete in terms of either audio quality or noise cancellation.
The Echo Buds are better than many of the other audio products Amazon has brought to market, but they're not really up to the standard set by other brands in this incredibly competitive space.