Tech
LG updates its loud and proud XBoom party speaker lineup
LG Electronics has launched new living-large, lighted party speakers in the form of Xboom XL7 and XL5. The big-daddy XL7 (as in eXtra Large) pumps 250 watts through an 8-inch woofer and twin 2.5-inch tweeters. The smaller XL5 features a 200-watt amp, a 6.5-inch woofer, and the same 2.5-inch tweeters.
The XBoom XL7 measures 27.5 x 12.2 x 12.4 inches (HxWxD) and weighs a hefty 32 pounds. The smaller XBoom XL5 measures 22.4 x 11.1 x 11 inches and weighs about 26 pounds.
This news story is part of TechHive's in-depth coverage of the best Bluetooth speakers.
Inputs include microphone, 1/4-inch guitar, Bluetooth 5.1, and USB. You can connect up to 10 XBooms in stereo pairs or as repeaters using LG's Wireless Party Link. LG's Karaoke Creator stifles the vocals in songs, allowing you to warble away with your own voice being most evident.
The larger and taller XBoom XL7 sports a telescoping handle, while the XBoom XL5's handle is integrated into its body. Both portable speakers carry IPX4 weatherization ratings, which means they should survive a brief stint under a garden sprinkler but won't withstand high-pressure jets of water or dunking. In other words, you don't need to treat them with kid gloves, but you don't want to take them for a swim.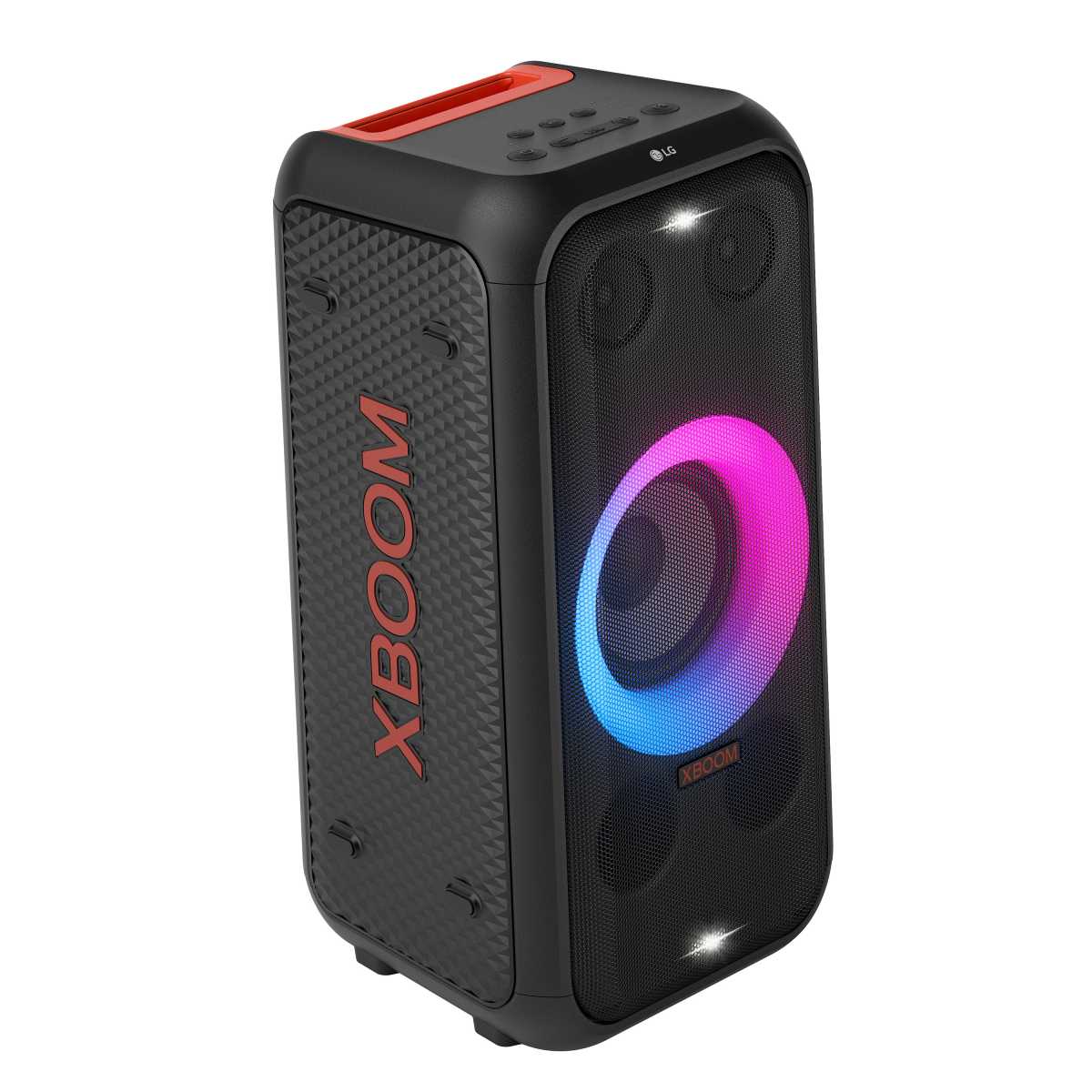 The XBoom X7's LED lighting features animation, EQ visuals, and a billboard mode for texts (e.g., "Happy birthday!"). Both speakers feature color LEDs surrounding the woofers that will display visual effects in sync with the beat of the tune being played. You can customize the whole deal using the XBoom app on your smartphone or other mobile device.
LG says the XL7's battery should run for 20 hours, while the XL7 is good for 12 hours; both speakers need 3.5 hours for a full charge. We've yet to be informed of the prices for either model, but the current crop run in the $250 to $300 range.