Tech
iFi Go Link review: A value-priced, audiophile USB DAC and amp
At a glance
Expert's Rating
Pros
Outstanding audio performance
Supports most of the high-res audio formats, including MQA
Includes adapters for USB-A and Lightning connections
Cons
USB-C connector might be too large to fit in most Android phone cases
Build quality isn't stellar
Only supports 3.5mm headphone jacks
Our Verdict
The iFi Go Link is a steal, a stellar piece of gear that delivers a truly high-res audio experience at a knockout price.
Price When Reviewed
$59.95
Best Prices Today: iFi Go Link
$59.00
The iFi Go Link is a bargain-priced portable USB DAC and headphone amplifier that punches so far above its class you're forced to wonder how the company has managed to deliver such a great device for just 60 bucks.
If you have wired headphones, there's not a music source on your phone or tablet that won't be improved in some meaningful way by using this DAC and bypassing your device's built-in digital-to-analog converter.
The iFi Go Link is small enough to fit in your pocket, and cheap enough that you won't freak out if you lose it while you're on the road.
What's inside the iFi Go Link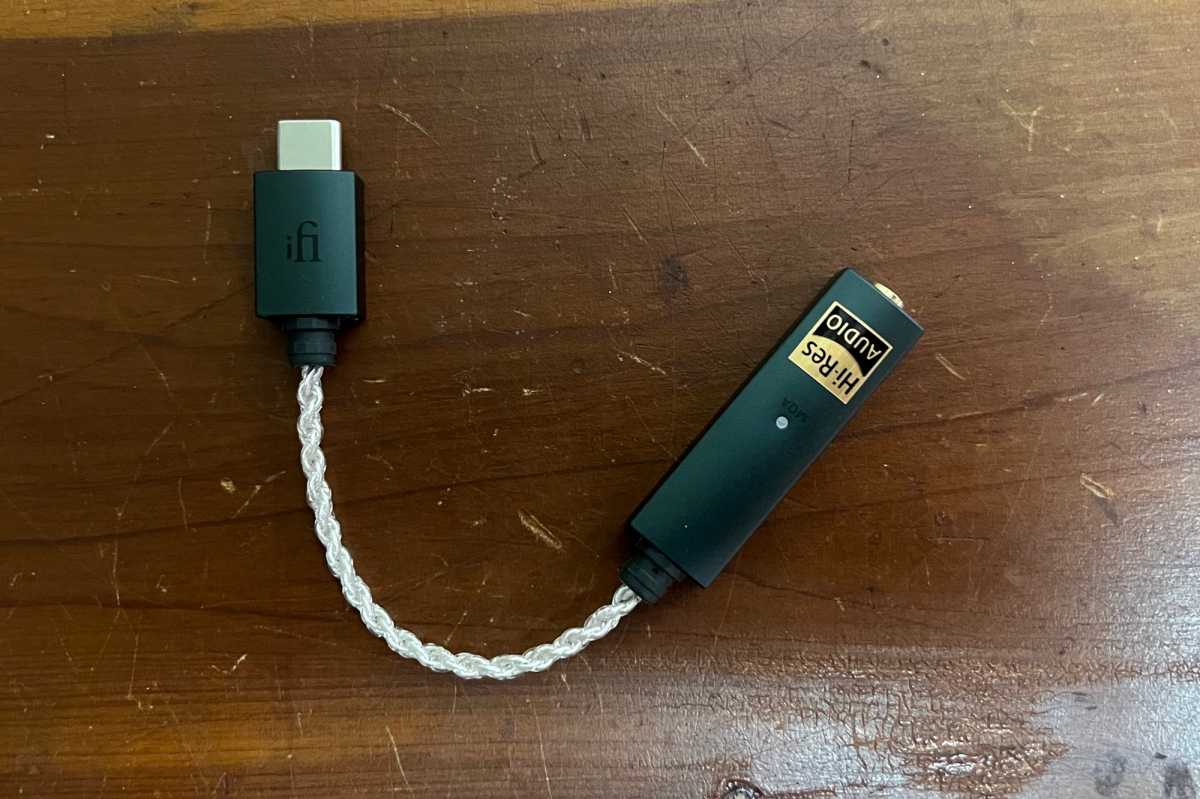 James Barber/Foundry
The iFi Go Link measures 5.75 inches from nose to tail, and its connector cable is 2.8 inches long. The DAC/amplifier unit is just 1.75 inches long, and the entire unit weights less than half an ounce. This is a truly tiny piece of gear. It has a single 3.5mm headphone jack.
The packaging and promotional material say the Go Link comes with a USB-C to USB-A adapter, but they don't announce that iFi has decided to also include a USB-C to Lightning connector in the package. The company assured me that iPhone users should expect to find the adapter in the package even if the site they order from doesn't announce the fact.
There's a 32-bit ESS Technology Sabre HiFi ES9219MQ/Q DAC inside, and iFi credits that part's Quad DAC+ and Time Domain Jitter Eliminator technologies, along with dedicated clock circuitry that uses a specialized crystal oscillator, for delivering "ultra-low distortion, excellent clarity and impressive dynamic range."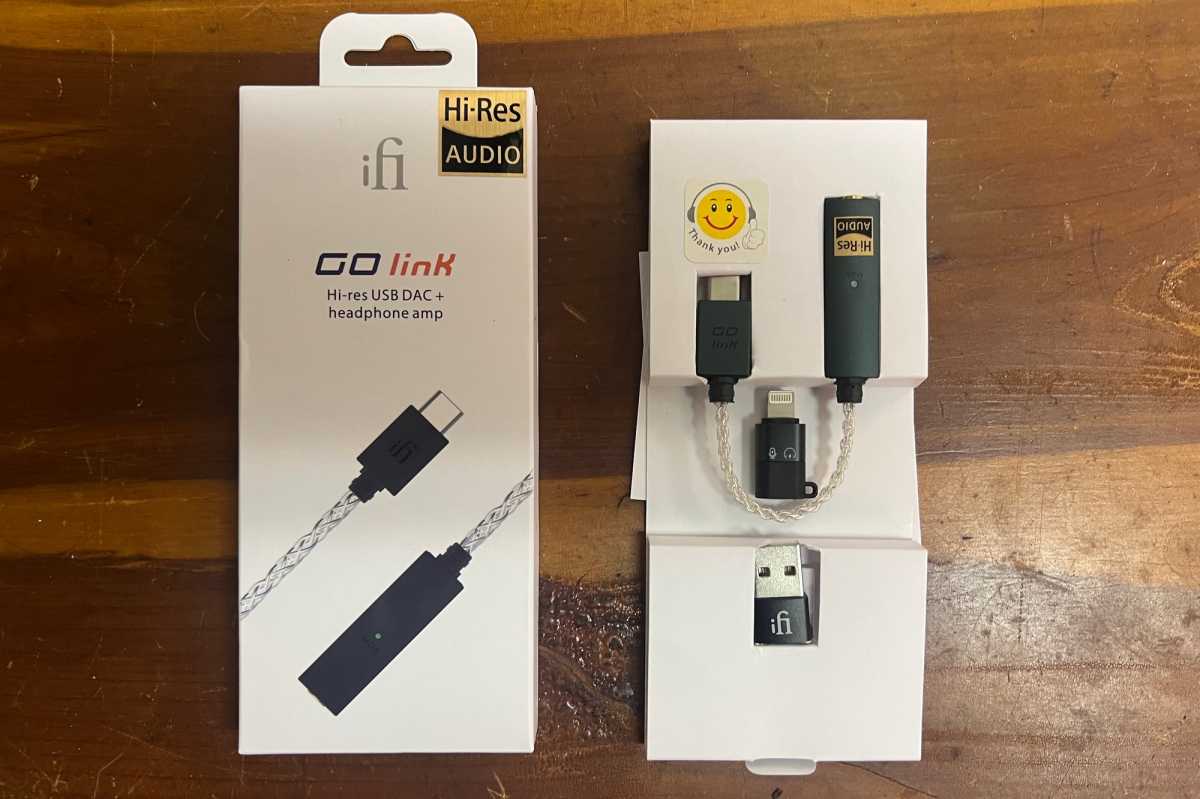 James Barber/Foundry
The ES9219MQ/Q DAC can process PCM streams up to 32-bit/384kHz, DSD to 11.2MHz (DSD256), and it delivers full support for the MQA format. An LED on the DAC changes color based on the audio stream it's processing, glowing green for PCM 44.1/48/88.2/96kHz, cyan for DSD 64/128, yellow for PCM 176.4/192/352.8/384kHz, blue for DSD256, and magenta for the MQA renderer.
Most expensive DACs will glow different colors for the various resolutions within a particular audio format, but I'm impressed that a DAC at this price has any kind of indicator light.
iFi Go Link audio performance
James Barber/Foundry
I decided to pick one song for specific comparisons between an array of music sources and landed on the 2018 remaster of "Good Times" by Chic, a legendarily well-recorded 1979 track written and produced by band leaders Bernard Edwards and Nile Rodgers. It's available as a high-resolution track on various music services, so it seemed like a great test. Plus, listening to "Good Times" 25 times in a row is a supremely enjoyable experience.
I used an iPhone 13 Pro Max and a OnePlus 10T Android phone for playback. Both devices were up to date with the current versions of their respective operating systems. To keep in the spirit of a $59 dongle, I used my pair of Sony MDR-7506 headphones, which are still the best wired headphones under $250, even though they sell for less than $100.
Listening to the iFi Go Link with an iPhone
I started with Qobuz, which is streaming a 192kHz version of the track. I first plugged in via Apple's Lightning-to-3.5mm adapter and then switched to the iFi Go Link using the included Lightning to USB-C adapter. The results were startling. The soundstage widened, the legendary Edwards bass part filled out and dominated the track, while Rodger's era-defining guitar part sparkled.
The real shock came when comparing the iFi Go Link to iFi's $599 Gryphon xDSD DAC and listening via the Sony headphones. There was certainly an improvement with the Gryphon, but it wasn't nearly as pronounced as you'd think with a DAC that costs ten times as much. To be fair, the Gryphon is loaded with features the Go Link doesn't have, and the gap between the two DACs was far more noticeable when I switched to my Focal Celestee over-ear headphone, which costs roughly ten times as much as the Sony MDR-7506.
James Barber/Foundry
That brings up the use case for this device. If you've invested in high-end headphones, you want a high-quality DAC and headphone amp to drive your purchase. What iFi has made here is an entry-level DAC for people who are just curious about higher-resolution audio or not yet able to make an investment in high-end audio gear.
"Good Times" is streaming in high-res lossless at Apple Music, and the improvement was just as pronounced when switching from the Apple adapter to the iFi Go Link as it had been with Qobuz.
When listening to an MQA Master streaming from Tidal via the Apple dongle, the track had solid bass, but there was a decided harshness in the strings and vocals. Switching the Go Link, the overall sound was dramatically improved, but I preferred the results I got from Qobuz and Apple Music. That's generally not the experience I've had with MQA streams played through high-end DACs, so I'd attribute this more to the particular limitations of the Go Link than to the MQA tech.
The real test came when listening via Spotify, which still streams its music in less-than-CD quality almost two years after they promised a lossless option was coming soon. Chic sounded terrible with the Apple adapter: brittle and thin. The great news is that the Go Link's DAC sanded off those sharp edges and gave at least some extra body to the tracks.
Listening to the iFi Go Link with an Android phone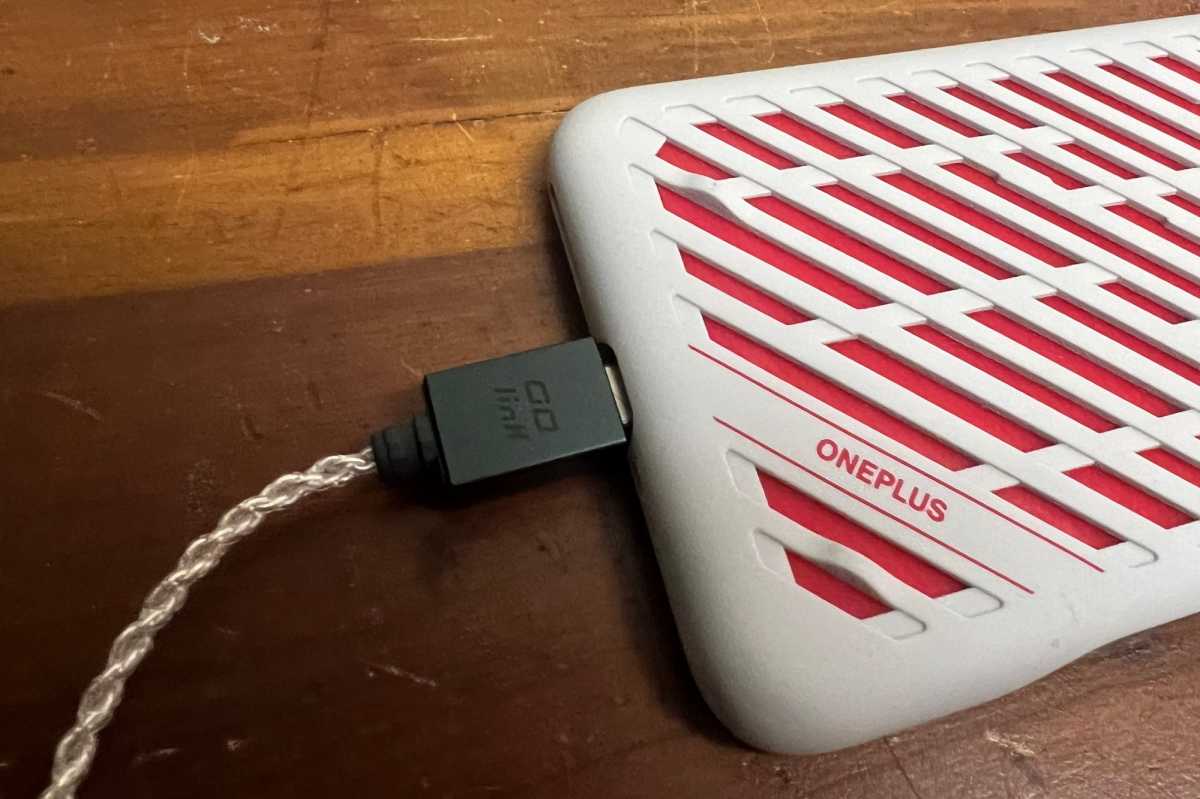 James Barber/Foundry
The USB-C connector on the iFi Go Link has a very wide base, something that caused a problem with the case on my OnePlus 10T phone. The connector got less than halfway into the port before it was blocked by the case, which I had to remove. I expect that will be a problem with quite a few Android phones and cases, so be prepared to deal with the issue.
The Tidal MQA stream of "Good Times" sounded decidedly better when streaming from the Android. There was still more depth to the low end and a wider soundstage when using Qobuz or Apple Music. The experience was identical to the one I had with the service when using my iPhone.
I've never used my Android phone with a USB-C headphone adapter, so I didn't compare the experience during my testing, but I can report that the iFi Go Link significantly improved my Spotify experience.
Should you buy the iFi Go Link?
Can you buy a better portable DAC? Yes, but I think you're looking at spending more than $200 to get something like an AudioQuest DragonFly Cobalt, a Questyle M15, or the iFi Go Bar. You can read my reviews of each of those devices at the preceding links. They all offer more features, such as more detailed information about the resolution of the stream. Some of them require adapters for use with the iPhone, which makes for a more complicated and bulky experience.
It's hard to believe the iFi Go Link sounds this good and costs so little. The dongle has the right adapters to be ready to use right out of the box and with whatever source you want. It's so small that it's barely noticeable when plugged in between your phone and your headphone cable.
If you're paying $20 a month for HiFi Plus at Tidal, you're probably also investing in high-end headphones, and you might want to consider a more feature-laden DAC. All that said, you can't go wrong at this price. The iFi Go Link did an especially impressive job of improving the sound of a low-res Spotify stream. Anyone curious about high-res audio can get a fantastic introduction with a very small investment. Serious headphone aficionados looking for a low-cost backup DAC to take on the road will be well served, too. The iFi Go Link is a fantastic value.