Tech
FuboTV review | TechHive
At a Glance
Expert's Rating
Pros
Better regional sports coverage than most streaming services.
Well-designed app with unique features, especially on Apple TV.
Generous DVR storage with no time limits
Cons
Lack of TNT and TBS leaves big holes in sports coverage.
Managing DVR storage can be a hassle.
Fire TV and Android TV apps are much worse than other platforms
Our Verdict
FuboTV has slick apps and great regional sports coverage, but also a few missing pieces.
Price When Reviewed
$55/mo. when first reviewed. As of 3/10/23, pricing is tiered at $75, $85, and $95 per month.
Best Prices Today: FuboTV
FuboTV is a well-designed live TV streaming service with a big emphasis on sports, but it's also in an awkward spot.
For $75 per month (although as I'll discuss in a moment, the minimum subscription cost is realistically $86 per month), you get a big bundle of sports, news, and entertainment channels, including the regional sports coverage that many other services lack. That's a steep price—regional sports don't come cheap, after all—but it's still cheaper than rival DirecTV Stream, whose regional sports packages start at $100 per month.
FuboTV brings its own set of trade-offs, though. You'll give up TBS and TNT, which themselves are important sources of basketball, baseball, and hockey, and it's missing some popular channels found in cheaper services. For those who don't care about regional sports at all, FuboTV offers little to justify its premium price compared to alternatives such as YouTube TV and Hulu + Live TV.
The result is a service that looks sharp and works well, but doesn't have a clearly defined audience.
This review is part of TechHive's in-depth coverage of the best streaming TV services.
What's included in FuboTV?
Before we go any further, be aware that FuboTV's advertised price of $75 per month is bogus. While the company advertises "no hidden fees," virtually all subscribers are on the hook for Fubo's regional sports fees, which range from $11 to $14 per month depending on which channels you get; hence, my earlier assertion that the minimum subscriber cost is at least $86 per month.
For that price, you get more than 140 channels, including local broadcasts, cable news networks, regional sports, national sports, and popular entertainment channels. (Plug your zip code into FuboTV's website for a full channel list.)
As with other live TV streaming services, it's more instructive to focus on what you don't get:
TNT, TBS, or TruTV, which air a large number of NBA, NHL, and college basketball games, plus some baseball coverage.
CNN, though MSNBC and Fox News are available.
A&E Networks channels, including A&E, History and Lifetime.
AMC Networks channels, including AMC, BBC America, and IFC.
A carriage dispute in February 2023 has made local CBS feeds unavailable in many markets, though Fubo provides a national CBS feed for impacted users.
Beyond the base package, FuboTV offers a slew of channel add-ons and upgrades. Most notably, its $96-per-month "Elite" package includes more news and entertainment channels, and an $11-per-month Sports Extra add-on includes NFL RedZone and other premium sports channels. You can view the full list at the "Add-ons & More" tab on Fubo's website.
How does FuboTV's DVR work?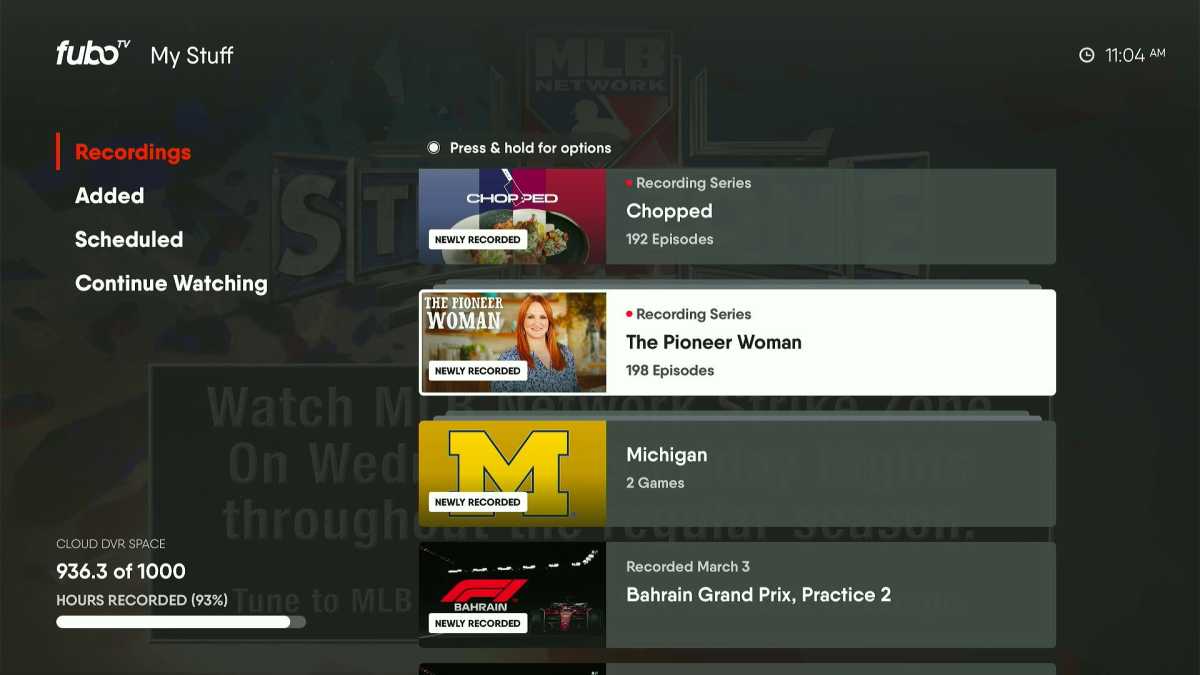 Jared Newman / Foundry
For new subscribers on English-language plans, FuboTV includes 1,000 hours of DVR storage, with recordings saved indefinitely. That's a big distinction from YouTube TV, Hulu + Live TV, and DirecTV Stream, which let you store unlimited recordings for up to nine months, and is more in line with how cable DVR used to work.
But Fubo's approach has a downside: Eventually, you'll need to manage that storage, and doing so can be hassle.
For series- or team-based recordings, you can't limit the DVR to a certain number of recent episodes, so recordings for nightly newscasts or syndicated series will quickly pile up. Once that happens, Fubo provides no easy way to delete lots of episodes in bulk. The only options are to wipe an entire series or delete one episode at a time.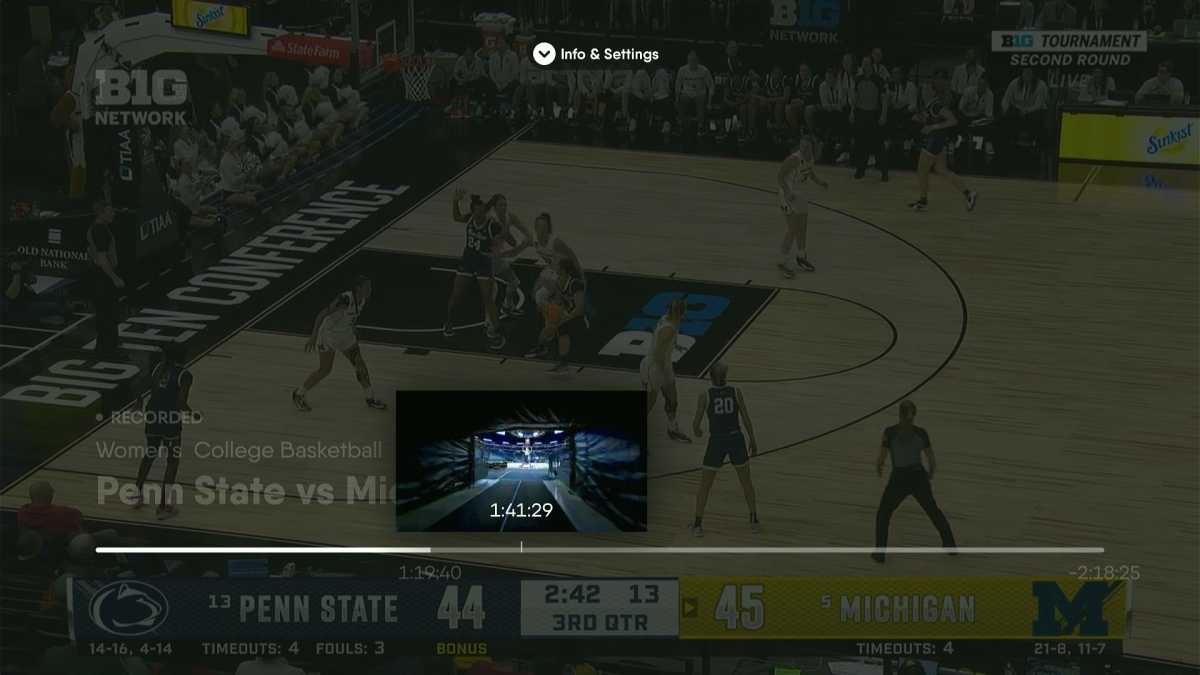 Jared Newman / Foundry
As for ad-skipping, FuboTV lets you skip commercials on all DVR recordings, including those that are still in progress. Still, your ability to locate the end of a commercial break will vary by streaming device.
Fubo's Apple TV app does the best job, showing a visual thumbnail preview when you fast forward on both completed and in-progress recordings. Roku devices show a preview for completed recordings, but not in-progress ones. Fire TV and Android TV devices, meanwhile, don't display a visual preview at all.
FuboTV's simultaneous stream and out-of-home viewing rules
FuboTV's current plans support streaming on up to 10 devices at the same time at home, plus another three streams on the road. Users also get up to six user profiles, each with their own recordings and favorite channels, but keep in mind the 1,000 hours of DVR storage is pooled across all profiles.
There's also a caveat for out-of-home viewing: You can't watch on TV devices (such as smart TVs or streaming players) if someone's already watching on TV at home. That makes FuboTV less useful for password sharing among far-flung family members.
There's also a caveat for out-of-home viewing: You can't watch on TV devices (such as smart TVs or streaming players) if someone's already watching on TV at home. That makes FuboTV less useful for password sharing among far-flung family members.
FuboTV device support
For app support, FuboTV is available on Roku, Amazon Fire TV, Android TV/Google TV, Apple TV, Chromecast, Samsung TVs, LG TV,s Vizio TVs, Xbox consoles, iOS, Android, and the web.
But some platforms handle FuboTV better than others. The best experience is on Apple TV, where you can launch FuboTV channels by voice using the Siri remote and stream up to four channels side-by-side in multiview. FuboTV doesn't support these features on any other platform.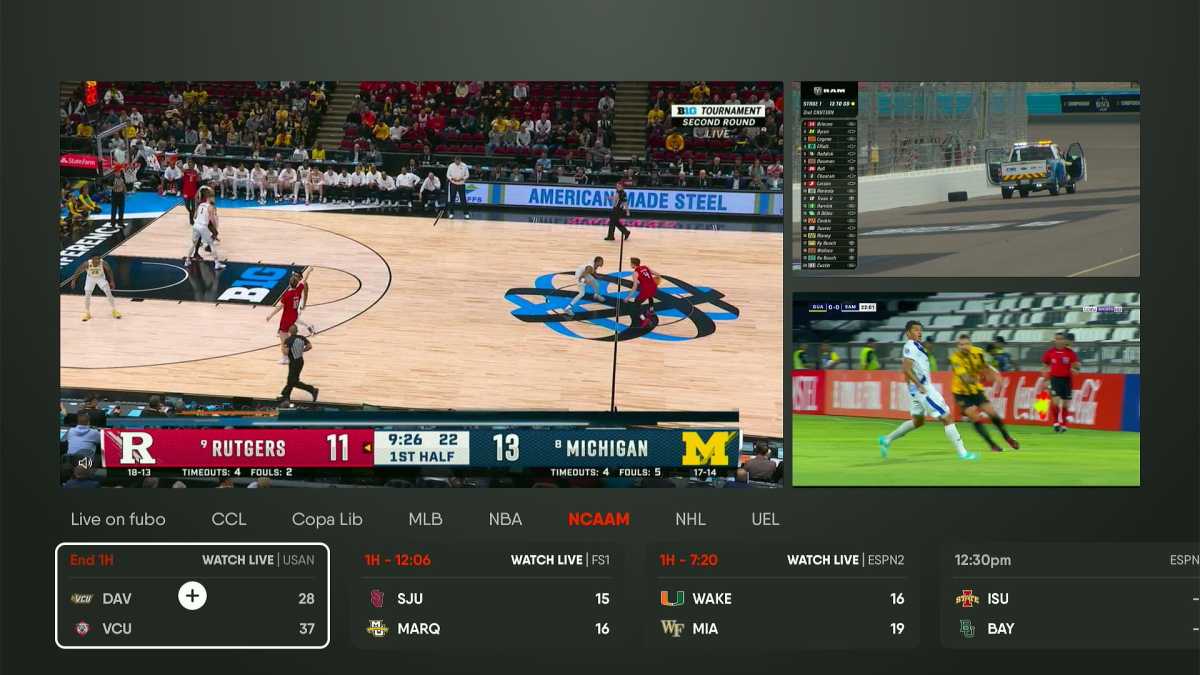 Jared Newman / Foundry
FuboTV also supports home screen integration on Apple TV and Google TV devices. That means you can get recommendations on what to watch straight from those devices' main menus.
Again, though, Android TV, Google TV, and Fire TV devices don't show a live preview while fast forwarding. Their live channel guides are also harder to navigate than other devices, as you have to click each show individually to view a description of the content. On other devices, that info automatically appears when you highlight a program.
The FuboTV viewing experience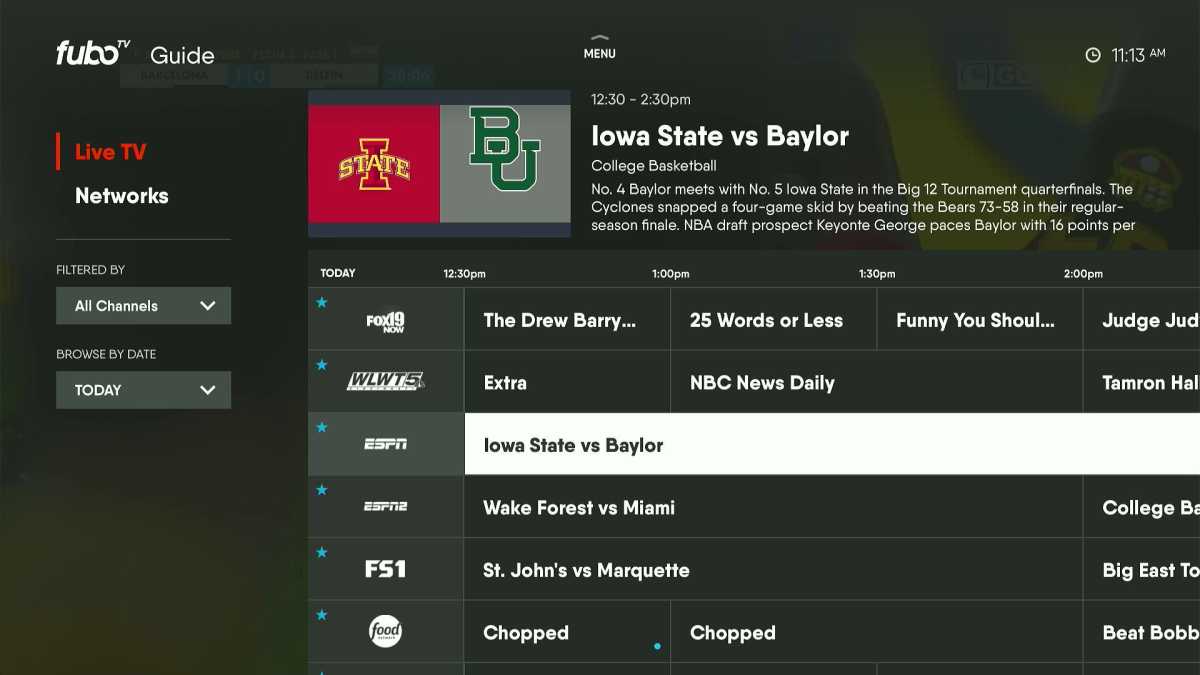 Jared Newman / Foundry
No matter which device you use, FuboTV's apps look pretty slick. The main page's recommendations invite you into live and on-demand programming, and there are tabs for movies, shows, and sports. The sports menu is especially well-done, with a quick rundown of live events, submenus for each sport, and recommendations on what to watch next.
Jared Newman / Foundry
The app also has nice little touches throughout. Fubo's menus are always clear about when an upcoming program is due to air, and if you're browsing the menu on Roku and Apple TV devices, pressing play always takes you back to whatever's currently playing in the background.
Meanwhile, Fubo's grid guide has lots of filtering options, plus a shortcut to jump ahead to future dates. When you're watching a show, Fubo offers a mini guide with its own set of filtering options, and it's easy to start recording a show from this playback menu.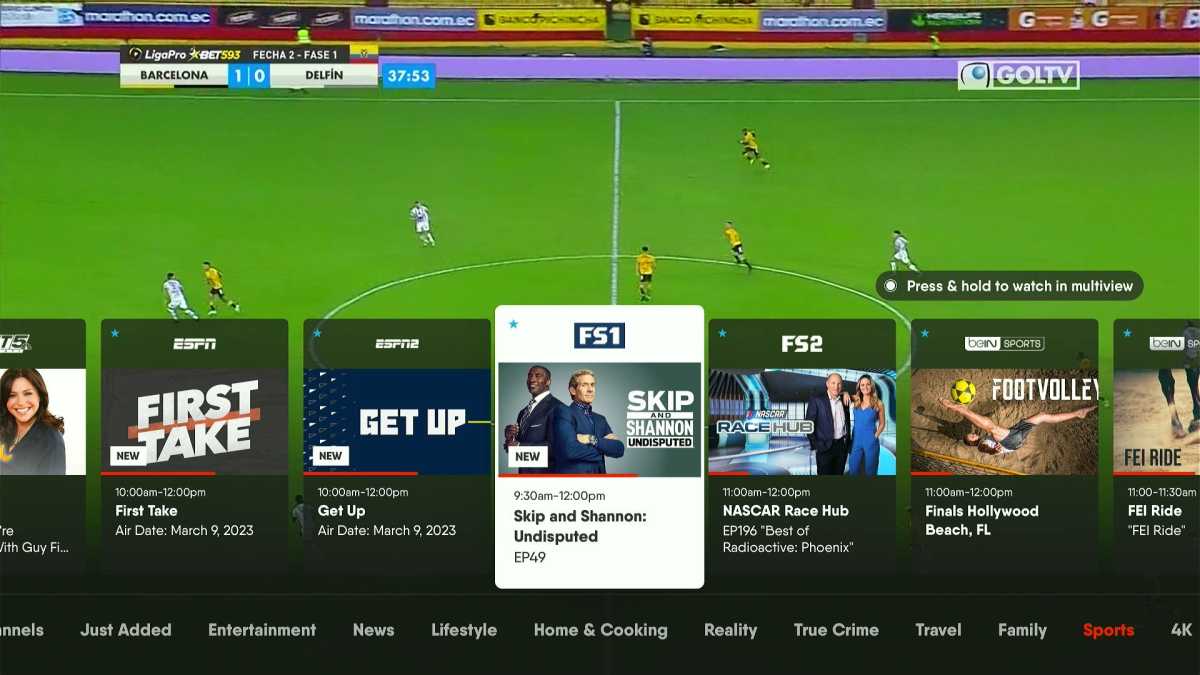 Jared Newman / Foundry
But again, the Fire TV and Android TV apps are inferior. Pressing back, for instance, immediately boots you from the app, whereas on other platforms it returns you to the top of the current menu screen. You also can't create series-based recordings from the grid guide, nor can you view detailed descriptions without clicking on each show first. Apple TV and Roku don't have these issues.
FuboTV picture and audio quality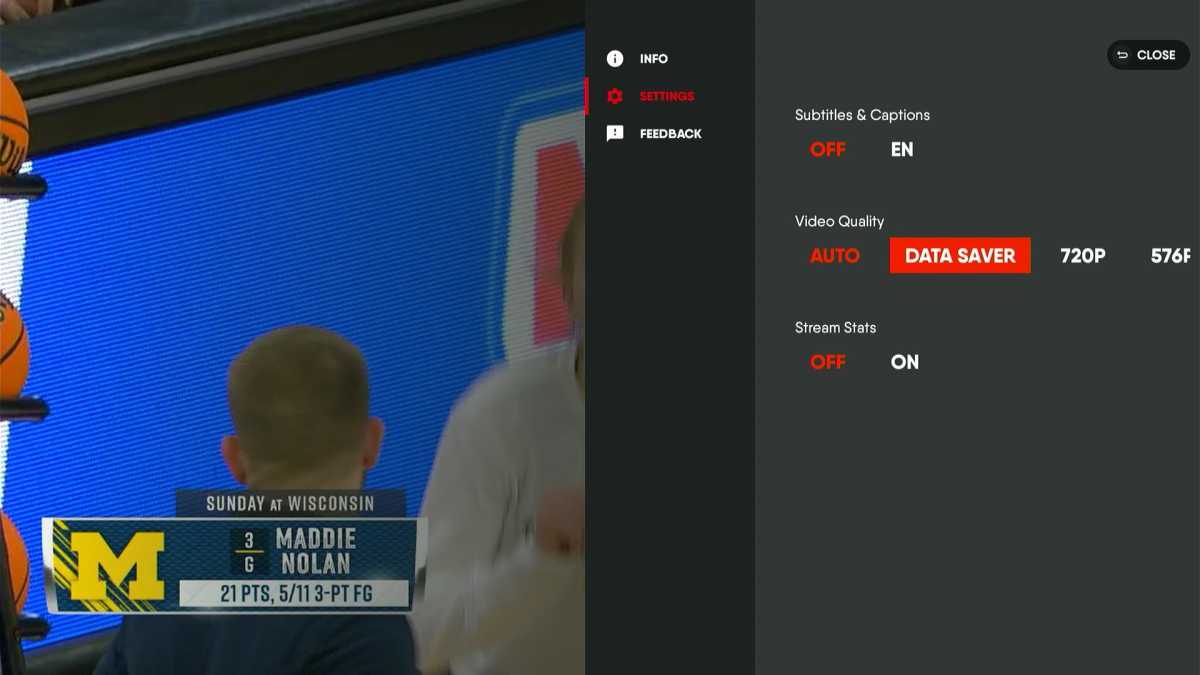 Jared Newman / Foundry
FuboTV streams at 720p for live channels and up to 1080p for on-demand content. I've noticed no video quality issues relative to other live TV streaming services, and most sports and news channels stream at 60 frames per second. (One notable exception was GOLTV, which was limited to a choppier 30 frames per second instead.) On the downside, FuboTV doesn't support 5.1 surround sound, even though most of its live TV streaming rivals do.
The service also offers some broadcasts in 4K, but this requires a $20-per-month add-on package. (The upside: You can use FuboTV to log into the Fox Sports app, where some events stream in 4K HDR at no extra charge.)
Meanwhile, FuboTV does have one unique perk for Fire TV and Android TV: Users with internet data caps or limited bandwidth can either use FuboTV's "Data Saver" mode or dial resolution all the way down to 270p. Strangely, these options are not available on Roku or Apple TV.
Is FuboTV worth it?
While FuboTV is a solid live TV streaming service overall, its starting price of $86 per month makes it a tough sell compared to YouTube TV and Hulu + Live TV. Those services don't have the same regional sports coverage, but they're much cheaper at $65 and $70 per month respectively. (Hulu's service also includes ad-supported Disney+, ESPN+, and Hulu's on-demand catalog at no extra charge.)
And before long, you may not even need a big bundle to access regional sports. Bally Sports already streams on a standalone basis for $20 per month (though it lacks local baseball in most markets), and with its owner, Diamond Sports Group, on the brink of bankruptcy, there's talk of sports leagues stepping in to stream in-market games directly to consumers.
For now, Fubo's advantage is that it combines local sports coverage with other popular cable channels under a single app, but it's still missing some of the networks that sports fans might want. As such, it's neither the ultimate service for sports fans nor the best drop-in cable replacement for everyone else.
Updated March 10, 2023: This review was updated in its entirety to reflect the latest FuboTV prices and user experience.