Tech
JBL Bar 1300X review: Wireless surround sound—with a catch
At a glance
Expert's Rating
Pros
Spectacular Dolby Atmos performance
Great musical performance
Truly wireless rear surround speakers
Excellent access to streaming music services
Wireless surrounds can also serve as independent Bluetooth speakers
Cons
Charging the batteries in those rear surrounds could become a hassle
Limited ability to tweak EQ settings
Remote control doesn't have a backlight
Our Verdict
The JBL Bar 1300X delivers an immersive surround experience and offers truly wireless rear speakers; they're battery powered. But once you live with that feature for a while—and charged those batteries a few times—you might decide you prefer the permanence of power cords.
Price When Reviewed
$1,699.95
Best Prices Today: JBL Bar 1300X
$1,699.95
The JBL Bar 1300X is the JBL's flagship soundbar. JBL describes it as an 11.1.4-channel system—more on that in a bit—that includes a wireless subwoofer and a pair of surround speakers that are also wireless. The system's audio performance is truly spectacular, whether you're watching movies or listening to music, but those rear speakers come with a few caveats.
Most wireless surround systems require you to plug each speaker into a power outlet. JBL pioneered truly wireless surround speakers a few years back, and its secret is a 10-hour battery built into the rear speakers. You can place them anywhere without worrying about any cords whatsoever.
The JBL Bar 1300X offers a full slate of other features, including support for the two most popular immersive audio formats, Dolby Atmos and DTS:X. Apple AirPlay 2 support means you can control the speaker with Siri voice commands, and you can do the same if you have a smart speaker that works with Amazon Alexa or Google Assistant. The JBL One app for iOS and Android makes setup and adjustments easy.
This review is part of TechHive's in-depth coverage of the best soundbars.
JBL Bar 1300X build quality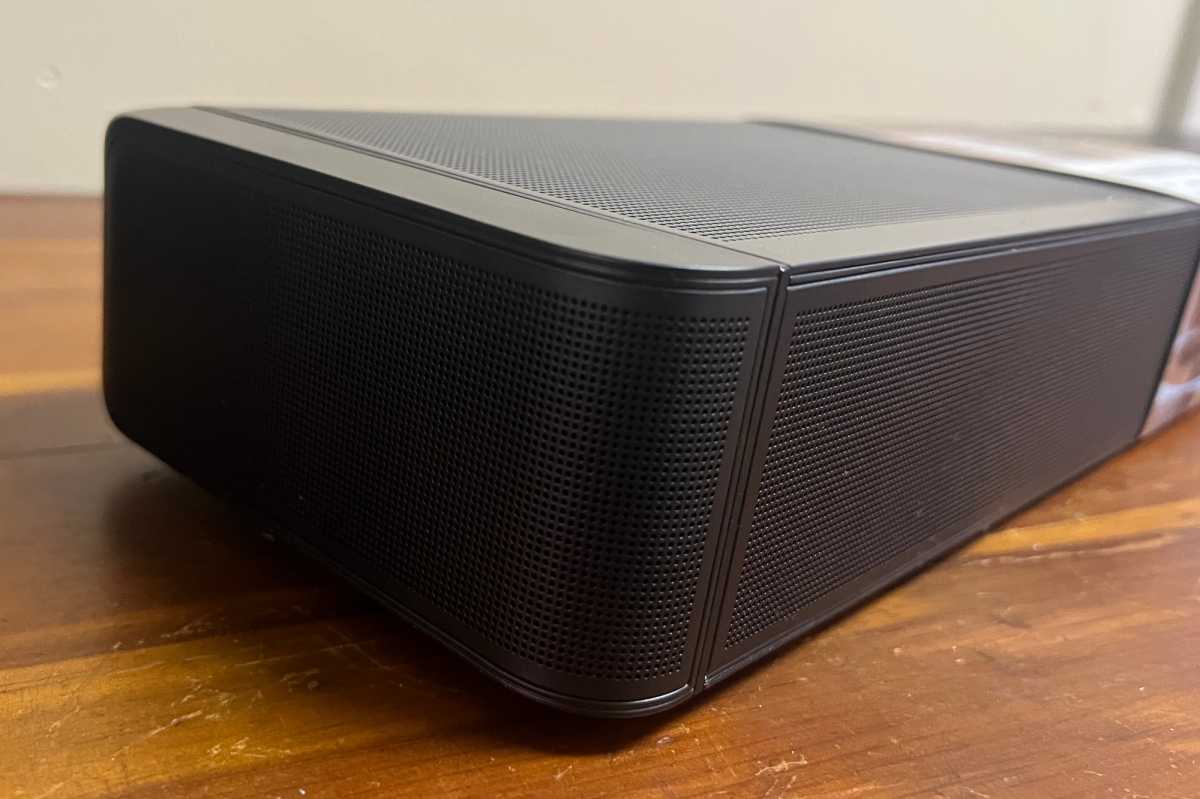 James Barber/Foundry
The JBL Bar 1300X consists of the soundbar itself, which measures 2.4 x 39.4 x 5.5 inches (HxWxD); a wireless subwoofer with a 12-inch driver; and those rear surround speakers, which measure 8 x 2.4 x 5.5 inches each. As I mentioned earlier, it's an 11.1.4-channel system. JBL doesn't specify how the first 11 channels break down, but logic dictates that it must be seven channels at ear level in the front (left and right, left and right surround, left and right width, and center); four channels at ear level in the rear (left and right surround, left and right width), 11 in total; and then two height channels in the front and two height channels in the rear (4 in total).  The subwoofer, of course, accounts for the 1 in the formula. You might want to compare the JBL Bar 1300X to our Samsung HW-Q950A review; it's another 11.1.4-channel soundbar that's similarly priced.
JBL says the system produces 1,170 watts of amplification in total. Here's how they arrive at that number: The amplifier in the soundbar unit produces 650 watts, divvied up between six 46 x 90mm racetrack drivers, five 20mm tweeters, and four 70mm up-firing full-range drivers. The amps in each of the detachable rear surround speakers divide 110 watts between one 46 x 90mm racetrack driver, one 20mm tweeter, and one 2.75-inch 70mm up-firing full-range driver. Each of the rear surrounds is also outfitted with two 48 x 69mm passive radiators. The subwoofer's amp produces 300 watts. Maximum total harmonic distortion is 1 percent across the board.
Inputs and outputs on the JBL Bar 1300X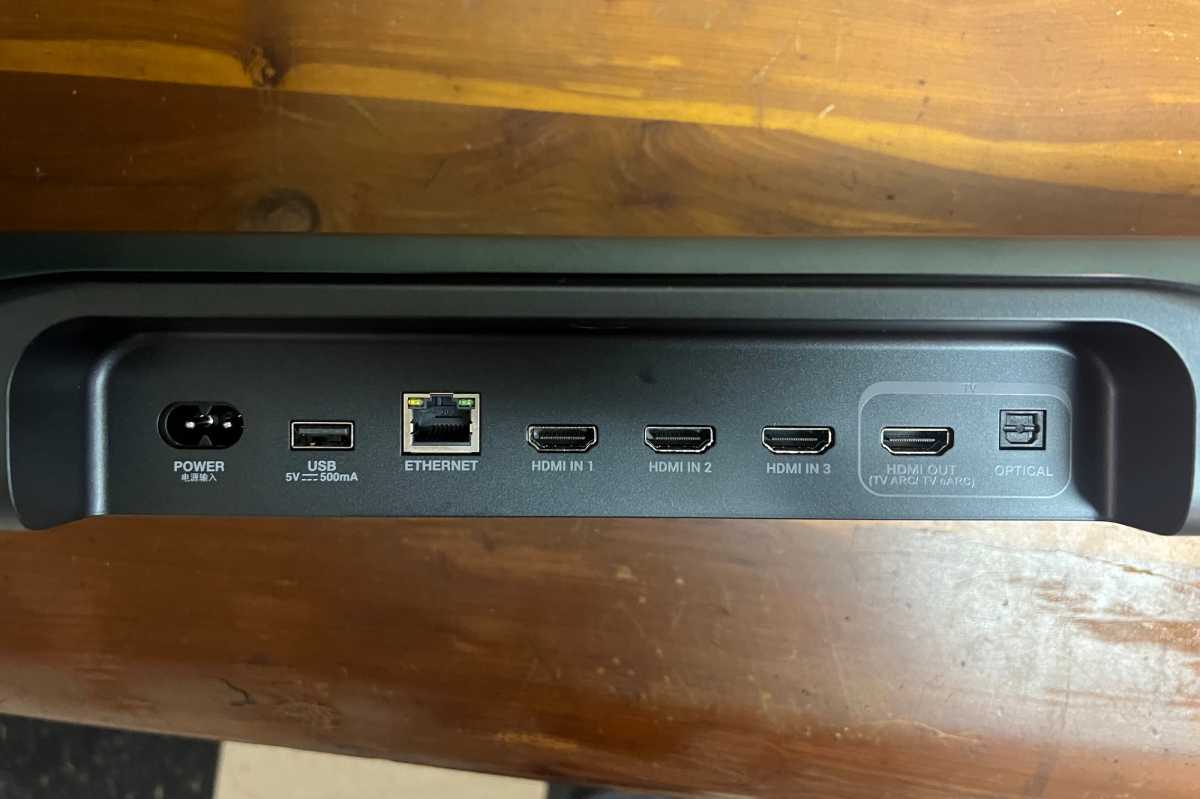 James Barber/Foundry
Ports on the back of the JBL Bar 1300X include a single HDMI ARC/eARC; plus, three additional HDMI inputs. There's also an optical digital audio input (Toslink) if you need to connect older gear. You can also play MP3 files stored on a USB thumb drive plugged into the soundbar's USB-A port (that feature is in the U.S. model only).
Network connectivity comes in the form of dual-band Wi-Fi (2.4- and 5GHz), but there's also an RJ45 port for hardwired ethernet connections. The soundbar has a Bluetooth 5.0 radio and the detachable speakers have Bluetooth 5.2 radios. The two detachable speakers can be used as freestanding Bluetooth speakers, or you can set them up as a stereo pair. They're excellent either way, delivering sound quality comparable to Bluetooth speakers from other manufacturers costing $200 or more. (TechHive publishes a lot of Bluetooth speaker reviews). But if those JBL speakers end up getting carried all over the house—whether by you, your spouse, or your kids—it could lead to a frustrating home theater experience come movie time.
Buyers get a well-designed remote, power cords for the soundbar and subwoofer, and an HDMI cable. JBL also puts a host of wall brackets, anchors, and screws in the box should you want to mount the speakers.
Setting up the JBL Bar 1300X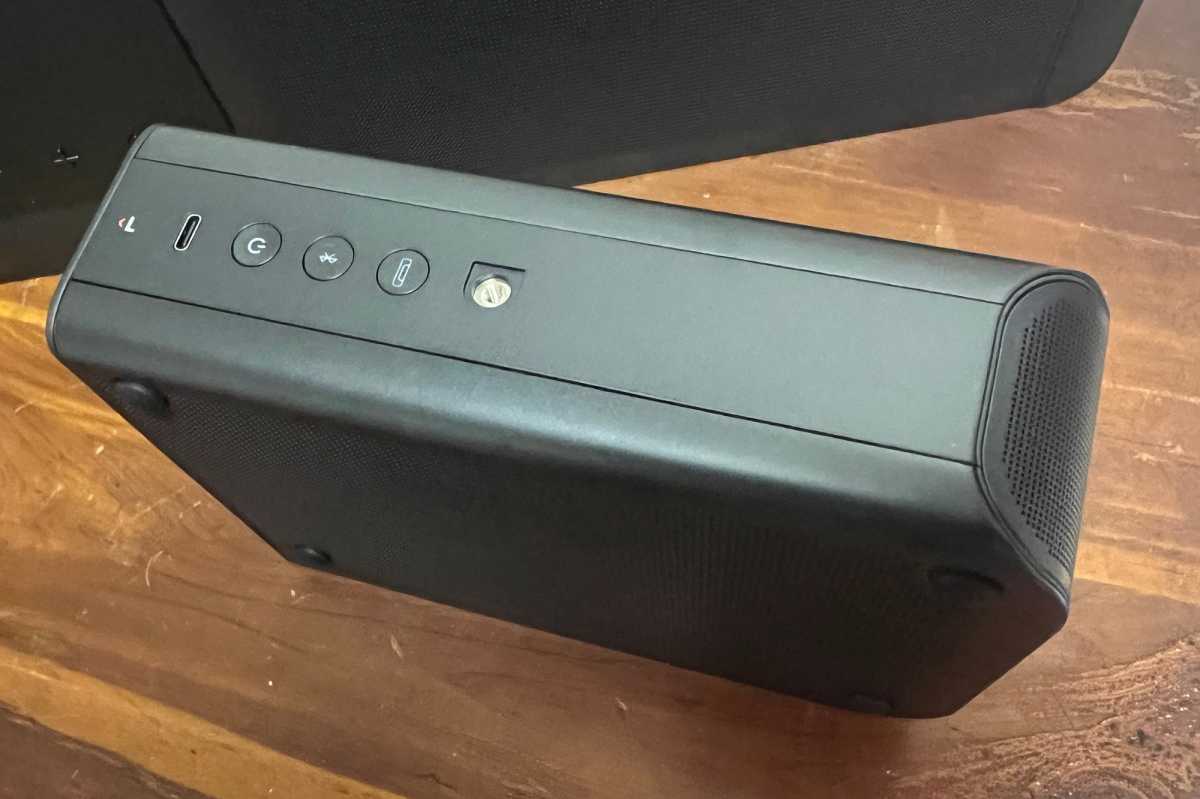 James Barber/Foundry
While the surround speaker batteries had some charge in them when I opened the box, your best move would be to plug in the soundbar and attach each of the surround speakers to give them a full charge. The surrounds are labeled left and right respectively, so it's easy to figure out which goes where, both for charging and for later placement in your room.
After a couple of hours, you're ready for setup. Detach the surrounds from the soundbar and replace them with the two endcaps that magnetically attach to cover the charging ports. Plug in the subwoofer, place the surrounds where you want them in the room, and launch the JBL One app (available for both iOS and Android).
The app will guide you through setup. You'll want to run the calibration sequence that plays a series of tones. As the mics in the soundbar hear how the sounds bounce around your room, they will adjust playback to match your space.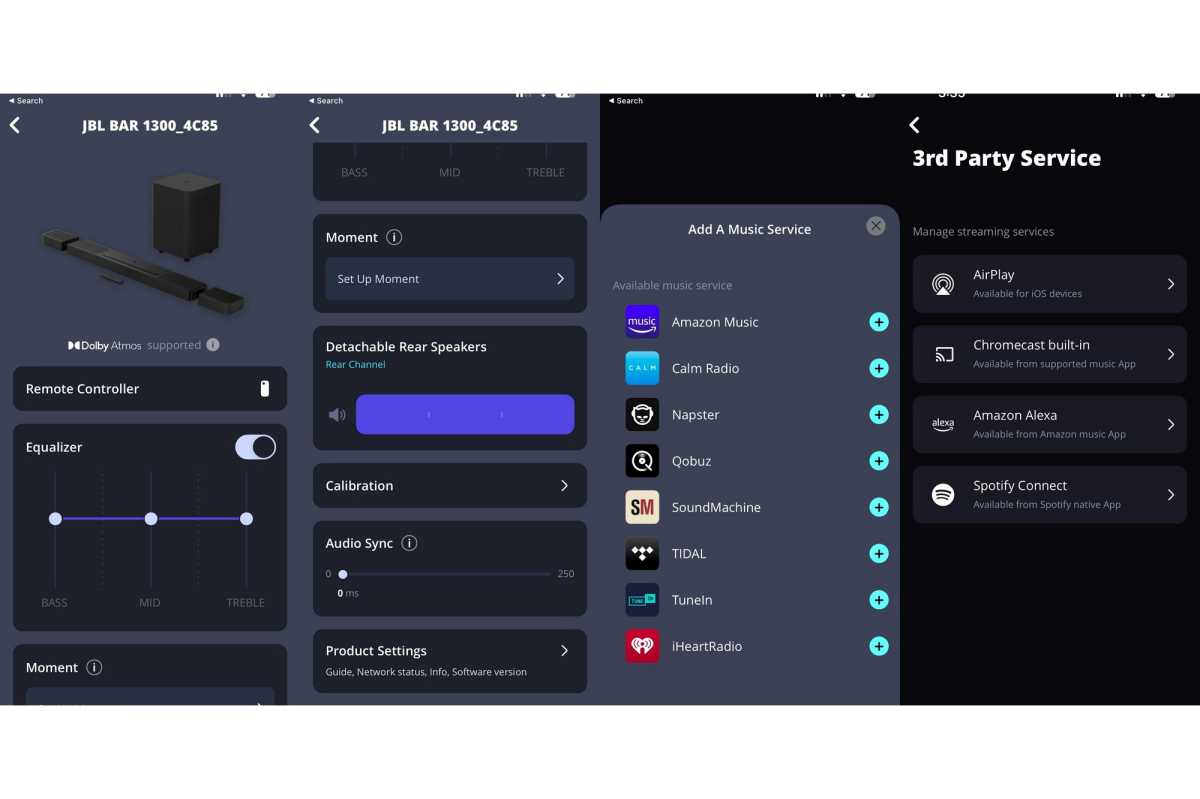 James Barber/Foundry
That's pretty much it. You're ready to watch. What you don't get here is specialized EQ settings like Movie, Sports, Nighttime, or Voice. JBL does use Harman PureVoice technology, which aims to make sure that dialog is clear no matter how many explosions are going off in a scene.
When you go with the JBL Bar 1300X, you're trusting JBL to provide the best experience possible without a lot of input from you. That will appeal to a lot of people, and the overall sound didn't frustrate an inveterate audio tweaker like me. Sometimes it's a relief just to plug and play.
The JBL One app does has a three-band equalizer, so there is some ability to make limited adjustments. I couldn't improve anything by fiddling with the EQ, so I eventually just went with the standard settings. To be clear, I'm not sure the audio needed improvement. I just like to see if I can fix it.
JBL Bar 1300X Dolby Atmos performance
HBO's The Last of Us has a truly spectacular Dolby Atmos surround mix, and the JBL Bar 1300X does a breathtaking job reproducing it. The show relies heavily on object-based audio effects that cut through relatively quiet moments, and the sense of placement was consistently impressive.
It's the physical surround speakers that make the difference. There are excellent soundbar and subwoofer combos that use digital signal processing to create a sense of surround sound, but none of them have matched the experience available with genuine surround speakers. Add the Dolby Atmos or DTS:X effects that up-firing speakers deliver in the front and back of the room, and you start to get an audio experience that matches what you'll get in the best movie theaters.
Listening to music on the JBL Bar 1300X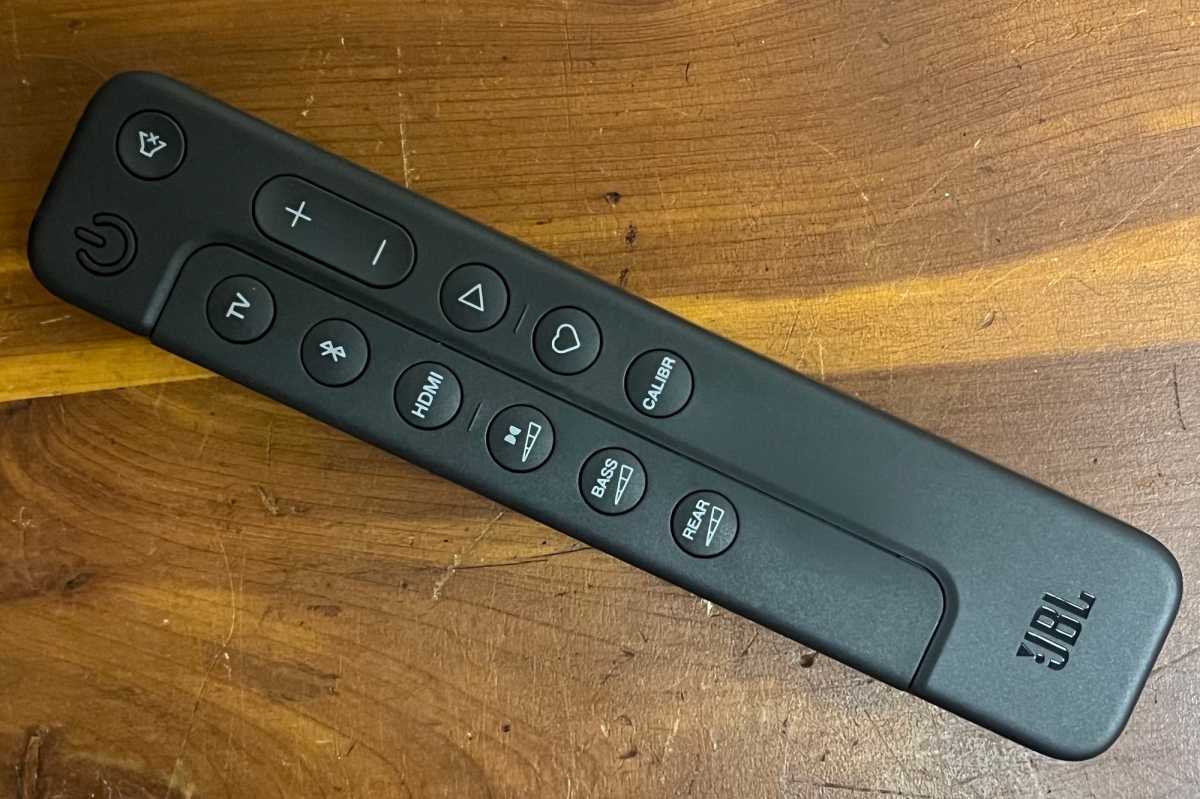 James Barber/Foundry
You can use the JBL Bar 1300X alongside speakers in other rooms, provided they also support Apple AirPlay 2, Chromecast, or Alexa Multi-Room Music. And you can stream music from Qobuz, Spotify (with Spotify Connect support), Tidal, Amazon Music, iHeartRadio, TuneIn Radio, and Napster via the Music pane in the JBL One app.
Listening to a Qobuz stream of "I Robot," the title track from the 1977 album by The Alan Parsons Project, I was impressed by how the soundbar's DSP generated a satisfying surround experience, one that was more about matching the stereo channels in the rear speakers than artificially creating an immersive mix through an algorithm.
If you're looking for a soundbar that can also be your primary music listening source, the JBL Bar 1300X is perfect for streamers. Unless you're looking to play vinyl, you won't miss having a separate audio system for music.
More on that battery-charging issue
At the risk of beating a dead horse, those truly wireless surround speakers won't magically recharge themselves. You'll get about 10 hours of use off a full charge, so the trick is remembering to charge them. One effective strategy would be to re-attach the speakers to the soundbar when you're not using them. That might defeat the thrill of having wireless speakers, since you'll be constantly moving them back and forth whenever you watch television, but it could save your some frustration.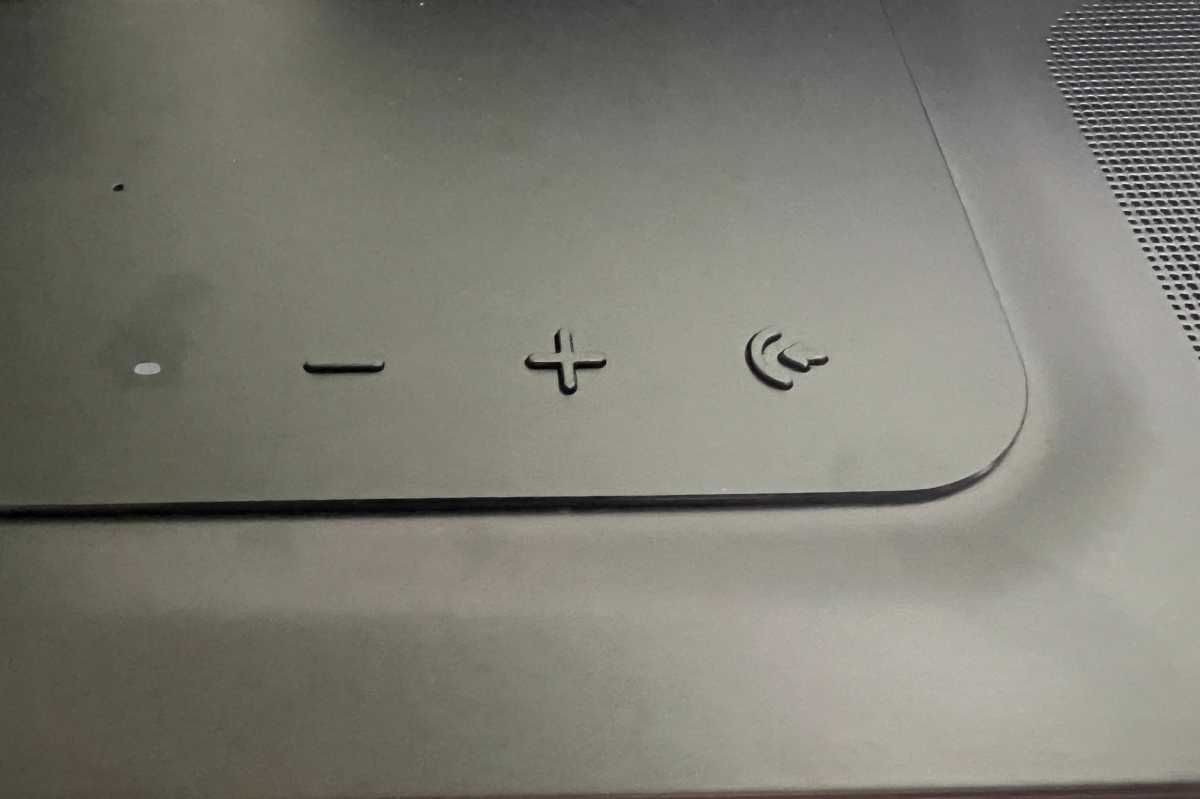 James Barber/Foundry
I tried using USB-C cables to charge the rear speakers with portable batteries, but none of the batteries in my arsenal had enough power, so that strategy for avoiding dead surrounds was a bust. You could just use USB-C cables and plug-in USB chargers to keep the rear speakers continuously charged—provided, of course, there are outlets close enough to the speakers, or your cables are long enough to reach them—but that also defeats the promise of truly wireless speakers.
The JBL Bar 1300X is an amazing soundbar
The JBL Bar 1300X sounds amazing. It's easy to set up, and it delivers outstanding Dolby Atmos and DTS:X surround-sound experiences. It comes with a well-designed app to tweak its settings Those detachable, battery-powered rear surrounds are delightful—at least while their batteries are charged.
If you can establish a routine to keep them charged—by reattaching them to the soundbar before you retire for the night, or after every four or five movies—you'll love this system. If, on the other hand, you're constantly cursing because you forgot to plug in your phone or tablet, and those devices always crap out at the most inopportune moment, the JBL Bar 1300X could become the bane of your entertainment existence.