Tech
LG's OLED TV on an Easel Is More Than Its Artsy Gimmick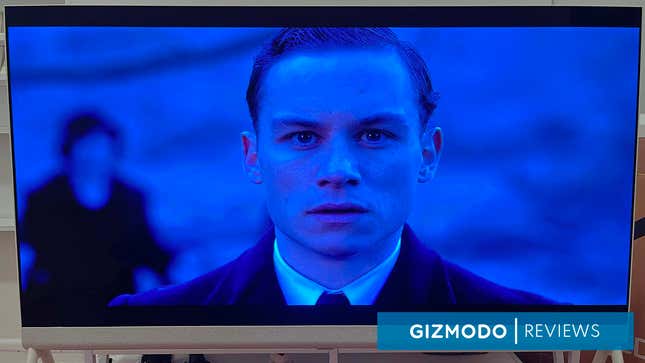 The LG OLED Objet Collection Posé TV was revealed at Salone dei Tessuti during 2022's Milan Design Week. That alone should give you an idea of who its target audience is. This isn't your regular screen. It's not even your typical premium home theater display. It is a lifestyle TV that is intended to serve as an art piece, similar to Samsung's The Frame TV line. As such, it promises a luxurious build and a unique design over other LG OLEDs.
Given how the TV has become the centerpiece of so many living rooms since its introduction to the mass market in the mid-20th century, it's not a bad concept to make one that feels a bit like art in and of itself. People have been designing artsy TVs since the days of CRTs, yes, but tastes change and technology improves, so here's a modern interpretation–an understated flat canvas on a pair of legs.
Unboxing the LG OLED Pose (which we'll be calling it for the rest of the review), I didn't at all feel as if the company's claims about the TV's style were inflated. Everything about using this TV is carefully thought-out and very well executed. There is a plethora of accessories in the gigantic box that was shipped to me and the attention to detail really impressed me. More on that in a bit. But the winner here is definitely the easel the TV is intended to rest on. It's more than just aesthetic, coming with plenty of cable management that lets you place the TV in many more locations than you might with competitors.
The pouch that sits along the back of the screen is the first runner-up among the other accessories that accompany this beast of a device, and it also enforced that idea that the Pose is more than a simple cosmetic overhaul.
G/O Media may get a commission
What sizes does the LG OLED Pose come in? 
The LG OLED Pose is available in three size variants: 42, 48, and 55-inch. The first two cost $1,699 while the latter is $1,999. It's actually a reasonable price bump, given the Pose's extra design features over LG's other OLEDs. For comparison, a 55-inch LG OLED C3 TV costs $1,899.
All three models sport stunning 4K OLED Evo panels. OLED is the display tech you've probably heard of that allows for self-illuminating pixels, creating perfect blacks. "Evo" is a marketing term LG's come up with to denote when an OLED panel is brighter than what the company deems to be the usual: it's worth taking with a grain of salt.
The speaker system on the screen features 4.0 channel functionalities, which means it uses two speakers in the front and two in the rear, which is more than you'll get on plenty of competitors, or even from other LG TVs. Totaling an output power of 40W, the front-firing speakers on the Pose series support Dolby Atmos encoding as well.
The LG OLED Pose uses an easel instead of a TV stand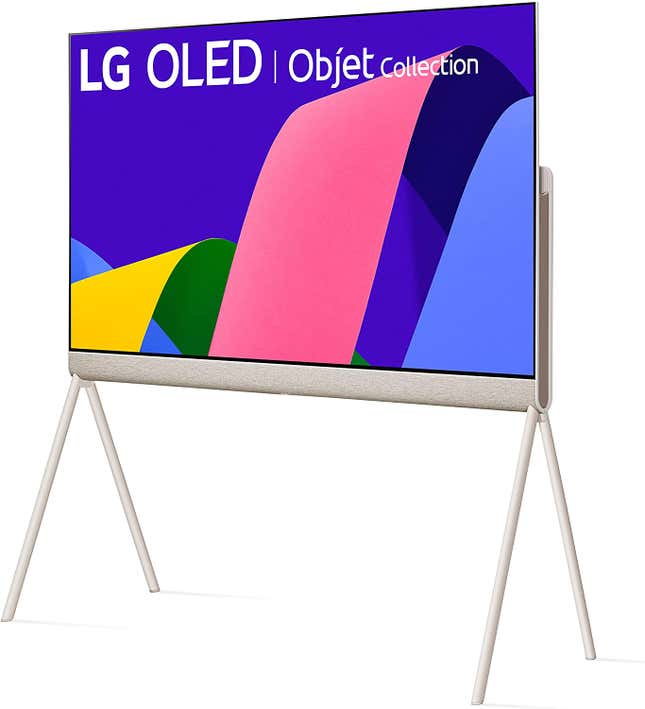 LG sent me the 55-inch Pose variant for my review model, and it measures 48.2 by 30 inches with a total thickness of 2.4 inches. Yes, it's that slim. With the stand or easel attached, the height goes up to 49.5 inches and the depth becomes 19.5 inches. The screen weighs 46.3 and 50.5 pounds without and with the stand, respectively. With extremely thin bezels on the top and the sides, and a slightly thicker strip at the bottom, suffice it to say that the LG Pose offers a lot of real estate.
The panel sports three HDMI 2.1 ports, one of which has eARC compatibility for hooking up a soundbar. There's also two USB 2.0 ports, an ethernet port, an RF antenna input, an RS-232C input jack, and a digital audio output port.
As mentioned above, this TV is meant to be a centerpiece. It demands attention and is supposed to go in a place of honor in your living room. Otherwise, why pay extra for the beautiful Kvadrat fabric that coats the device, or its artsy beige color, or its state-of-the-art easel?
Seriously, though, it is more than just a pretty face, although it is that, too. The pocket featured on the back of the screen helps hide any mess caused by cable hookups and serves as a place to store magazines and books, which is functionality LG's other TVs don't have. The device also comes with dozens of cable holders that you can screw to the back of the screen. The screen's back also comes equipped with a few cable plugs for power extension, and once your cable setup is complete, you can attach a large clip-on shelf to the back of the device that serves as a place to store a router, a Chromecast, or even a thin enough gaming console. What's more, the legs of the easel also double as hidden cable management systems, so you can keep your wires flush against the device even as you route them to a wall. This also means you won't have to find a wall to put this TV against, and that the back of the LG Pose looks as good as the front.
What's it like to set up the LG OLED Pose?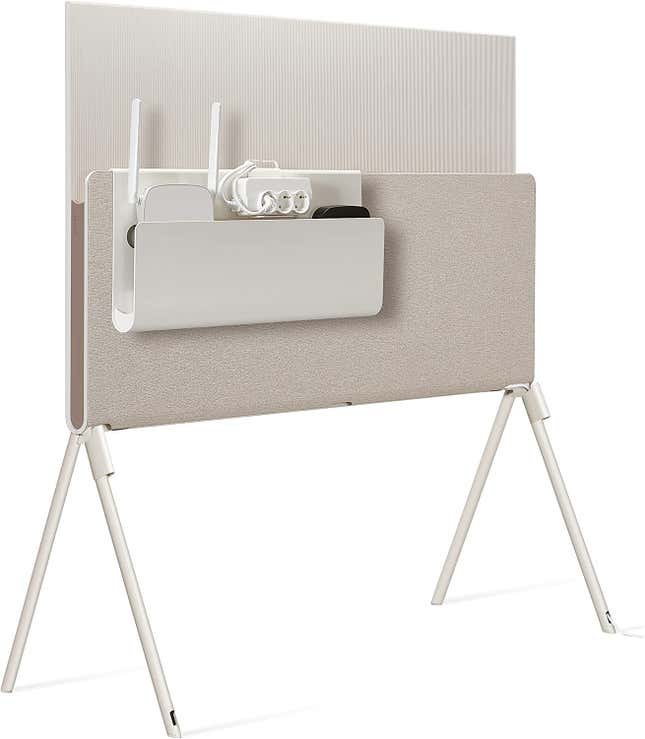 Setting up this TV isn't something you should dread, even with all the cable management options we just discussed. The package contains a lot of accessories, and that will be intimidating at first. However, after you glance through the TV's helpful manual, things will start to make sense. You will, however, need to procure a screwdriver and a helpful friend. And set aside at least two hours for this task.
The first step is setting the easel up, which shouldn't take very long if you carefully follow the manual. The next step is setting the display up on the easel, which is where you'll need at least one extra pair of hands. The last step is setting up the rear of the display. This includes screwing the cable holders onto the back, inserting cables through the legs of the stand and through the cable plugs, and covering it all up with the back panel.
Gaming on LG's fancy new OLED is as good as ever
As mentioned above, the LG Pose sports an OLED Evo display with a 4K resolution. It is well-optimized for gaming by featuring a 120Hz max refresh rate, VRR (Variable Refresh Rate), ALLM (Auto Low-Latency Mode), a response time of less than 1 millisecond, and Adaptive Sync compatibility. The Adaptive Sync includes G-Sync (NVIDIA's proprietary technology) as well as FreeSync Premium (AMD's proprietary technology).
In other words, the panel is as capable as any of LG's other premium OLED designs, like the aforementioned C3. You won't be sacrificing usability for style here, although the easel design might make it difficult to attach as many devices to this TV as you would with one that sits on top of an entertainment center.
A magic remote is also included in the package and features a motion control cursor for pointing, clicking, and scrolling.
LG's software supports HDR, Dolby Vision, and soundbars just fine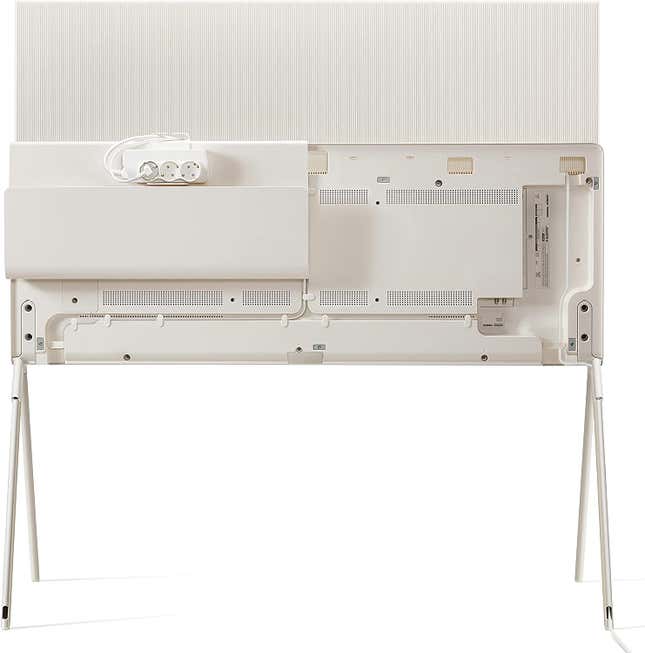 The HDR formats supported here are Dolby Vision, HDR10, and HLG. WebOS 22 backs the TV's smart features. The LG Pose works with Google Assistant, Amazon Alexa, and Apple HomeKit, and has built-in Google Assistant and Amazon Alexa voice input. LG ThinQ AI lets you control the TV with your voice. You also get access to hundreds of LG channels and Dynamic Tone Mapping Pro, an optional bit of tech that can make flat images look punchier and more detailed.
A more divisive feature is AI Sound Pro, which attempts to boost dialogue and automatically adjust the sound depending on what you're watching. You might be better off using LG Sound Sync, which allows audio synchronization between supported soundbars and the TV, if you have the tech for it. That'll let you use the TV speakers as a separate channel for dialogue, rather than adjusting the mix. AI Sound Pro can introduce some tinniness and echo, at least in my experience.
There's plenty of other presets to toy around with, though. A Game Optimizer picture setting adjusts the display for maximum clarity and responsiveness, automatically turning off features like TruMotion and coming with a quick menu that lets you quickly toggle features like VRR on and off without having to dig through a series of menus.
TruMotion is what LG calls motion smoothing, and it's turned on by default on the LG Pose. That's great for sports, but not so great for animation, games, or watching a movie in the intended way. What it does is use AI to insert extra frames into your content to boost the framerate and make it look more fluid. We've already discussed turning it off using Game Optimizer, but it isn't difficult to turn it off for other viewing modes, either. All you have to do is go to Settings > Advanced Settings > Picture > Clarity > TruMotion and toggle the switch to turn it off.
The Advanced Settings category is where you'll find a bunch of other helpful features, too. There's a sound mode that allows you to pick from presets such as AI Sound Pro, Standard, Cinema, Clear Voice Pro (which focuses on dialogue even more than AI Sound Pro), Sports, Music, and Game Optimizer (which has the same name as the the picture mode and settings menu we already discussed, but is separate from it). The modes aren't just a marketing gimmick; they make a considerable difference to the sound based on what you're watching. You can also quickly access them from a Sound Mode menu with a simple button press from the magic remote. I'm partial to the Cinema preset.
The LG Pose also offers a number of Image Enhancement AI tools that work in a similar manner to Game Optimizer but focus less on performance and more on looks. AI Picture Pro enhances image clarity according to the content being viewed. AI Brightness Settings lets you adjust your content's darker areas according to the brightness around your TV. There's also AI Genre Selection, which finds the most suitable picture quality according to the type of content being displayed. It's very easy to adjust these settings, and while they won't bring a dramatic change to your content, the difference is noticeable.
These are in addition to more typical picture modes like cinema, filmmaker mode, and a balanced default named "standard." Each adjusts color and contrast towards a different end, but you can adjust them however you see fit.
There is a Gallery Mode that displays images on a slideshow when the TV is not in use. This helps keep burn-in at bay. However, this mode isn't really impressive, as it doesn't let users pick the images they wish to see. Also, the transition between the images is absurdly long and very distracting. It's a bit disappointing that LG didn't enhance this in any way for the Pose, which is billed as a bit of an art piece.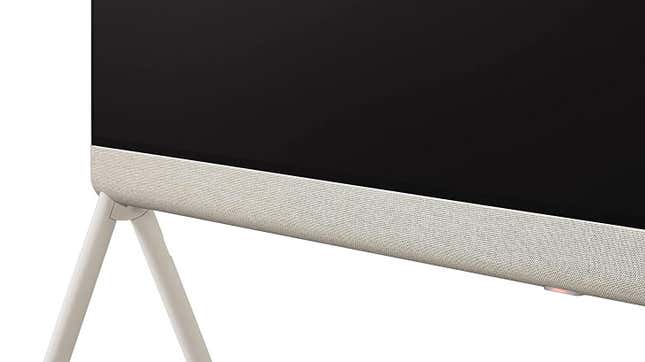 LG's OLED TVs are still some of the best out there
The contrast levels on the LG Pose are absolutely brilliant. We were expecting it to feature great contrast because of the OLED technology at play here, but we were still pleasantly surprised. You will see the blackest of blacks and the whitest of whites, which also means you'll get vivid colors thanks to high contrast.
Remember when Effie Trinket is selecting a pair of competitors to participate in the Hunger Games? She is wearing a bright purple dress with the same shade of makeup and accessories. The rest of the landscape is painfully grey. All the candidates are dressed in grey attire and the location is also devoid of any color. Because of the OLED panel, the dress looked especially striking against this backdrop, which actually made the movie more meaningful.
The brightness is also pretty impressive, which is great to see on an OLED, and we had no issues watching content in a very well-lit room with lots of natural light. The detail and precision are there too, thanks to the multiple HDR formats this TV supports. However, we felt as if there was a lack of sharpness.
I did notice a significant amount of ghosting on the device's screensaver, which is unusual given the low advertised response time. At the same time, gaming did feel snappy and responsive and I never noticed any issues with actual content.
Burn-in isn't something that would show its head during a week-long review period, but it's worth noting that the advanced settings tab offers a helpful Panel Care category that you can use to reduce image retention and prevent burn-in. The TV should run its pixel refresh functions automatically when needed, but they're there for you if you ever want to get at them yourselves. Essentially, pixel refresh tech on OLED panels mask burn-in or uneven brightness by lowering the brightness of each pixel to match the TV's weakest link, so your TV ages in a uniform manner. That does mean it will eventually hit a wall, but OLED longevity has gotten much better over the years.
The Blue Light and Energy Saving modes are excellent and helped us tremendously at night, when the display's standard brightness was way too much for our eyes to handle. It also didn't bathe the screen in orange, which can happen sometimes with these modes.
One of the best features of the Pose is its sound. Considering it's pretty rare for modern TVs to sport decent sound, this is a huge plus. Because of the slim panels that modern TVs host, most of them feature downward or even backward-firing speakers, which don't really sound good, for pretty obvious reasons. The LG Pose offers forward-firing speakers, and you can clearly tell the difference. The sound is loud, clear, and full of punch.
Should you buy the LG OLED Pose?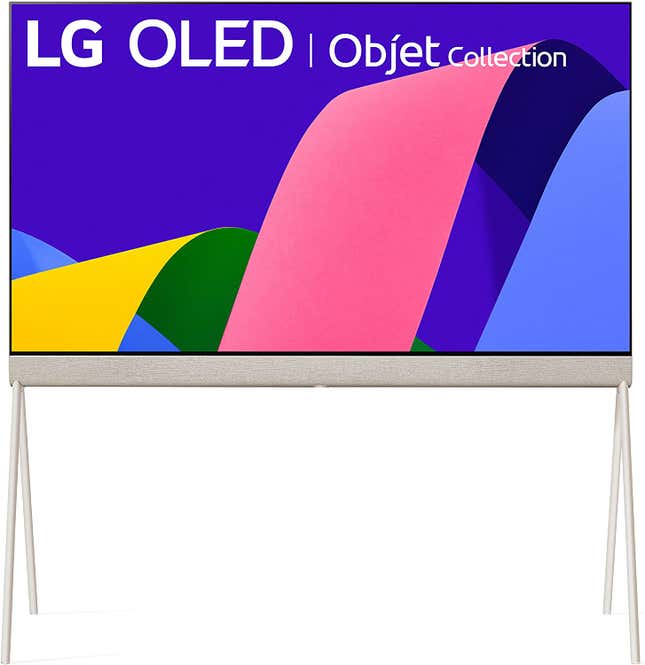 All in all, the LG Pose is a great screen to invest in. Visually, it's stunning and is much more than just a TV. It is a work of art and a great showpiece for your living room, assuming you're willing to set up your own slideshows rather than rely on the built-in Gallery Mode. But it's great looking even with the screen off, thanks to the excellent cable management features that make sure there aren't a dozen cords coming out of the back of your TV. Plus, setting up the TV isn't a nightmare, even if it can be a bit time consuming.
You can also use it for most types of content. Though this is a lifestyle-focused TV, it offers the whole gamut of features that gamers look for. The colors are vibrant, and the contrast levels are excellent. Also, it sports brilliant sound, which is not very common on newer screens. For $2,000, this is a pretty decent option that will easily fit into most households.
---
Want more of Gizmodo's consumer electronics picks? Check out our guides to the best phones, best laptops, best cameras, best televisions, and best tablets and eReaders. And if you want to learn about the next big thing, see our guide to everything we know about the iPhone 15.