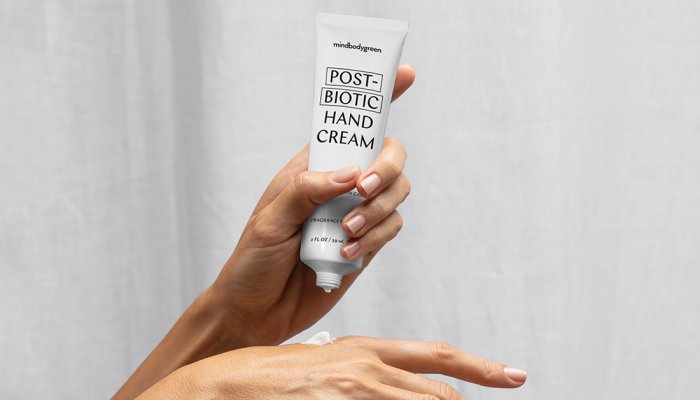 Our special strain of postbiotics provides skin with very specific fatty acids and peptides that have been shown to soothe inflammation, help protect skin against environmental stressors, regulate microcirculation, and activate the skin's immune system. For added support, we also included prebiotics to make sure that the living flora already present on the skin are being taken care of, too. There are several kinds of prebiotics to use, and we selected one made from microgreen algae that has been shown to have a soothing effect on the skin by preventing inflammation triggered by an unbalanced microbiome.
Biotic ingredients can be challenging to talk about, because what they're doing for the skin is somewhat invisible at first. But with time, you'll notice changes like I did: The skin is more resilient and doesn't feel as sensitive. The complexion quality improves, easing the appearance of fine lines and fading dark spots. And overall, the skin just functions healthier.  
To amp up its skin-supporting benefits, we included powerful antioxidants like coenzyme Q10, a potent antioxidant naturally found in the body, and a watermelon, lentil, and apple complex that delivers a wide range of nutrients and benefits. These help support your skin barrier and offer free radical protection. They also provide many aesthetic benefits, such as brightening tone and smoothing out fine lines.
The hydrating base of the formula contains several botanicals to moisturize and soothe the skin: shea butter, moringa seed oil, aloe vera, and oat oil. Each of these individually is a powerful natural ingredient, but together they're far more robust in their efficacy. We wanted moisturizers that were going to instantly calm and condition the skin—easing any irritation. The backs of my hands tend to get flaky, and this cream has been one of the only things that stops that. 
But I'm a firm believer that products are only as good as they feel when you apply them. No matter how good or valuable I think an ingredient is, I'm just not going to use it diligently if I don't like the texture or experience of it.
That's why we took a long time perfecting the texture of the cream. It's decadent, rich, and slightly whipped like really good butter—but then it soaks so quickly. That's why I like using it both day and night: It's thick enough for a night cream, but fast-absorbing enough for day. (My major stipulation when creating this was that I could go back to work right after applying and it wouldn't leave an oily residue on my keyboard.)