From personalizing to match search intent to writing long-form content, here are the 12 answers to the question,
"What are the best SEO trends that will dominate in 2023 and why?"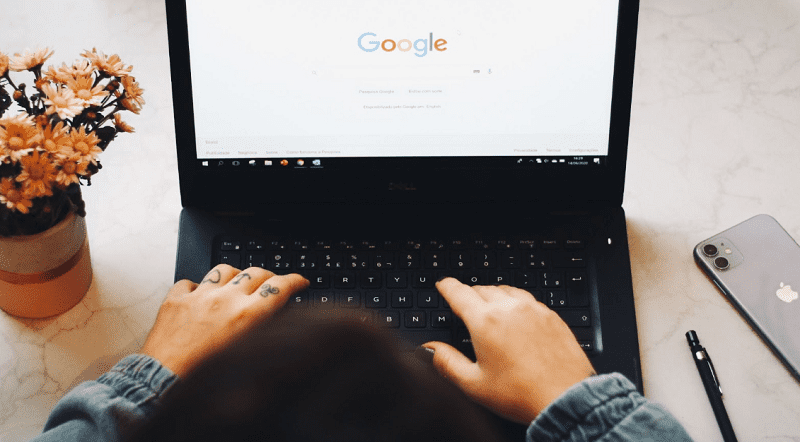 Personalize Content to Search Intent
In 2023, one SEO trend that will dominate is content personalization. This is because search engines are getting better at understanding the searcher's intent and providing more relevant results. As a result, content that is personalized for the searcher's intent will be more likely to rank higher in search results.

It has been around for a while and the technology is getting better. This trend will also help businesses understand their customers better and help them in their buying process.
Paw Vej, Chief Operating Officer, Financer.com
Get on TikTok
TikTok SEO isn't going anywhere. People, especially younger generations, are searching in different ways than just search engines. So it's so important to continue to realize that the best practices of SEO also will include platforms where people search like TikTok and, of course, YouTube. It's important that quality content that is well-optimized and provides more value is always going to "win."
Gresham Harkless Jr., Media Consultant, Blue 16 Media
Include Video Marketing for Products
I have been in e-commerce for the last 15 years selling stickily online. The biggest trend that I see dominating SEO in 2023 is including videos with all website products and blog articles. 
Google added a few new features with videos so users can seek the right to the area they want to view. Users spend more time on your page when there are videos and now with the seek markup feature, it helps users get the information they are looking for and end that search session. 
In 2023, videos need to be added to your SEO strategy if you want to increase your rank.
Evan McCarthy, President & CEO, SportingSmiles
Emphasize Your High-Quality Content
Google search trends change year by year, but one thing remains the same always, making high-quality content will drive content to your site. Your content should be insightful, informative, and interesting. 
Higher quality content is more shareable, furthering your SEO goals. If you are not sure where to start, try interacting with your audience and seeing what kinds of questions you are answering often or what kinds of content they keep coming back to.
Jacob Dayan, Co-Founder & CEO, Community Tax
Maximize the SEO Around Your Video Content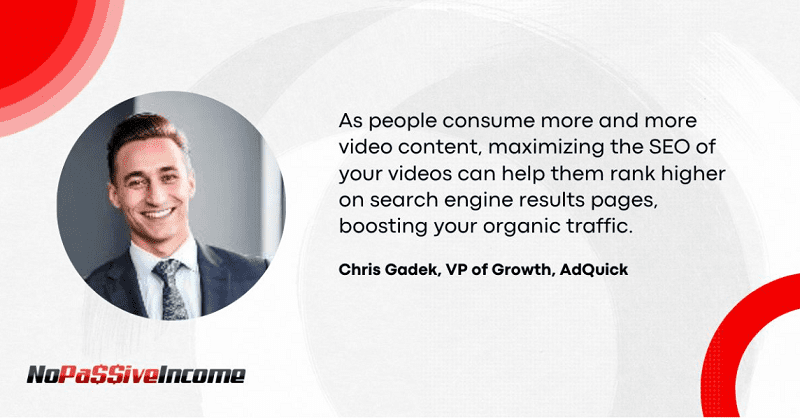 As people consume more and more video content, maximizing the SEO of your videos can help them rank higher on search engine results pages, boosting your organic traffic. So while you want to ensure you regularly provide high-value content that answers people's questions, making it easy for them to actually find those videos is vital. 
And you can do this by including your brand's primary keywords in the video's title, tags, and description. But remember to refrain from keyword stuffing, as this may seem spammy and cause your videos not to appear in the results pages for specifically targeted queries. 
Stick to the essential terms site visitors associate with your brand and products and create various combinations. Keeping your titles and tags simple gives you a better chance of attracting qualified leads and getting more eyeballs on your videos.
Chris Gadek, VP of Growth, AdQuick
Optimize Your Website's Loading Speed
An SEO trend that will never go out of fashion is to optimize website performance elements, such as page loading speed. Users want fast-loading web pages before they even consider browsing or purchasing products from a business's website.

Fast-loading pages increase user conversions and decrease bounce rate while satisfying Google crawlers. Businesses must invest in designing well-organized, appropriately formatted, and straightforward website layouts that are easy for users to navigate and that don't ask them to wait around.

In some ways, website performance is a primary indicator of perceived business legitimacy. Wonky site designs, clunky media formatting, and overcrowding are amateur design mistakes that put off customers and Google crawlers.
Guna Kakulapati, Co-Founder & CEO, CureSkin
Reinforce Your Expertise, Authority, Trustworthiness Signals
EAT stands for Expertise, Authority, and Trustworthiness. In an increasingly crowded search engine landscape, showing your website as a reliable source of information is essential to stand out. 
With the enormous shift towards increased engagement with digital content, good EAT signals will be even more important in improving your organic ranking in 2023. Ensuring that your website, content, and overall brand are strong and credible will be critical in order to succeed.
Michael Fischer, Founder, Elite HRT
Promote Voice-Search-Friendly Content
The new generations of online users undoubtedly depend more and more on voice searches to get what they want on the internet. 
In 2023, they will just as easily pass on this habit to other generations of users, too. As voice searches gain even more traction, creating content that supports these searches will be crucial. 
From Google Assistant to Amazon Alexa, people are asking questions in their long form to seek information and navigate online. Only if your content responds to these questions can your SEO provide a winning user experience. 
Content generation roadmaps will increasingly cater to this new era of voice searches in the new year.
Riley Beam, Managing Attorney, Douglas R. Beam, P.A.
Remember RankBrain
It's no surprise that Google employs an AI system called RankBrain to help with the ordering and prioritization of search results. Although the technology has been around since 2015, it is constantly being improved upon. 
When 2023 rolls along, we expect it will be smarter and more perceptive than ever before. RankBrain's ability to interpret a user's query and return results that are pertinent to that query will improve. This means that in the coming months, quality writing and material that applies to your audience will be more important than ever if you want your website to rank high.
As always, prioritize providing a pleasant user experience, as this is something that will grow in significance for RankBrain and other Google AIs.
Gerrid Smith, Chief Marketing Officer, Joy Organics
Prioritize Google Discover
When you launch the Google app on your phone, do you see a stream of suggested reading? That's Google Discover, and it's a terrific method to get your material in front of potential buyers. 
Discover is a curated feed of information tailored to you based on your location, search history, and preferred websites. It's been around for a while, but until recently, it flew under the radar of search engine optimization professionals. Due ‌to Google's renewed dedication to providing an excellent user experience, Google Discover is poised to become a formidable force in digital marketing by 2023.
If you want your material to be viewed by potential customers in 2023, you need to optimize it for Google Discover. Specifically, your content needs to have Schema Markup, a narrow focus, high click-through rates, and fast loading times in order to be included in Discover.
Edward Mellett, Co-Founder, Wikijob
Use Structured Data on Your Website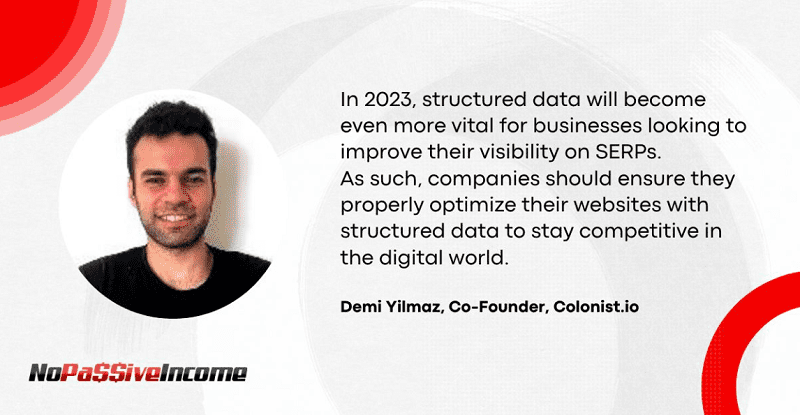 Structured data is a type of code that helps search engines understand website content. For example, it can help search engines identify product information and display it in rich snippets. 
Structured data is becoming increasingly important for SEO, as search engines use it to better understand what a website is about and rank websites with relevant content higher on SERPs. 
In 2023, structured data will become even more vital for businesses looking to improve their visibility on SERPs. As such, companies should ensure they properly optimize their websites with structured data to stay competitive in the digital world.
Demi Yilmaz, Co-Founder, Colonist.io
Publish Long-Form Content 
When you look at the top-ranking pages on Google for strong search queries, nearly all of them are long-form content exceeding 2000 words. Because businesses that want to stay competitive in SEO need to follow the trends and algorithm moves that perform well, that trend is likely to carry into 2023. 
This makes it more important than ever to consistently publish high-quality, long-form content on your site to stay relevant.
Rachel Roff, Founder & CEO, Urban Skin Rx